On display in preseason: new skills
October, 23, 2012
10/23/12
1:19
PM ET

By Beckley Mason
ESPN.com
Archive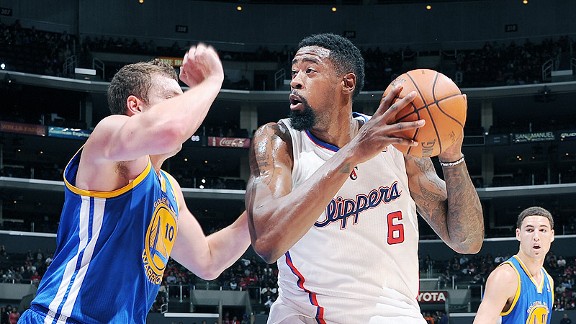 Andrew D. Bernstein/NBAE/Getty Images
DeAndre Jordan is among those showing off skills they lacked a year ago.
The NBA preseason is like the first day of school -- everyone wants to see who got a new haircut, who grew, who no longer only wears sweat pants and who discovered deodorant.
Our team of TrueHoop Network bloggers has the report on which NBA players have made meaningful changes over the offseason:
Chris Bosh the 3-point sniper
What's Chris Bosh up to these days? Chilling, mostly. And drilling 3-pointers. After every practice, Bosh has started a new routine -- take dozens of jumpers from behind the 3-point line. He's 2-of-10 in the preseason so far, taking 3.4 three-balls every 36 minutes. He's got a sweet stroke and if the Heat are serious about "position-less" basketball, you can bet he'll be taking -- and making -- a lot more this season than in the past.
-- Tom Haberstroh, Heat Index
The Knicks "Big Three" working together
Last season, the Knicks generally struggled to incorporate Carmelo Anthony, Amar'e Stoudemire and Tyson Chandler into the same offensive action. Because Chandler and Stoudemire are both primarily pick-and-roll players, one of them was often left to the side while the other was involved in the primary play. More often than not, it was Stoudemire who was left out. But Mike Woodson unveiled
a new wrinkle (video)
in the Knicks' preseason game against the Raptors the other night: a quick-hitting swing pass from Raymond Felton to Stoudemire following a Felton-Chandler pick-and-roll designed to kickstart a side pick-and-roll between Stoudemire and Anthony. It's a basic set, but one the Knicks didn't use much last season.
-- Jared Dubin, Hardwood Paroxysm
DeAndre Jordan's jump hook
The Clippers center and presumptive third-best player has been wheelin' and dealin' in the post this preseason. His back-to-the-basket game is improved and he has even been proficient with the jumphook, especially when turning over his right shoulder. In addition to his new skill, he's been generally more engaged and active on the court, averaging 12.7 rebounds per 36 minutes and shooting over 70 percent from the field.
-- Charlie Widdoes, ClipperBlog
Ty Lawson has a left hand
Ty Lawson dedicated a huge part of his summer to his left hand. He talked about how he's never actually had a left. What's interesting is that Synergy shows the Nugget guard is better going left than right. I looked at the video and he's right. He can't finish with the left. He's been going to either a stop, pump-fake, and turnaround jumper which gets blocked pretty often, or a left-side righty "put-the-English-on-it" layup. He's added a legitimate left and that could seriously help him this season.
-- Matt Moore, Hardwood Paroxysm
Greg Monroe's new handle
Greg Monroe has apparently worked on his ball-handling and frequently (and confidently) looks to lead the break on defensive rebounds or steals now, something he rarely did his previous two seasons. He's been a bit out-of-control at times, but this new skill he's displayed has been a big part in the Pistons looking to run more this preseason than they have in recent years.
-- Patrick Hayes, Piston Powered
Enes Kanter slims down
The Utah Jazz's Enes Kanter went home to Turkey for some home cookin', blowing up like a hot air balloon, then turned around and lost it all and some (reportedly 51 pounds) and gaining an eight-pack of abs in the process. This resulted in something few expected, an all new explosiveness lacking last season. Kanter struggled to reach in rim in traffic last year, but now lives up to all
the bullish hype seen in his sparse pre-draft workouts
. He's now a Kanter in a bull shop, as advertised,
with new moves
. Wait...
Ah, there it is
. See what I mean?
-- Clint Peterson, Hardwood Paroxysm
Tyrus Thomas beefed up
Tyrus Thomas says he added 20 pounds to his frame this season and is playing with way more energy and effort after last year's disappointing campaign. Thomas finally looks big enough to hold his own inside, and though he only played more than 15 minutes once in the first four pre-season games, in the Bobcats most recent game in Detroit on Saturday night Thomas had 14 points and 16 rebounds in 33 minutes.
-- Spencer Percey, Queen City Hoops
Andray Blatche the backup
Is caring a new trick? While I acknowledge it's hard to take any long-term inferences from five rotationless games, one stunning revelation in Brooklyn's camp has been the mental resurgence of the incomparable Andray Blatche. Blatche, amnestied in Washington after a series of, well, let's call them "miscues," has taken his new challenge to heart, shedding excess weight and playing with a renewed intensity. He still can't defend a pick-and-roll, but he's pulled out some up-and-under post tricks I didn't know he had and has cemented his spot as the backup center despite playing on a non-guaranteed contract.
-- Devin Kharpertian, Nets Are Scorching
Mike Conley, scorer
Ace passer Mike Conley has his eyes trained on the rim, and is making 56 percent of his field goal attempts, 67 percent of his 3-point shots and averaging 16.8 points a game. He has never averaged more than 13.7 per game or shown such aggressiveness driving into the paint or looking for his now-deadly outside shot.
-- Chip Crain, 3 Shades of Blue