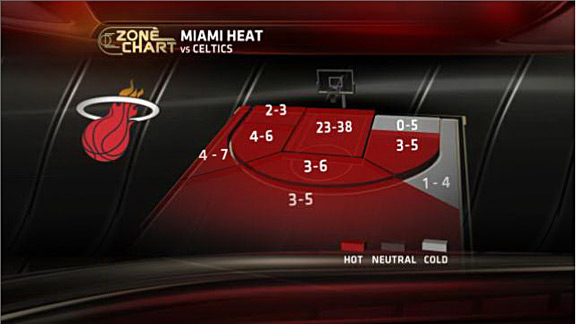 Last season, the Miami Heat took down the defending champion on opening night by beating the Dallas Mavericks.
They made sure the Boston Celtics would not do the same to them in 2012-13.
The Heat were in can't-miss mode Tuesday, averaging 1.25 points per possession, the second-best average of any team in a season opener in the past five seasons.
Here's a summary of the statistical highlights from their win.
Stat of the Game
The Heat shot 54.4 percent from the field in the win. Last season, the Celtics allowed only two teams to shoot 54 percent or better from the field -- the Heat and the New York Knicks.
The 120 points by the Heat are tied for the second most the Celtics have allowed in a regular-season game since Kevin Garnett joined the team in 2007.
The only team to score more was the Denver Nuggets, who tallied 124 in February 2008.
Still streaking
LeBron James extended his streak of scoring at least 20 points against the Celtics to 24 straight regular-season games, which he was able to do prior to leaving with leg cramps.
LeBron James by Shot Distance
Tuesday vs. Celtics
Some of Ray Allen's long-distance effectiveness (he was 4-for-6 from 15-plus feet in his Heat debut) might have rubbed off on James.
James was 6-for-9 on shots from 15 feet and beyond, his second-highest shooting percentage from that distance in any game since the start of last season.
James attempted nine of his 16 shots from beyond that distance, which is unusual for him. He attempted a higher percentage from the outside only once in last season's playoffs.
Milestone for Wade
Dwyane Wade was the star on this night, surpassing the 15,000-point mark. The Elias Sports Bureau tells us that he's the sixth-fastest guard to reach 15,000 (597 games).
The record is held by Michael Jordan, who reached 15,000 in only 460 games.
One oddity from this contest: The Heat, who won by 13, outscored the Celtics by 19 points in the 13 minutes in which Wade was out of the game.
Double figures in defeat
Celtics point guard Rajon Rondo reached double digits in assists for the 25th straight regular-season game.
Only two players have had longer streaks. Magic Johnson had a 46-gamer in 1983-84 that ranks best all-time.
John Stockton holds the next four spots on that list, and then Rondo follows, with his streak ranking sixth.