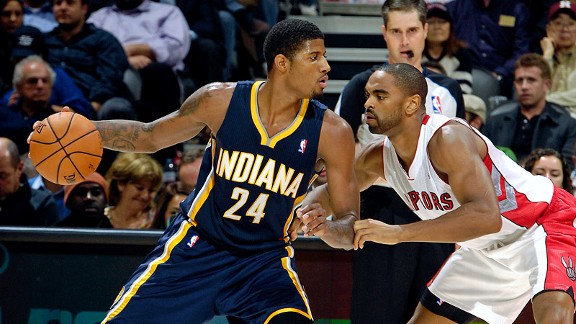 Ron Turenne/NBAE/Getty Images
The Pacers have three months to see what happens when Paul George runs the show.
The Pacers just announced that Danny Granger, the player who has led Indiana in both scoring and shot attempts per game since the 2007-2008 season, is out for three months after receiving an injection because of tendinitis in his left knee.
This is bad news for Indiana. Granger is the primary 3-point shooting threat on a team desperate for spacing and a versatile two-way player. There are no ready replacements on the bench and if the Pacers can't work around his absence during the first half of the season, they could find themselves out of home-court advantage in the East, and perhaps even the playoffs altogether.
But there's a potential silver lining here.
Granger, 29, was unquestionably the player at the top of the Pacers' food chain -- or as Kobe Bryant would say: "He eats first."
Suddenly, there's a bit more grub to go around, and it's likely that the Pacers will be force-feeding promising 2-guard Paul George a high protein diet of plays called especially for him, which could be enlightening, and a turning point for the organization.
In some ways the Pacers are out of major roster moves. They've locked in a solid core, yet one that lacks that special player who can take over a playoff game or series against the NBA's super-elite. Many believe George, 22, has the potential to develop into such a player, especially after he showed the defensive chops to seriously hamper Dwyane Wade's production through much of the Pacers' playoff series loss to the Miami Heat.
For the Pacers to be great, not just very good, George needs to be special.
And if there's one thing we've learned in sports, it's that you can't be great without opportunity -- that proverbial royal jelly.
Just ask James Harden, whose production was artificially limited by being the third banana in Oklahoma City. Harden has exploded as the top option in Houston, but as ESPN Insider Tom Haberstroh points out, Harden also had a track record of excellent play when Westbrook and Durant were on the bench.
George's statistical splits when he's on the floor without Granger tell a different story. Though he's had more opportunities, he historically has shot the ball poorly -- converting 40 percent of his shots with Granger on the bench, versus 46 percent when they play together.
In fact, Granger is the only Pacers starter whose presence on the court significantly improves George's efficiency.
Now the question is whether George can learn to run without the crutch of Granger -- like when Forrest Gump breaks free of his leg braces and discovers his inner Usain Bolt.
As the team's primary option on the wing, George will have more freedom to experiment and the opportunity to figure out what works. He'll bear more responsibility for the team's offense, and that could kick-start a side of George we've witnessed only in tantalizing glimpses.
The flip side is that George may not be cut out to be the team's No. 1 perimeter creator. When the 76ers moved Allen Iverson for Andre Miller, part of the plan was to make Andre Iguodala the team's primary scorer. Iguodala played well and his effort and impact on the defensive end were exceptional. But Philadelphia eventually gave up on him as its franchise centerpiece because he never showed an electric creative ability.
The early returns don't look good. Through the first week or so of action without Granger on the court, George is shooting the ball poorly (40.7 percent) and turning it over an alarming 4.5 times per game. But an important part of getting more opportunities is having more chances to fail, and learn from that failure. There's still reason to believe that George, who dedicated his summer to developing the very offensive tools Indiana now so desperately needs, can come into his own with Granger out of the picture for a few months. If he does, the payoff could be enormous.
Either way, Indiana soon will know much more about what they have in George. That's a worthwhile end for the Pacers, even if the means of finding out -- an injury to their best player -- are far from ideal.