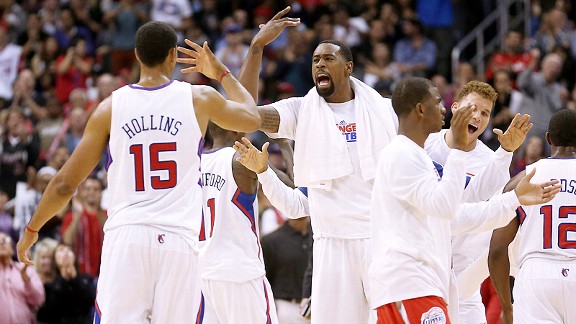 tephen Dunn/Getty Images
After beating the Heat, the Clippers have reason to celebrate their notable growth over last season.LOS ANGELES -- A relative calm has settled over the Los Angeles Clippers. It's a little disarming. There's no talk of supernatural curses that cause freak injuries, or Vinny Del Negro's job security, or whether pending free agent Chris Paul will bolt for greener pastures at season's end.
Instead, the Clippers have been quietly going about their business. They've banked impressive wins over Memphis, the Lakers, San Antonio and now the Heat. They've established the best reserve backcourt in the NBA with Eric Bledsoe and Jamal Crawford, kept their stars' minutes in check for what could be a long spring of basketball, and just recorded the franchise's 56th consecutive sellout at Staples Center.
There's a hazard in making wholesale evaluations of NBA teams in November -- eight days ago the Clippers were coming off home losses to Golden State and Cleveland -- but the team carries itself with a palpable confidence. Last season, it was swagger; this season, gravitas.
If the Clippers present themselves as legitimate title contenders, as Heat coach Erik Spoelstra suggested after watching his team get waxed by the Clippers on Wednesday night, that spirit comes from Chris Paul, point god.
Paul was the team's undeniable leader in 2011-12, but the Clippers weren't yet the living, breathing actualization of what a Chris Paul team should be. Paul didn't arrive in Los Angeles until the eve of training camp and there was simply no time to make his vision a reality.
But over the summer, Paul went to work. At his urging, the Clippers went out and acquired or re-signed eight players with six seasons of experience or more. Twice over the past four days, Paul has hit on a specific talking point that conveys his doctrine as team leader.
"Like I said last game, we have guys who know who they are," Paul said on Wednesday, echoing one of his big themes from Sunday's win over Atlanta.
Paul's sermon that afternoon?
"That's the key to everything: They know who they are," Paul said, speaking of the veteran reserves on Sunday. "They're not going to try to do anything outside of themselves. They know what to do. They know what it takes … They're not going to try to be something that they're not. That's happens when you're young. When you're young, you're trying to find yourself, trying to figure out your purpose in this league. But for those guys, they know who they are."
It's a clear window into Paul, the finest kind of control freak. He'll happily mentor a young supernova point guard like Eric Bledsoe. Paul is well aware that his frontcourt of Blake Griffin and DeAndre Jordan are cornerstones of the team's core going forward. But he's not interested in entertaining too many undefined variables on his squad. Paul wants teammates with a specific kind of pedigree. There's probably no empirical or even aesthetic case for starting guard Willie Green and playing him 19 minutes per game. "But Willie is just a professional," Paul said on Wednesday.
Professionalism was one ingredient that was missing last season. Out of the gate, the Clippers were like a kid with a bad reputation. They were tagged as flash over substance, unwilling to engage in the rigorous work that comes with building an elite defense.
This season, the flopper rap has disappeared. Griffin knows when he's being messed with by the likes of Zach Randolph, and brushes it off. Clippers basketball is a more refined product -- but it's also more fun, because for all the talk of Lob City a year ago, the team was unwatchable at times. With Bledsoe blossoming, Jordan building confidence, and a lightning bug like Crawford providing nightly entertainment, there's a breezy pace to the Clippers' game.
A certain levity also surrounds the team. Paul is a serious guy, while Griffin is scary-intense on the floor, but the locker room is yet another reflection of Paul's worldview. It's a place where young sons congregate with their fathers after games. On the court, Griffin has learned to laugh at himself. When the ball was tipped out to Griffin in the fourth quarter on Wednesday about 28 feet from the basket, Griffin deliberately bent his knees and poised himself for a shot. Cue the laugh track from the Clippers' crowd. Griffin broke out in a smile before passing the ball off.
There's still work to be done. A defense ranked 18th last season has improved to 11th, but coverage schemes still need some tightening. The Clippers have played only one of their eight games away from Staples Center, and even the best teams (witness Miami) take lumps on the road. Coach Vinny Del Negro has an embarrassment of riches at his disposal. When Chauncey Billups and Grant Hill return and Lamar Odom is restored to full health, there will be even more mouths to feed. Bledsoe, with his 22.2 Player Efficiency Rating (PER), logs only 18 minutes a night in deference to the veterans.
These are all manageable issues for the Clippers -- first-world problems.