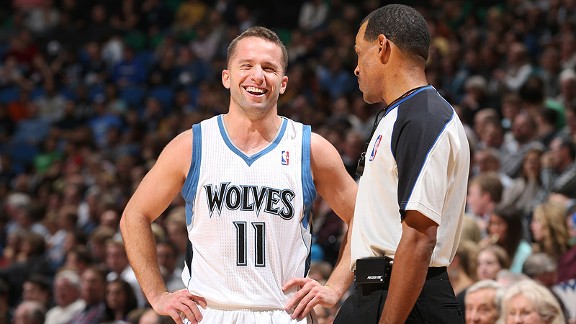 David Sherman/NBAE/Getty Images
J.J. Barea kept flopping against the Kings until it paid off.
Three weeks after receiving a warning from the NBA for flopping, J.J. Barea earned #FlopOfTheNight honors (Video) for his acting work against the Isaiah Thomas of Sacramento Kings. The battle of diminutive point guard turned heated in the fourth quarter when Thomas yelled at Barea to stop flopping after Barea flew backwards as Thomas elevated for a pull up jump shot.
The officials didn't bite, and the Timberwolves guard actually walked over to the refs during a timeout to plead his case. Thomas followed close behind, eager to hear what Barea had to say.
Just a couple minutes later, Thomas again drove towards the rim and this time, when Barea bucked backwards as though Thomas had given him a brutal stiff arm, the officials gave Barea the call.
The play looked awfully similar to the flop that earned Barea his warning back on November 6th, which also featured a driving player (Jimmer Fredette) using his forearm to ward off Barea.
Generously listed at six feet tall, when Barea plays defense it's natural for contact that would land in the mid section of a taller player to hit Barea around the shoulders, thus producing the kind of impact that often draws an offensive foul call. However Thomas is listed at 5-9 and his forearm appears to land below Barea's ribs.
If the NBA deems this instance a violation of the its anti-flopping rules, Barea will be the second player this year to be fined $5,000, after Reggie Evans of the Brooklyn Nets.
When you see an egregious flop that deserves proper recognition, send us a link to the video so we can consider it for Flop of the Night. Here's how to make your submission: