The Celtics announced today that they have signed Darius Miles.
Terms were not disclosed.
The Celtics are the champions, and they run a tight ship. They don't hand out roster spots like candy. They say they have had him in twice for workouts, and now they're willing to commit some money to the project to keep another team from getting Miles.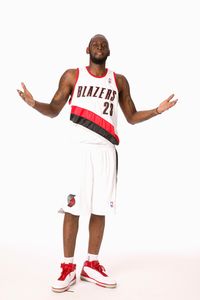 That makes you wonder what the NBA's independent doctor was thinking in declaring Darius Miles a medical retirement.
Perhaps that doctor will yet be vindicated, as it certainly does not sound like Miles has actually made the team yet.
"Darius will have the next couple of months," explains Danny Ainge, in a press release, "to prove to myself and Coach Rivers that he can help us win."
If the idea was for Miles to merely prove he can make the team, the only reason I can think they would have needed to sign him to a contract now would have been if there were other teams interested, which is further evidence the guy might actually play.
And as any Blazer fan will tell you, if Miles does actually play in ten games, the medical retirement he never wanted is officially over. That means the massive deal he signed with Portland some time ago goes back on Portland's books, limiting future cap flexibility. (An analysis.)
Reportedly Miles' next NBA season, assuming there is one, will begin with a ten-game suspension, reportedly for taking the drug phentermine, which has been described as a diet pill.
In any case, it's an excellent result for Miles. In short order he has gone from being a popular pick to never play professional basketball again, to having the inside track on joining the defending champions.
There have been many indications -- including some comments from Ainge today in that press release -- that Miles has been working hard. Sometimes adversity can bring out the best in people, and it would be a happy NBA story if this proves to be one such case.
(Thanks to Ben from BlazersEdge for the heads up. Photo: Sam Forencich/NBAE/Getty Images)