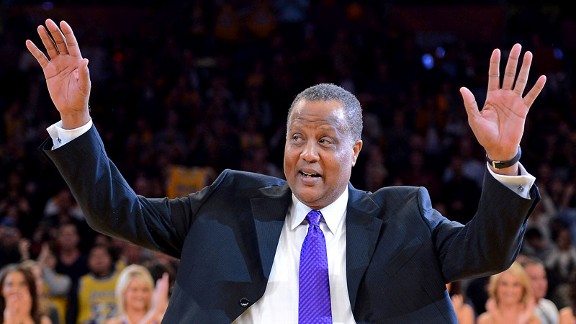 Harry How/Getty Images
Jamaal Wilkes was honored when his No. 52 was retired by the Lakers on Friday.It was Jamaal Wilkes' night to be honored. Anyone who wants to get better at basketball was the beneficiary.
Wilkes saw his golden No. 52 Los Angeles Lakers jersey retired Friday night, receiving a framed version to take to his house and a giant replica to gaze at every time he goes to Staples Center. It was in a media session beforehand that he offered something back, dispensing the wisdom he acquired from John Wooden at UCLA and the knowledge he gained from 12 NBA seasons with the Lakers, the Golden State Warriors and the Clippers.
As I transcribed the news conference, I saw DeMarcus Cousins playing again after his latest incident and I wanted to email the MP3 file of Wilkes directly to him. Cousins has 10 times more talent than Wilkes, but if he wants to have half of Wilkes' career accomplishments (short bio: four championships, Hall of Fame), he'll need to process the game in the same selfless, intelligent manner.
All you have to do is ask Wilkes, as did one Lakers beat writer who wondered what advice he would give the current underachieving Lakers team.
"My message would be: Five, 10 years from now, whatever you feel now, five, 10 years from now, you're going to look back and feel differently," Wilkes said.
In other words, don't get caught up in the daily drama. Think of what's most important.
"I learned at a very young age, you can debate who's better, but you can't debate who won or lost," Wilkes said. "So that's where my priorities went. And I played with some pretty good players along the way. I like to think that they made me better and I made them better, because I was able to adapt to different situations and be a good influence in the locker room."
It says something about the stature of the Lakers and the retired-jersey company Wilkes now keeps that he could feel this emotional about something that occurred after he was inducted into the Hall of Fame.
"This is pretty high," Wilkes said. "Elgin Baylor, Jerry West, Wilt Chamberlain, these guys ... they're all in the Hall of Fame, for one. I think it says a lot about the Laker tradition that they've had some basketball players, and I'm one of them."
Wilkes was asked about the 1981-82 Lakers, one of three Los Angeles championship squads on which he played.
"We had a real sense of pride in our team's success," Wilkes said. "Of course we had issues going on, all the time. Undercurrents. But we never let it get in the way of our objective, which was to be the best in the NBA and to represent the city of L.A. as best we could."
Fellow jersey retirees Kareem Abdul-Jabbar, Jerry West, Elgin Baylor and James Worthy joined Wilkes on the court during the halftime ceremony. It was just as impressive as the group that presented Wilkes at the Hall of Fame: Abdul-Jabbar, Rick Barry, Magic Johnson and Bill Walton.
The most noticeable absence from these ceremonies was Wooden, who died in 2010.
"I would thank him for what he meant in my life personally and what he meant to all of us," Wilkes said. "From a basketball point of view, in my opinion, he was just a genius the way he taught the game."
Wilkes said one of his greatest assets he gained from Wooden was his adaptability, the ability to go from being a ball handler in Golden State to playing without the ball in L.A. He won championships at the tail end of the UCLA dynasty in college and was there for the dawn of the Lakers' dominance of the NBA in the 1980s.
"I played power forward my first three years in the league," said Wilkes, who is 6-foot-6 and weighed a willowy 190 pounds during his playing days. "The only way I could do that was understanding certain nuances about the game against bigger guys and learning how to emphasize what I did well against what I didn't do well. So I would thank [Wooden] for that. And I would also thank him for the philosophy that I think about all the time, for different reasons and different things. Just thank him for being committed to teaching young people. That's what he saw his first mission was, being a teacher."
The connection Wilkes developed with Magic Johnson, well, that couldn't be taught. Seemingly once a game, Wilkes would shake free from his defender and go to the basket, and Magic would deliver a fastball of a pass that Wilkes corralled in his mitt-like hands for an easy layup.
"It wasn't anything that we talked about," Wilkes said. "It was something that we all tuned in to, spiritually. We just knew it would be there.
"I learned early on with Magic to watch him all the time. He could make passes most point guards couldn't. We had our early understanding. I knew it was going to be there, and he knew I was going to be there. We had a lot of success with that play."
Wilkes also managed to score 14,644 points with that funky-looking shot of his. He had an explanation for that, as well. It dates back to when he was a 10-year-old in Ventura, Calif.
"I began playing with older guys," he said. "I was going from the 9-foot hoops to the 10-foot hoop, and of course they wanted to play on the 10-foot hoops, and they would block my shot every time. I just learned to hold it back until the last minute. And I never realized I was doing anything different until I got to UCLA. And even then I wasn't sure I was doing something different."
His sophomore year, Wooden went up to him at practice and asked Wilkes to shoot shots from around the court. Wooden rebounded.
"What I remember about that is every pass was just perfect," Wilkes said. "And I said, 'I could get used to playing with this guy.'"
After about 40 shots, Wooden noted that the shot was released with the proper backspin on the ball.
"He said he thought about changing it, but my setup and my finish was textbook. He decided to leave it alone, and I'm so glad he did," Wilkes said.
Wilkes is a reminder that it isn't how you play basketball, it's how you think basketball -- even how you come to appreciate it spiritually.
Cousins and everyone else should take note.