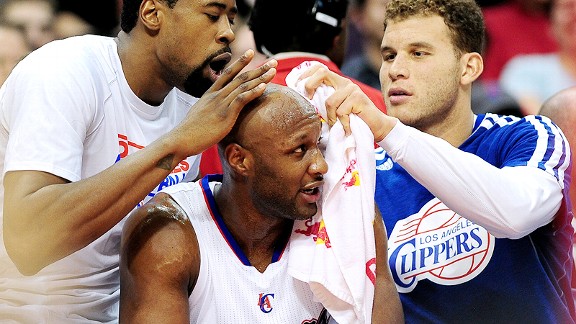 Frederic J. Brown/Getty Images
While routing Golden State, DeAndre Jordan and Blake Griffin found Lamar Odom entertaining.LOS ANGELES -- Not many teams could make a rivalry more intriguing with a pair of blowout games. With the Los Angeles Clippers and Golden State Warriors, it gets more intriguing the wider the margin of victory.
Sure, the Clippers' 115-89 beatdown of the Warriors on Saturday was about as suspenseful as a Bazooka Joe comic. But with a menacing glare from Mark Jackson, a hard foul from David Lee, and Chris Paul's memory and eye for detail thrown in the mix, there was just enough to make you want to fast-forward to their fourth and final meeting Jan. 21 -- and hope they'll collide again in the playoffs.
The Warriors were the only team that could claim two victories over the Clippers this season, and no other squad enjoyed the process as much as the Warriors did in their 115-94 victory Wednesday night in Oakland, during which the Golden State bench rejoiced at a Blake Griffin shot that hit the side of the backboard and Jackson joked about Griffin's acting skills.
Saturday was the Clippers' turn for repayment, with compounded interest. Despite having played a long, emotional game against the Lakers the previous night, they spurted to a 35-12 lead after the first quarter, expanded the lead to 28 points in the second, and were throwing alley-oops to DeAndre Jordan off the backboard and from half court while parading to a 39-point lead in the third.
It was enough to get Jackson to spend a good portion of a timeout glaring in the Clippers' direction.
"What you've got to do as a coach, as a player, is just let it soak in and remember it," Jackson said. "That's all. Mark it down with permanent ink and ... we'll see ya. We'll see ya. Nothing upset me. They earned the right to celebrate the way they played. Just a good, old-fashioned, heavyweight championship stare-down, that's all."
The Clippers tried to avoid saying there was any extra motivation behind this performance. Not even from Matt Barnes, their emotional sergeant-at-arms.
"The most important thing was we wanted to get a win," he said.
He and his teammates attributed this performance to simply wanting to play better against a divisional opponent that had already beaten them twice ... although Paul noted that: "The first time they beat us here, you would have thought they'd won the NBA Finals, you know what I mean?"
Yeah, we know.
The Clippers followed that game with a home loss to the Cleveland Cavaliers, causing them to reassess their approach. They credit those losses with giving them the mentality to win 17 consecutive games. They actually learned to prepare for games in the same manner in which Jackson is trying to get his squad to think.
"In order for us to get to where we want to get to, we have to treat every game like a big game," Jackson said. "We can't let our guards down. We can't think, 'OK, we'll stumble into a victory.' We've got to play with force."
These two teams are learning what it's like to be considered targets.
It used to be the only thing that could connect these teams was adjacent seats at the draft lottery. Nearly halfway through the 2012-13 season, they both can be regarded as upper-echelon teams in the Western Conference. Only three games separated them entering Friday night, and they fully expect to know each other down to their Social Security numbers by the time this is over.
"If we plan on getting where we plan on getting, we'll see them down the road," Jackson said.
The Warriors still have the 2-1 series lead. Griffin might still be a little sore from the two-handed shove Lee gave him as he attempted a fast-break alley-oop. For a series with such little history, there suddenly is a lot to keep in mind.
"We remember," Griffin said. "Wednesday's game was pretty fresh in our mind. They outplayed us and they deserved the win."
As a result, "We knew they were going to come out and go after us," Jackson said. "We did not respond tonight."
I doubt that will be the case next time. What I do know is I can't wait to see what's next.