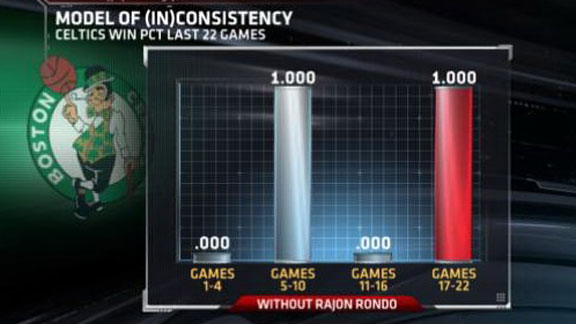 ESPN Stats & Information
The Celtics have sandwiched two six-game win streaks around a six-game losing streak.Kevin Garnett went over 25,000 points for his career; more importantly, the Boston Celtics continue to win without All-Star point guard Rajon Rondo.
Thursday's 21-point win over the Los Angeles Lakers extends the Celtics' win streak to six games (matching their longest streak of the season), and all six wins have come since Rondo went down with a season-ending knee injury on Jan. 25.
In their last 18 games, the Celtics have two six-game win streaks around a six-game losing streak. According to the Elias Sports Bureau, they are the first team in NBA history in an 18-game stretch to win six straight, lose six straight then win six straight games.
Most Points Scored NBA History
Players Who Didn't Attend College
On Thursday, Boston did a lot of its damage close to the basket. The Celtics made 21-of-35 shots inside of five feet, their third-most field goals made from that distance this season. Entering Thursday's game, the Lakers were allowing 35.6 points inside of five feet, the fifth most points allowed per game.
As for the Lakers, they were playing their first game since Pau Gasol injured his right foot on Tuesday. It's doubtful he would have made a difference, but the Lakers are a .500 team with Gasol (18-18) and now 5-9 without him.
Kobe Bryant scored a game-high 27 points, but did not have an assist -- only the third game this season he did not have one (Lakers are 0-3 in those games).
The Lakers are 8-17 on the road this season, and have lost 13 of 15 road games against teams currently .500 or better.
As for Garnett, he joins Bryant and Moses Malone as the only players in NBA history who did not go to college to score at least 25,000 points. What's more impressive is that Garnett is the first player in NBA history with: 25,000 points, 10,000 rebounds, 5,000 assists, 1,500 blocks and 1,500 steals.