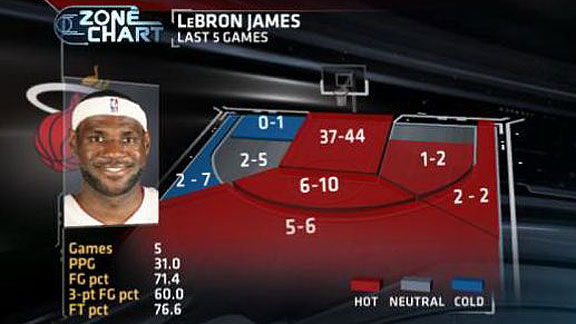 The game is becoming too easy for LeBron James, who put up another monstrous effort in the Miami Heat's 107-97 win over the Los Angeles Lakers on Sunday.
Let's look at some of the storylines to emerge from that victory.
Unstoppable in-close
James went 8-of-10 inside 10 feet on Sunday and has now gone 37-of-44 in his last five games from that distance.
James has made at least 75 percent of those attempts in each of his last five games, something he hadn't done more than two games in a row previously this season.
James is shooting 70.5 percent from that range, best in the NBA this season. For those curious—the next two shooters from that close are Nick Collison and Boris Diaw.
LeBron 1-on-1
James was in isolation on nine plays Sunday, generating 12 points on 4-of-7 shooting, drawing three shooting fouls.
Over his last five games, James has shot 72 percent when in isolation, a jump from his 46.4 rate on those shots in the first 43 games of the season.
LeBron vs Kobe
James improved to 13-6 all-time in games played against Kobe Bryant. Among the game's most notable players, James is the one who has given Bryant the most trouble.
Bryant is 14-6 all-time in the regular season against Kevin Durant, 30-14 against Dirk Nowitzki, 16-11 against Carmelo Anthony, and 13-9 against Paul Pierce.
Is this the best he's ever played?
This marks the 10th time James has scored at least 30 points in 5 straight games.
LeBron's Best 5-Game Stretches
His longest streak is a 10-game stretch he had in the spring of 2006.
But it's not just the scoring … it's the efficiency with which he's done it.
His five straight games with at least 60 percent shooting from the floor is the longest such streak of his career
James is shooting 71 percent from the field in this stretch, the best he's shot in any five-game stretch in his career.
Dynamic Duo
The Elias Sports Bureau notes that James and Dwyane Wade became the fourth pair of teammates to each score 30 points and shoot 65 percent or better from the field against the Lakers in a single game.
The other three were Walt Bellamy and Gus Johnson (1964 Bullets), Alex English and Dan Issel (1982 Denver Nuggets), and Mike Miller and Pau Gasol (2007 Memphis Grizzlies).
Elias Stat of the Day