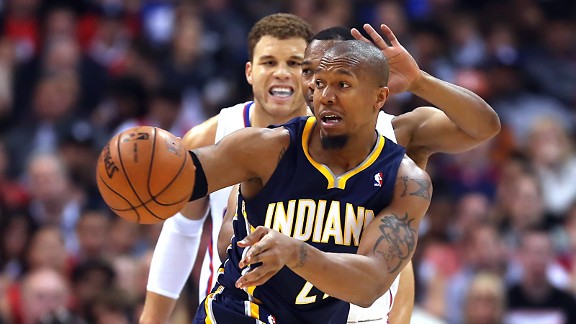 Jeff Gross/NBAE/Getty Images
David West knows how to find a mismatch, control a possession and encourage Paul George.
LOS ANGELES -- Things got sticky late for the Indiana Pacers, and there was nothing artful about the conclusion of their 109-106 win over the Los Angeles Clippers at Staples Center. The Pacers let a 24-point third-quarter lead dwindle down to two and their crucial bucket with 49 seconds remaining came on an ugly possession during which the ball never came close to the paint until just before the shot clock buzzer. If not for David West's step-back jumper over Blake Griffin, the game could've been a calamity for Indiana.
But West came through, and the Pacers' locker room was festive after the game. Certain allowances are afforded to teams that log a 4-0 road trip through the Western conference, even if the landing is bumpy.
The source of the Pacers' good spirit of late is their invigorated offense. At the outset of the season, scoring was a chore for the Pacers. There's never been a lack of effort in Indianapolis, but every possession seemed like a grind, and open looks at the basket came hourly, if that.
Since the midpoint of their season on January 21, the Pacers have boasted the 10th most efficient offense in the NBA, a remarkable improvement for a team that ranked 28th on New Year's Day. During their current five-game winning streak, the Pacers have scored well over 100 points per 100 possessions in each contest, and racked up 109 points against the Clippers in 90 possessions unofficially, good for an eye-popping 121.1 efficiency rating. Indiana's defense has been the gold standard in the NBA since Day 1, but an offense that can produce at that level should put a scare into any team it confronts in the postseason.
The starting five hasn't changed, nor has a bench that's short on offensive punch. So how have the Pacers breathed life into their attack? Five observations from the Pacers' win over the Clippers:
Paul George is growing up. The lanky wing has graduated from curio to catalyst for the Pacers, learning not just how to create for himself, but effectively anchor a half-court offense. George is still most comfortable in isolation, but he's recognized there are opportunities around him if he applies a little vision. "The more room I have, the more comfortable I feel," George said before the game. "The next level is what I'm working on now."

The Pacers are getting into their stuff more quickly, and delivering the ball to West in the high post is often the departure point. West was a pick-and-roll practitioner for most of his career in New Orleans alongside Chris Paul, but he's developed a firm understanding of where shots will come from in the half court. Twice on Monday, West found a mismatch for himself, using a brush screen on the perimeter in tandem with George to draw Caron Butler. Not considered a mobile big, West nevertheless knows when to leak out against a flat-footed defense, and found a couple of buckets in transition as well.

West is doing wonders for George's expanding offensive game, and the two have developed a chemistry that's producing results. "We've been learning each other as the year's gone on and he's in a new role," West said of working with George in a two-man game. One quality that's measurably different about George's game is his awareness of where West is in the half court when George needs help. As teams load up on George, he and West almost telepathically devise a plan to release the pressure. "We talk about passing windows, giving him alleys to make passes," West said. "We pride ourselves on being able to -- if you take away our first option -- get the ball moving to the other side and being able to punish teams on the back side."

The mystery of Roy Hibbert's resurgence continues. Ask him, his coach or his teammates where anything has changed about his form or mechanics, and all you get are shrugs. So what's Hibbert doing now that he wasn't at the start of the season? "The tougher question is, 'Why wasn't he finishing before?'" Pacers coach Frank Vogel said. "What he's doing now is what we've come to expect." Hibbert led all scores on Monday night, recording 26 points on 11-for-14 shooting from the field. Hibbert offered his own theories: "Don't force things," he said. "I come in on my days off and try to get better. I try to mimic David West's workouts." Vogel offered another theory prior to the game. When Hibbert couldn't buy buckets earlier in the season, Vogel encouraged the center to focus on anchoring the defense. Sure, be mindful of opportunities on the other end, but do it with less deliberate effort and more in the flow of the offense. After the game, West mentioned that the Pacers were aware of the Clippers' uneasiness about double-teaming down low. That was the cue for Hibbert, and he delivered.

George talks about learning to work in the post, given the size advantage he often enjoys against his defensive counterpart. When the Clippers went to Jamal Crawford as their nominal small forward late on Monday, George looked to post him up. The Pacers had trouble finding George, despite the mismatch, but George is eager to keep trying. "[Crawford] fronted me, but [the Clippers] had a big helping, shadowing behind me," George said. "It was a little difficult, but it's something we just have to work on. It's a learning process." George prefers a layer of space around him when he's working, something post play doesn't accommodate, but his willingness to learn will mean a lot to the offense.