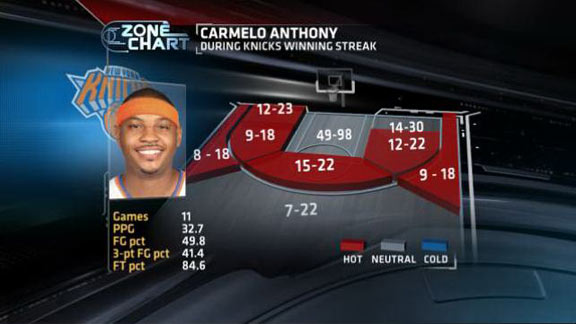 Carmelo Anthony has been great from the outside during the Knicks winning streak.There is no better outside shooting team in the NBA right now than the New York Knicks.
The Knicks went 24-of-51 (47 percent) from outside the paint Sunday, scoring 63 of their 125 points on those shots.
Knicks Shooting Outside the Paint
During 12-Game Win Streak
The Knicks have shot a league-best 43.8 percent outside the paint since the start of the streak after ranking 13th (38.1 percent) before the streak.
Carmelo Anthony has been the best of the Knicks shooters during that stretch, as we recently detailed. He's 62-for-115 (53.9 percent) on mid-range shots (outside the paint, inside the 3-point line) in this stretch, including 5-for-9 against the Thunder.
He's continued to excel in isolation. Anthony entered Sunday third in the NBA in points per game in isolation situations (6.7), trailing Kobe Bryant and Kyrie Irving). Sunday he went 6-for-11 from the field in such instances for another dozen points.
Making Others Better
What has Anthony's outside shooting done for others on this team?
Though this wasn't fully on display on Sunday, it's opened up the lane for the likes of J.R. Smith and Raymond Felton.
Smith is 52 for 88 in the paint during the streak (59 percent), part of a stretch in which he's averaging 25 points per game. He entered the streak shooting 45.1 percent in the paint for the season.
Similarly Felton is 35-for-52 (67 percent) in the paint in this winning streak (brought down by a 4-for-9 against the Thunder). Felton had shot 46.6 percent from in the paint prior to the start of the streak.
Looking Ahead
Anthony took the NBA's scoring lead from Kevin Durant in this game and became the first Knicks player with four straight games of 35 or more points since soon-to-be-named Hall-of-Famer Bernard King.
Anthony also recorded his fourth straight game with at least 35 points and 50 percent shooting from the floor.
Over the last 25 seasons, only LeBron James and Shaquille O'Neal have done that in five straight games.
The Knicks next game is Tuesday at home against the Wizards.
Anthony has reached both of those thresholds only twice in his 19 career games against the Wizards.