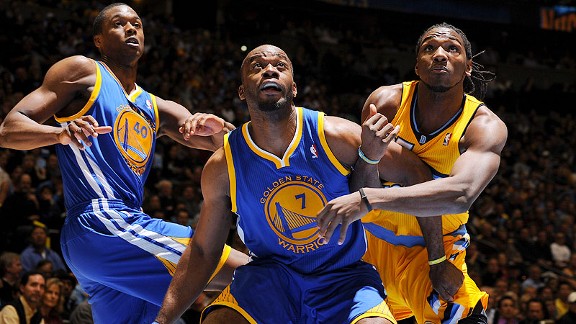 Garrett W. Ellwood/NBAE/Getty Images
With Harrison Barnes filling in at power forward, the Warriors scored like crazy.
Ethan Sherwood Strauss called it before it happened. Without David Lee, he wrote, the Warriors might be forced into playing Harrison Barnes as a stretch-four.
Which just might jump-start the Warriors' offense.
One game into the experiment, the Warriors won an entertaining, high-scoring game, the Nuggets defense was befuddled by all the shooters, Golden State shot lights out, Barnes made nine of 14 shots, and Strauss is looking prescient.
But that is not the same as saying he thinks the Warriors are better off, generally, without Lee. On WarriorsWorld, Strauss explains:
Barnes-at-the-4 is necessity as-mother-of-invention, and a wholly positive development for Golden State going forward. It bodes well for their chances in this particular long series, and should make them a better team as Harrison develops. What it does not do, is make David Lee expendable. To engage in some cross sports analogy, say a fastball pitcher develops a changeup and the latter pitch is flummoxing a certain kind of hitter. Success against that hitter doesn't obviate the need for a fastball against others.

Lee is a huge, helpful part of GSW's base offense. It just so happens that this offense, like many offenses, is well suited to going smaller against certain defenses. And Denver just might be the kind of team that's ill suited to handling Golden State's 4-out approach.