Does coaching matter? How do you know if a college star can translate his skills to the pro game? What goes on inside the head of a Bobcat blogger ... from the perspective of a Mavs blogger? The TrueHoop Network ponders elusive questions: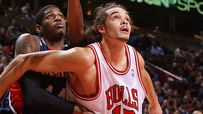 Trey Kerby of Hardwood Paroxysm: "The Bulls, obviously, have wasted another half season due to Del Negro's resistance to playing Tyrus Thomas and Joakim Noah extended minutes. While Aaron Gray played well in his stint in the first half, keeping the Bulls in the game for stretches, he's maxed out his potential, whereas Thomas and Noah have the chance to be key pieces to a team. Per 36 minutes, both Noah and Thomas perform well, but they are desperately in need of a coach that will push them to try hard. That sounds silly; these guys should both know that when they play hard, they play a lot, and in turn play well. However, VDN's annoyingly merit-based rotations leave players in fear of making mistakes, lest they sit for quarters at a time."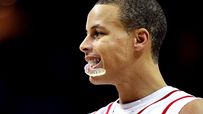 Jay Aych of The Painted Area: "Well established that...Davidson prospect [Stephen Curry] can drill from anywhere with his super-soft stroke (almost as sweet as his father's). No secret he's not a tremendous athlete, but has the ability to create space for himself thanks to great ball-handling & polished footwork. Has a very nice step-back move, especially when heading to his left. Also, has a killer crossover move where he can step back into a jumper. Definitely think he will be a defensive liability in the NBA, and do wonder how well he can finish deep in the lane ... But when you're not either a superb athlete or long for your position, one way to overcome physical shortcomings is to combine good ball-handling with sweet footwork, especially for perimeter players. It's an alternate way to create space for yourself vs. quicker, longer opponents. Two examples who come to mind are Brandon Roy & Steve Nash. Though Brandon is a better athlete than most realize, he has taken his game to all-star levels because of his adept ball-handling & advanced footwork. This is why I think Curry can be a pretty nice player at the next level. Maybe not an all-star, but a pretty solid starting pg."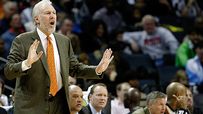 48 Minutes of Hell: "I marvel at Popovich's ability to get results. Plenty of coaches complain about their team's defense. But the truth is, very few coaches are capable of turning the ship. Yet here we are again, approaching February, with Popovich and his team showing signs of digging in. Charles Barkley's 'Groundhog Day' moniker deserves wider application."
THE FINAL WORD Rob Mahoney of Two Man Game: Why the Charlotte Bobcats are his "second team." Bret LaGree of Hoopinion: Joe Johnson's lousy night had nothing to do with his shot selection. Matt McHale of By the Horns: The Bulls don't have a go-to guy.