For those who love to hate the All-Star Game, or hate to love its imperfections, there's plenty of good reading: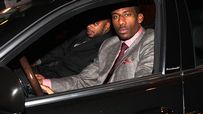 Michael Schwartz of Valley of the Suns: "Amare has now made the All-Star team in four consecutive years not counting the year he was hurt, and he becomes the first Suns big to start the game since Barkley in 1996. Amare's come-from-behind win over Carmelo no question represents a victory for viral marketing. STAT's Vote4Amare Web site and YouTube videos featuring everyone from George Washington to Barack Obama to Shaq cardboard cutouts extolling his virtues clearly were hits with the voting fans. Plus, we learned that billboards in China result in more votes than Dirk Nowitzki's popularity in Germany, as Dirk finished a distant sixth behind Bruce Bowen, Ron Artest and Carmelo despite probably being most deserving according to the numbers. Honestly, I think this selection could be the best thing that ever happens to the man known as STAT and the Suns. Now that he's being recognized as an All-Star starter with the LeBrons, D-Wades and Dwights of the world like he so badly wanted, maybe he'll be impelled to give the kind of consistent effort those guys do each and every night. Or so Suns fans can hope. I don't think it's time for the Suns to give up on Stoudemire or give up on this season by dealing him; I still think Steve Kerr needs to give this team at least one year to gel. And if Amare puts half the effort into rebounding and defending as he did into marketing himself for a starting role in the All-Star Game, he might be able to earn a spot next year without the benefit of even a single YouTube video."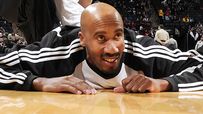 Timothy Varner of 48 Minutes of Hell: "A funny thing happened on the way to U.S. Airways Center: Bruce Bowen was nearly voted an All Star. Coming in with a total of 1,392,398, he out paced the fanfare afforded to obvious All Star talents such as Carmelo Anthony, Dirk Nowitzki, Pau Gasol, and LaMarcus Aldridge. Bowen finished third, not far behind second place vote getter Amare Stoudemire. In terms of raw votes, Bruce Bowen received more voter love than Tony Parker. Strange, that. I'd like to believe that some benevolent fan led a grassroots movement to finally recognize Bowen's defensive greatness, especially now that his minutes are in sharp decline. An All Star appearance, on a Phil Jackson coached team, in Phoenix, would seem a fitting tribute to the league's best perimeter defender of this decade. If that were the case, I'd be thrilled. But it's doubtful. What happened here? Is there an obvious explanation that will quell the inevitable conspiracy chatter? A quick look at the numbers reveals that multiple Spurs fared well. Tim Duncan led among all Western players not named Kobe Bryant. Tony Parker and Manu Ginobili, despite missing a large chunk of the early season, bested their 2008 numbers, doubling and tripling their vote total from last season. Have Spurs fans finally had their fill of media disregard? Are Bowen, Ginobili and Parker the beneficiaries of French and Argentine fans going Chinese on us? I'm guessing this is the case. And, if so, fine. Or, as Rob Mahoney thoughtfully put it, 'Screw the reasons behind the vote; is casting a ballot on their terms any different (read: worse) than voting straight-ticket for your hometown team?' Of course not. But if something else is afoot, we'd like to know. Were the ballots counted in Chicago? Is there a movement amongst fans to see more hard nose D in their superstar exhibitions? Do the fans simply want to see a good, old fashioned All Star brawl? Bowen in a customary defense-less All Star game could hackle the feathers of one or two egos."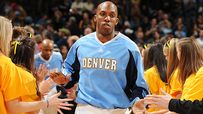 Jeremy Wagner of Roundball Mining Company: "Chauncey has definitely made a mark on the Nuggets, but it has not been the mark we expected. Billups was supposed to raise the Nuggets defense to another level and early on he did. The funny thing is Chauncey's impact has actually made this team more of an offensive force than a defensive one. The Nuggets offensive efficiency has been steadily climbing throughout the season. During those 19 games where their defense has fallen apart their offensive efficiency has been a stellar 112.5. As bad as their defense has been is how good they have been on offense."
THE FINAL WORD Daily Thunder: 10 reasons to love Scott Brooks. By the Horns: Hate is not a family value. Knickerblogger: David Lee -- more than just a collector of garbage.