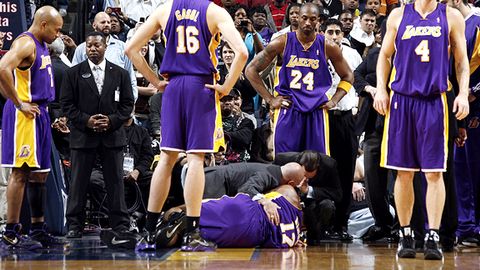 Andrew Bynum has memorized some dates. He has looked at some calendars. And he has noticed some oddities. Jonathan Abrams of The New York Times:
On Monday, Bynum walked into the Garden using a black crutch, seemingly as more of a prop than a support. He is scheduled to return to Los Angeles on Tuesday and begin rehabilitation in about a week.

He smiled and said he was confident he would return before the end of the season, buoyed by the prospect that he would not need surgery this time.

"I've already come to grips with it," Bynum said. "It's pretty crazy with the similarities. It was Jan. 13 last year. It was Jan. 31 this year. On both nights, I had 27 points the game before. And both times against Memphis."
That's something of a coincidence, certainly.
There are others: Last year and this year Kobe Bryant followed Bynum's injuries with big scoring games on the road. Last year it was 48 at Seattle, this year 61 in New York.
Then consider what Laker assistant Kurt Rambis had to say:
Things started to click for us. Guys got high on how the team was playing. They can play better, there's plenty to improve, but everyone was really feeling a continuity of effort, and trust in each other. Now, there's uncertainty, because it seems like what happens mirrors last season.
Totally common sense, right?
But here's he spooky part: Kurt Rambis told me this more than a year ago. Everyone is writing about how it's odd the same thing has happened to the Lakers two years in a row. But the story is that the same thing has happened to the Lakers three years in a row.
That's right, when Bynum got injured last year, Rambis and the Lakers were already thinking: Wow, we are cursed, after a raft of injuries and suspensions derailed their 2006-2007. Rambis continues:
You can look it up, but we had almost the same record at this time last season -- maybe two or three games different -- and then the injuries set in, and it seemed like there was a 180-degree turnaround from the first half of the season to the second half.
In 2006-2007 Luke Walton, Lamar Odom, Brian Cook, Kwame Brown, and Chris Mihm were in and out of the lineup -- as was Kobe Bryant who kept getting suspended for allegedly hitting people while shooting.
And as long as we're hinting at other worldly phenomena, I'll point out that a zillion TrueHoop readers have e-mailed that if Andrew Bynum had been suspended for two games for collapsing Gerald Wallace's lung in a vicious hit, then he wouldn't have been on the court to get injured in this manner. Those e-mails tend to come with the word "karma" in them.
Me? I wish Bynum hadn't attacked Wallace like that. But now that's done, I feel bad for Wallace and Bynum. Young people who rely on their bodies to make a living? The hospital is the last place those guys want to go. For a lot of players -- people used to proving their worth in high-adrenaline competition -- being on the sidelines is disorienting and upsetting.
More than anything, I'm just glad Bynum still has the mental poise to concern himself with stuff like dates, trivia, and parallels between the seasons. There are no curses, right? Forum Blue and Gold isn't buying your tales of doom. Kurt Helin, this morning, writes:
It takes the extraordinary -- like dropping 61 in Madison Square Garden on the Knicks - to make us stop for a second again and really appreciate Kobe. Appreciate the footwork. The basketball intelligence. The Athleticism. The Passion. He is part of a select group that can elevate his game and the game to artistry.

Last night was also a reminder that even without Bynum, this team is still a contender. This is not the team that went to the Finals last year - this is the team that went to the Finals with Trevor Ariza added to the mix and a year of experience for the then-overwhelmed younger players. This team is very, very good. Can it beat Boston then Cleveland on the road this week? Who knows? Who knows if they could have won these two games on the road with Bynum? But right after the Bynum announcement I would have said they could not, with a night to sleep on it I can say maybe. And that gives me hope. And more importantly, my hope extends to whether or not they could beat those teams in a seven-game series.

I know, from the comments here and around the Lakers Nation, some Lakers fans have resigned themselves to the gulag. I just can't be that guy. I would urge all of you to step into the sunshine and bathe in its warmth. Everything is not lost, far from it, there is so much fun and excitement ahead of us, so many amazing moments of great basketball and exciting series to come. The journey is the fun part. And we have no idea where that journey will end, but there is still hope and belief that it can end where we want.
(Photo by Joe Murphy/NBAE/Getty Images)