A little more than two years ago, Elton Brand was such a dominant and fantastic basketball player that an anonymous NBA scout told Sports Illustrated:
"If the Lakers offered Kobe Bryant for Brand, I would tell owner Donald Sterling not to do it. It's harder to replace the effort and production Brand gives you at power forward than the scoring Bryant provides on the wing."
(Around that same time I was dreaming up fantastical scenarios about how he might be so perfect that he must be from outer space.)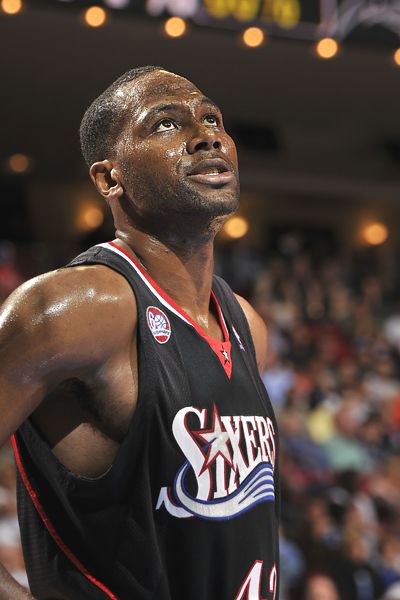 He has been an All-Star twice, rookie of the year, and college player of the year at Duke. By various sophisticated metrics, he has been a top five NBA player in about half of his first ten NBA seasons. He's also one of a very small handful of players on a path to earn more than $100 million in NBA salaries over his career.
Last summer, Elton Brand was coming off an atrocious injury -- a torn Achilles -- and was joining an up-tempo team that didn't seem to fit his post-up style. But he's so good that nobody cared. Just about every pundit in the world insisted the Sixers won the off-season simply by signing the best free agent on the market.
Today we learn that his broken first season in Philadelphia is over before it ever really began.
In addition to being extraordinarily productive, Brand was once seen as an NBA iron man. Over his first eight professional seasons, Brand averaged more than 2,900 minutes (if he played every minute of 82 games, without overtime, that would be 3,936 -- so 2,900 is a lot).
Over the last two seasons combined, however -- thanks to the torn Achilles' tendon and now the shoulder problem -- Brand will have played a measley 1,194 minutes.
And even when he did play, the Sixers did not necessarily sparkle. The Sixers, particularly under Tony DiLeo, who replaced Maurice Cheeks mid-season, have shown that they can be effective when playing quickly. They have a lot of personnel, Andre Iguodala, Thaddeus Young, Louis Williams, and the like that thrives in that system.
Elton Brand is no clod. And in theory he could get the rebounds and blocked shots that could start the break. Many times this season, he even got out on the break himself. When he did, Andre Miller tended to find him (good point guards reward big men who run) and he was good enough at finishing. More than a few times he even dribbled the length of the floor himself, or leaked out to beat the likes of Andrew Bynum or Derrick Rose to the rim.
So, even after the injury, he didn't always look like a fawn skittering across a frozen pond on the fast break, as many had feared.
But he was not quite right, and because of it, he did not make the Sixers a dramatically better team. In fact, they were slightly better when he was on the bench than when he played.
It's hard to pinpoint exactly why. Maybe he took touches and minutes away from more effective players. Maybe he slowed the team down. Maybe he was playing hurt.
But there's a new worry, too. It's time to face the possibility that thanks to injuries, and a high odometer reading, 30-next-month Elton Brand could already be on the downslope of his career.
When he played this season, his PER was 14.6, which is below the NBA average. His true shooting percentage was .484, which is way lower than at any other time in his career.
In fact, his points per minute have been falling for four straight seasons. Even his free-throw percentage is way down. (Admirably his defensive rebounding rate, however, is up.)
Injuries could well be the excuse and the cause of that dip in production. But injuries can also be the reason for elite players to become average players.
This seems like too soon for that. So let's hope it's a premature worry.
Here's to a successful shoulder surgery, and the resurrection of a great NBA career.
(Photo by Fernando Medina NBAE/Getty Images)