Chicago and New York were big players at the deadline. The Spurs and Suns were non-players. Who got played? Read the tea leaves at the TrueHoop Network.
Matt McHale of By the Horns: "Are the Bulls a better team today? Yes.
Look, Rome wasn't built in a day. In fact, that McDonald's down the street? It wasn't built in a day, either. This wasn't a dramatic 'Kevin Garnett and Ray Allen to the Celtics' uber-makeover. (And how often do those even happen – let alone work out - anyway?) No, we didn't bring in a superstar. Or even a regular star, for that matter. What John Paxson did was address a few of the team's glaring needs while clearing future cap space for a strong run at a bona fide superduperstar in the [insert dramatic music here] Summer of 2010. That's win-win, right?
We needed more size up front, some interior defense and a center who can score. We got all that. Miller is hardly a defensive wiz, but he's at least got the bulk and veteran wiles to body up to opposing big men. He's not much of a post player, but he can shoot and pass as well as or better than most centers. And he seems genuinely psyched up about returning for a second stint with the Bulls...Miller's not a long-term answer. But he's a decent stop-gap. Especially if he's motivated, and it seems like he is."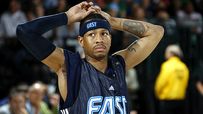 Dan Feldman of Piston Powered: "Pistons president Joe Dumars did Chauncey Billups the favor of sending him home to Denver, and Iverson was the only Nugget who had a big enough expiring contract to make the deal work?
Well, Detroit has Iverson, and last night's game showed the upside of the move - at least until Dumars can parlay Iverson's expiring contract into somebody more valuable.
The game was the type of slow-paced, grind-it-out contest you see in the playoffs. And how many times have the Pistons lost a playoff game because they didn't have a player who could create his own shot?
From 1:30 left in the third quarter until the end of the game, Iverson scored 16 points. None of his baskets in that stretch were assisted.
Iverson, who finished with 31 points and seven assists, drove for layups, found pull-up jumpers and got to the free throw line. He didn't look 25. But he definitely didn't look all of 33, which he has for most of the season.
So even though Detroit lost to the Spurs, one the NBA's top teams, Iverson performance tonight is encouraging for the Pistons in playoff games.
That is, if they make the playoffs."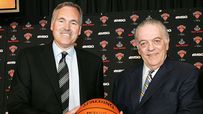 Mike Kurylo of Knickerblogger: "As for the Knicks' other deal, it's not necessarily who they got that makes them better. Larry Hughes is an aging slasher/defender who perhaps was never a great defender despite his reputation. Kevin Broom and I used to discuss Hughes' defense, and Broom thought that Hughes' gambles on the defensive end hurt the team. As for the slasher aspect, Hughes averaged 6.9 FT/36 in 2005 and that number has decreased in every full year since (5.4 in 2006, 4.3 in 2007, 3.4 in 2008). That means he's either not able or not willing to get to the hole more, which would explain his tumbling shooting numbers. This year has been a small rebound year for Hughes, as his TS% has increased nearly 60 points from last year (TS% 52.5%) But at this point it's possible due to the small sample size instead of a real improvement.
What's more important about the Bulls trade is that the Knicks unloaded three players for one. [T]he team has been playing shorthanded nearly the entire year. With two new roster spots freed, the Knicks can grab two players from the D-League to fit specific roles (shot blocker?, point guard?) that the team needs.
In both of these deals New York has given up only one player who was in their rotation: Tim Thomas. The Knicks will be able to replace his role on the team with two players. The first is Wilcox who will give New York a big body to defend the post. The second is Gallinari who will provide scoring from the perimeter. Giving the rookie more playing time is the icing on the cake for the Knicks."
THE FINAL WORD
48 Minutes of Hell: Did the Spurs blow an opportunity?
Roundball Mining Company: How about Denver?
Valley of the Suns: Did Phoenix do well by doing nothing?
(Photos by Jonathan Daniel, Joe Murphy, Mike Stobe/NBAE via Getty Images)