Invisibility isn't necessarily a bad thing for Dirk Nowitzki. Norm Van Lier was anything but invisible in the pantheon of Chicago Bulls legends...but Josh Smith was in Atlanta's tough loss to the Cavs. Gain some visibility at The TrueHoop Network: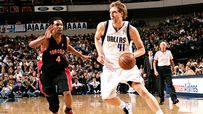 Rob Mahoney of The Two Man Game: "Dirk only had 24 points (8-19 FG), 10 rebounds, and 5 assists. Yawn. His typical brilliance was trumped only by his usual subtlety, 'invisibly' anchoring the Mavs' attack. (On another note: why is the word invisible always used as a pejorative when it comes to basketball? There's something wonderful about blunt domination, but I can see the advantages of killing an opponent without their knowing they're being killed.) Howard continues to boggle the mind. His 16 points tells you he did fine on the offensive end, which is true. But 0 steals and 0 blocks? Just another example of the deception of the box score. The team continues to excel whenever Howard hits the floor, and his somewhat empty stat line is balanced by a +15 for the game. Well done, chaps.
As someone who has watched Dirk's entire career, I feel obligated to comment on Andrea Bargnani. Dirk was the hopeful projection when Toronto drafted Bargs with the 1st overall pick, and it's kind of silly. It's not that Bargnani isn't talented, or that he doesn't have some of Dirk's skills. Their approaches to the game are just fundamentally different. Dirk's ungodly efficiency is a product of a natural high ground, a high release, and a sweet shooting stroke. What he lacks in athleticism and mobility he makes up for in footwork and precision. Bargnani doesn't share Dirk's dominant shooting touch, as much as he loves to shoot. But he does show a willingness and an ability to drive and finish, which is something in it's own right. He's 23 and has all the time in the world, but for those still hoping to see Dirk 2.0, keep this in mind: Nowitzki is the exception, not the rule. There has never been a player that combined Dirk's size and shooting touch, and it may not be so soon before we see another."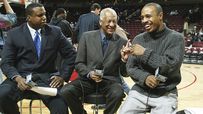 Matt McHale of By the Horns : "At 6′1″, Norm [Van Lier] was small-ish, even for his day, and his game was about toughness, hustle, defensive tenacity and a team-first attitude…not the accumulation of gaudy, record-setting statistics. You might notice those are the same traits that made one William Felton Russell into the greatest winner in NBA history. Sadly, Norm wasn't part of 11 championship teams like Russell. In fact, he wasn't on a single title winner. But that shouldn't diminish his greatness, or our memory of him.
Fortunately for Norm, the people of Chicago came to adore him, and his teammates respected him so much they probably would have stepped in front of a flaming meteor for him. He was a member of the most beloved Bulls team that didn't include Michael Jordan. That 1970s squad featured a group of players who brought it every night: Norm, Jerry Sloan, Bob Love, Chet Walker and Tom Boerwinkle. None of those guys were what you would call All-World, but they played smart and they played together. And despite the lack of star power, they managed three straight 50-win seasons (four if you count the year before Norm arrived), an epic seven-game semifinal series against Wilt Chamberlain's Lakers in 1973, and two trips to the Western Conference Finals in 1974 (where they lost to Kareem Abdul-Jabbar's Milwaukee Bucks) and 1975 (where they lost a bitterly contested seven-game series to Rick Barry's Golden State Warriors, who would go on to win the title).
...As his old running mate Love said after he heard about Norm's passing: 'Man oh man, me and Norm were just together Tuesday night. As usual, he was expressing his love for the team and the franchise. He said, "Butter, a lot of times I may sound critical on TV but it's just because I love these guys so much and I want them to win." People might have taken that the wrong way. But he had passion like nobody else and just wanted to be loved.'
That was Norm in a nutshell. When Johnny 'Red' Kerr was honored a couple weeks back, President Barack Obama described Kerr as 'the fan on the bar stool next to us.' Which he was. Well, Norm was the rascally old grandfather filled with a mind full of wisdom and a belly full of fire. He was never afraid to tell it like it was, nor would he waste an opportunity to teach a lesson that needed to be learned, even if, at times, those lessons weren't taken to heart or (again) fully appreciated.
We'll miss you Norm."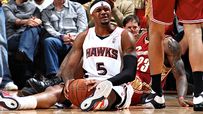 Bret LaGree of Hoopinion: "The fourth quarter will likely lead to another round of questions about Josh Smith and whether the Hawks are better with or without him. It's a complicated question. His poor rebounding and shot selection are entirely his own fault. His help defense is a great benefit to the team. The deciding factor for me would be one for which (conveniently) I don't have an answer: Does Josh Smith spend possessions on the perimeter guarding the likes of LeBron James (last night) or Brandon Roy (last week) of his own accord (Be it fueled by competitiveness or laziness it's harmful to the team.) or because he's assigned, from time to time, to guard guys he can't guard? If it's the former then Zaza Pachulia and Marvin Williams need to play a lot more at the 4 as matchups dictate. If it's the latter it would be unfair to blame Smith for being put in a position to fail though it still doesn't get the Hawks closer to playing optimal basketball..."
THE FINAL WORD
Cavs the Blog: "There's always a better play than an ISO for Flip Murray."
Celtics Hub: A close examination of Stephon Marbury's defense against Detroit.
Hornets247: What's the "Palm, jab, jab, pump, jab, jab, fade-away flat-footed 20-footer, clank" routine? Glad you asked.
(Photos by Glenn James, Noren Trotman,Scott Cunningham/NBAE via Getty Images)