The Hornets prevail in a must-win game over the Spurs, in which Bruce Bowen records a DNP-CD. Stephon Marbury is starting to figure out his role with the Celtics, while Iverson will have to adjust to his in Detroit. Read all about "Sixth Men: Past, Present, and Future" at the TrueHoop Network: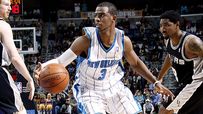 Ryan Schwan of Hornets247: "Simply put, Chris Paul came out at half time and proved he was the best player on the floor. I could fill up an entire observations section just with all the incredible plays he pulled out in that game. It's such a joy to watch him play. As what usually happens in good wins with the Hornets, [David] West carried the team in the first half, scoring 14 and serving as the focal point for the offense. In the second, Paul shifted from fourth gear to Warp 9 and carried the team to victory ... That was a big game, and it went into the 'Do Not Delete' section of my TIVO, so when I am without a game to watch in the off-season, I can fire that one up. Winning without Peja, Tyson and Posey was pretty big."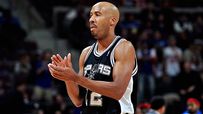 Timothy Varner of 48 Minutes of Hell: "As Coach Popovich creeps closer to setting a rotation, it appears that Ime Udoka will get minutes behind Michael Finley. I'll stop short of making bigger pronouncements. It was only one game. Popovich is certain to use [Bruce] Bowen as a spot defender between now and the time he retires. But I have to say, Pop is taking a gamble. Udoka is a tough-nosed defender, but even at his best moments he is not a versatile, game changing defender like Bruce Bowen. Bowen is a special player in that way. Or, reading into Pop's decision, Bowen was a special player in that way. But Udoka does do some things better than Bowen. His offense is more varied (and erratic), he can handle the ball, and his rebound rate is 10.6, making him one of the better rebounding small forwards in the league. Defensively, Udoka does a better job against balky players like Ron Artest. But unlike Bowen, Pop won't call his number against Chris Paul -- he'll put George Hill into the game. If Sunday's rotation more or less sticks for the postseason, Popovich's gutsy decision to favor Udoka over Bowen will play a prominent role in determining San Antonio's championship aspirations, for good or ill."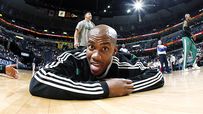 Brian Robb of Celtics Hub: "Starbury only scored 2 points on 1/4 shooting but he did have 7 assists compared to just 1 turnover in 22 minutes to go with a +12 on the floor. There have been some growing pains in the past 10 plus games for the point guard but he is finally starting to look comfortable with the bench unit by distributing the ball to his teammates in the right spots ... a lot of these assists came off of some nice penetration, allowing him to draw multiple defenders to create dunks and open jumpers for his teammates. Great news to see him putting it together at the right time."
THE FINAL WORD
Piston Powered: Allen Iverson, Sixth Man -- A History.
Daily Thunder: Are OKC's best players named Sefolosha and Weaver?
Raptors Republic: Toronto is putting all the pieces together ... in late March.

(Photos by Layne Murdoch, D. Lippitt/Einstein, Joe Murphy/NBAE via Getty Images)