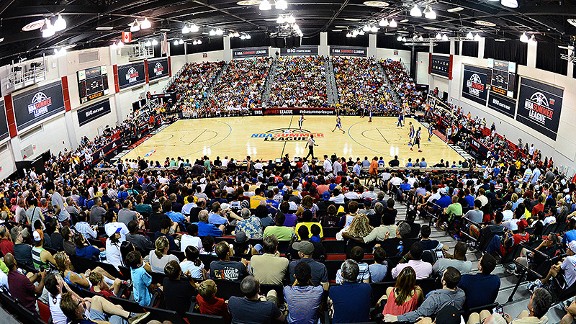 Garrett Ellwood/NBAE/Getty Images
Somewhere below, a fan in a purple Tracy McGrady Raps jersey sways to the sounds of Everclear.
Las Vegas can be a disorienting place. Natural light is strictly forbidden in all the buildings, so any concept of time ceases to exist. Reality is questioned. Things get weird.
In that sense, summer league functions sort of like the totems used in the movie "Inception" -- you know you can only see these things in one place, and one place alone. This is how you know you're at summer league.
Cargo shorts for general managers and capri pants for 7-footers
The leading executive of your favorite team typically wears expensive Italian suits to games and looks like a million bucks. But at summer league? Cargo shorts -- all day, every day. Some ride a little higher up the thigh than others, but everyone appreciates their practicality all the same.
In case you need help spotting the NBA players in attendance, fashion choices like DeAndre Jordan's lime green capri pants are here to be your North Star.
Adventurous fast breaks
Outlet passes have about the same odds of success as the casinos. A summer league staple is the ambitious lead pass that sends a player sprinting at full speed into media row, sending diet cokes flying as terrified reporters clutch their laptops.
In the case of a successful deep pass, things get even more entertaining. Most of the guards in Vegas forget about the finish itself and focus more on flying into their defender and drawing whatever contact they can. It's as if both the offense and defense embrace the "no easy layups" philosophy.
Blackjack with your favorite rookie
Making the wrong "hit" or "stay" at the blackjack table can draw the ire of your tablemates, but the fear of retribution grows exponentially when the person to your left is a 6-foot-10 scowling monster of an athlete.
It's better to stick to the craps table, where you'll see first-round draft picks take off their shoes (as if they were high heels, or something) and place them directly on the table for all to behold.
Cameramen
Yup, they're still way too close to the action on the baseline. We have the technology, people. Move it back.
Throwback jerseys
If you can imagine your closet from 2004 throwing up, that's what the crowd at summer league looks like. The best throwback jerseys seen so far this year, ranked from why do you have that? to how did you get that?!:
Mike Bibby, Grizzlies; Bobby Jackson, Kings; Corey Maggette, Clippers; Rory Sparrow, Lakers; Jason Williams, Kings; Tracy McGrady, Raptors; Arvydas Sabonis, Blazers, and the best of them all, a Dennis Rodman jersey ... from when he was with the Lakers! What a glorious 23 games those were.
Also, a retroactive shout-out to Wally Szczerbiak for wearing a Wally Szczerbiak jersey at last year's summer league.
P.O.U.S
Players of Unusual Size inhabit the desert every July. The favorite from this year's crop? Hawks 7-foot-3, 271 pound center Boban Marjanovic. Analysis of the giant big man on press row was as thorough as it gets, "I think his ears are as big as my face."
Revived pop music
Both arenas played some personal favorites brought back from the dead, or possibly from someone's expansive "Now That's What I Call Music!" collection: Everclear's "I Will Buy You A New Life", Usher's "Caught Up" and Will Smith's "Getting Jiggy With It"
No instant replays
Unless you're a high school basketball aficionado, there's a pretty good chance you haven't caught a live game without the benefits (and perils) of instant replay. Missing a huge block or a big time dunk can kind of stink, but the constant pace of the game and the lack of stoppages are a sight for sore eyes.
Jersey swaps
In the Orlando Pro Summer league, TrueHoop Network member Jordan White saw a player switch teams to help the opponent amass the requisite amount of players needed to start the game. He also saw a player wear a jersey with a name that was not his, and best of all, the use of duct tape to alter a jersey.
That hasn't quite happened yet in Las Vegas, but you will occasionally see players switch teams -- or disappear altogether. Jonny Flynn was on the Clippers roster for a game, played third-string point guard for four minutes and then disappeared into the night to save some face.
Warren LeGarie logging miles
The Sport VU Tracking system has not yet found its way to summer league, but a test run with Warren LeGarie might reveal some Ray Allen-type movement around the arena. LeGarie is the founding father of Las Vegas Summer League, and he treats it just like he would an infant child. He's everywhere at once, always moving, schmoozing and checking to make sure that everything is in line, that VIPs are taken care of, and that the event is running smoother than a baby's bottom.
Legends stay legends
The mere mention of Anthony Randolph's name evokes mental images of his 42-point performance. In Las Vegas, he is preserved in time as the 6-foot-11 dominant point forward, and nothing else.
Chance encounters with World Peace
At 3 a.m. on a Sunday morning, Metta World Peace and a group of friends took a hotel and casino tour courtesy of a hotel employee. A few hours later, word came out that he had signed with the New York Knicks. Tip your waiters, waitresses and concierge, Knicks fans.
A crippling fear of overtime
Overtime is usually dreaded by reporters because of deadlines and whatnot, but add the awaiting splendors of Las Vegas to that equation, and you have rows of media with fingers crossed at the end of games.
It hasn't happened yet, but if a game isn't decided after one overtime, summer league has sudden death basketball for the second overtime period -- first team to break the tie wins.
Creative trash talk
Since the rules are made up and the points don't matter, guys have to get a little creative with their trash talk.
When one player asked an opponent on the bench in a sassy tone why he wasn't playing, the player on the bench simply replied, "Because I'm too [expletive] good."
Taking a limo to in-and-out burger
Because let's be honest -- you would too.
Mayweather finding a way
What's Floyd Mayweather doing on a Sunday afternoon? Catching some summer league action, obviously. Mayweather and some very large friends stuck around for a few hours to take in some hoops and, presumably, do some off-the-books gambling on the game -- which is simultaneously awesome and depressing, kind of like Las Vegas itself.