Manu Ginobili is out. The days of cruising to the Western Conference Finals are out. And the Spurs have come well and truly back to the pack in the playoff race.
But if I were a Spurs fan, none of that would bother me nearly as much as what the ESPN microphones caught Gregg Popovich saying to Tim Duncan during Wednesday night's loss to the Blazers.
The Spurs were down seven points at home, with 7:07 remaining. It was a very winnable game, but San Antonio would need its best player.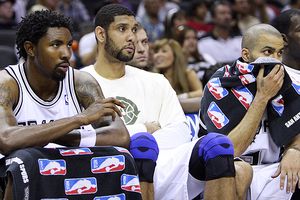 Popovich was having none of it.
Reports were that Duncan had said he was feeling very good, which is why he was playing at all -- he had been sitting out the second night of back-to-backs to rest his ailing knees.
As Duncan approached the bench, Popovich immediately explained why Duncan would be done for the night: "I can't do it," said the coach. "You can hardly move on that. I don't want a hero. I want a healthy guy."
This is first and foremost an example of Popovich and his admirably human, and almost affectionate respect for his players. But it is also an incident showing the Duncan injury story changing somewhat. What used to be a tale of a player taking it easy to get in top form, now feels more like the Spurs MVP, in his coach's words, hardly able to move.
Duncan contributed to the Spurs' effort, but not nearly like he would when healthy. He made just two of his eight shots, with two turnovers, and often appeared to be reluctant or unable to move explosively.
As bad as the news has been so far for Spurs fans, this could be the cruelest plot twist yet.
(AP Photo/Edward A. Ornelas)