This is one of the best NBA videos ever, and it's 100% Mutombo.
Almost wherever he goes, Dikembe Mutombo is the loudest, gravelliest, tallest and smiliest person in the room. He can fill any amount of space -- with laughter, stories, elbows or anything else. Everywhere he goes, people notice him, talk to him, and interact with him.
So there a thousand stories about Dikembe Mutombo. On the day he says he won't play basketball again, these tales are popping up all over the place, and as you'll see below, they are loaded down with comedy. That's right! He brought that on, and his clowning should be celebrated!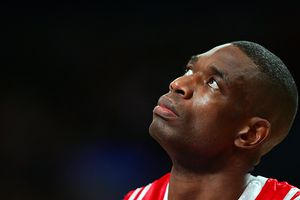 But just as he'll happily toss around a "Fat-rick Ewing" joke to rib an old friend, Mutombo has also been the most serious of NBA players. He has always been the NBA player most comfortable addressing the United Nations, administering polio vaccines, being name-checked in a State of the Union address or building a hospital outside Kinshasa from scratch. He has degrees in linguistics and diplomacy, and you can tell.
A regret of mine is not having had the time to ask him about the book I saw him reading in 2001, when he was new to the Sixers. Right there at his locker, he had his face buried in a book that I swear to you must have been 1,000 pages, and it was an academic-sounding investigation of (Anyone want to guess the topic? Think heavy) ... god.
Even as he'd yell out across the room (I think he thought he was using a regular speaking voice) making fun of Aaron McKie or Allen Iverson, being all lightness and chuckles, he was also always weighty and meaningful. The ridiculous gravitas of his voice was no accident. Even as he's joking about overeating ... he's thinking about preventing famine, disease and widespread death.
And it's to those causes that he'll now, no doubt, commit the time that used to go to basketball.
I'm devestated for Mutombo that he can't run around like a young man anymore, making tons of money and wagging fingers in people's faces for kicks. But I'm also fully aware that he's better prepared than just about any athlete ever has been to thrive in life after basketball. I can believe he'll be heart-broken about basketball, but I can't believe he'll stop smiling.
When I think of Dikembe Mutombo, I think of a man smiling. There's a lot of that in these stories:
Has he ever smiled more convincingly than when he was lying on the floor with the game ball after his young upstart Nuggets miraculously knocked off the then-mighty Sonics?

SLAM's Lang Whitaker writes about when he first met Mutombo in 1997 in Atlanta ("Pretty much immediately," says Whitaker of his early days in the Hawks' locker room, "I figured out that Dikembe Mutombo was amazing.") and reminds us that somewhere out there there's an amazing video of Mutombo on Conan O'Brien, sucking in helium and making his voice even stranger. We need to see that. Whitaker also points to this video gem, in which we get to shower, bowl, golf and horseback ride with the young big man.

Videos of Mutombo's slaying of the Sonics, and doing his humanitarian thing in Africa.

Peachtree Hoops: "To a man who gave Atlanta the finger wag, toughness, and all out effort, and more importantly to a person who gave the country of Congo a hospital, we salute you sir. In a boy's game, you were always the best of men."

The history of the finger wag, going back to 1970.

Dikembe Mutombo Mpolondo Mukamba Jean-Jacque Wamutombo. Just so you have the full name on record.

ESPN's Matt Wong from some time ago (thanks Brett): "Patrick Ewing was in the house, receiving a standing ovation and looking at home while still looking unfamiliar without his hightop fade. However, when the Knick great visited the Rockets locker room after the game, the reception wasn't as kind. His buddies Juwan Howard and Dikembe Mutombo showed no mercy making fun of his weight. And even when Ewing went into another room, Mutombo continued in that one-of-a kind, raspy voice of his, 'Number 33 ... Fat-rick Ewing!'"

UPDATE: Must-read from the archives: Chad Ford joins Dikembe Mutombo in a visit to a Soweto program for South African teens who have been sexually abused: "'Important people never come here,' one 12-year-old boy explains. 'In fact, no one ever comes here. People have forgotten about most of us. How did you remember we are here?' The look on thousands of other faces said the same thing. The children are curious about America, the NBA and my shoes. I'm wearing a pair of black Nike cross trainers and they seem to have struck a chord. Maybe it's because many of the children, despite being dressed in sharp gray slacks, blue blazers, white shirts and ties, don't have any shoes at all. ... It's hard to argue with the results. The school boasts a 100 percent pass rate every year. Many of the children go on to be productive citizens in the community. The children I saw all appeared happy and well adjusted. Ithuteng Trust is a called a 'miracle school,' by some here. Mackey is more modest when discussing here achievements. 'Today is the greatest day we've ever had for the school,' she said. 'We still struggle for recognition. This visit will do so much to help us. Perhaps it will inspire others to do the same.' After the ceremony, the children escort Mutombo and the others to a new rose garden. With shovel in hand, Mutombo begins digging holes and planting rose bushes -- one for every parent who has left a child here orphaned. The scene brings tears to the eyes of most in the crowd. Even the eyes of some of the NBA's most hardened scouts tear up at the event. Mutombo is not done. In a surprise gesture, he hands Mama Jackey a check for $100,000. Jackey literally jumps into Mutombo's arms."

UPDATE: Career highlights:

(Photo by Lisa Blumenfeld/Getty Images)