Atlanta did what it wanted defensively against Miami...and lost. The Magic didn't get what they wanted offensively against Philadelphia...and won. Meanwhile, Chris Paul doesn't look like Chris Paul. The TrueHoop Network sorts out the contradictions: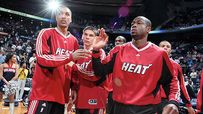 Bret LaGree of Hoopinion: "A sound defensive strategy doesn't guarantee the result you desire. As in Game 1, the Hawks, in Game 2, made the Heat a jump shooting team, kept Dwyane Wade ... off the free throw line, and controlled the defensive glass ... I think the Hawks tip their cap to the Heat and dare them to do it again. Miami isn't more likely to shoot 66% from the floor again than they were likely again to shoot under 40% from the floor after Game 1. Some nights you just get beat and if you get beat with Dwyane Wade on the bench with five fouls and Udonis Haslem knocking down back-to-back 18' jump shots inside the final five minutes of a five-point game before Wade puts the game out of reach with a banked-in three-pointer (his 10th three-point attempt of the game) as the shot clock expires, I think a degree of equanimity and long-term thinking is useful. Not that Jermaine O'Neal's general improvement, Haslem's work on the defensive glass, and Michael Beasley ... realizing that Josh Smith cannot guard him if he alternates spot-up jump shots with dribble penetration shouldn't give the Hawks a clue that winning the series will be more difficult than it appeared following Game 1."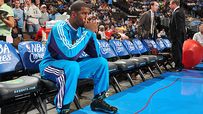 Rob Mahoney of Hardwood Paroxysm: "I have never seen a team completely frustrate Chris Paul so consistently over the course of two games. I was willing to give CP a pass for Game 1; the playoffs are a completely different ball game, and it can take time to adjust. But in Game 2, I saw a virtual repeat of one of the most frustrating defenses in these playoffs ... What I've been impressed with most is the discipline. [The Nuggets], for two games against the Hornets, has played tremendous team defense. We knew that Carmelo [Anthony] was a much improved defender, and we've seen Chauncey [Billups]'s body of work when it comes to locking down point guards. What we didn't know was that this roster, from Melo to Anthony Carter, was ready to suckerpunch New Orleans with all the Popovichian fury that it could muster. It's a well-oiled machine that was oiled an extra time just for good measure, but the results are as organically beautiful as I ever could have imagined. Each Nugget has done their homework and is executing to perfection."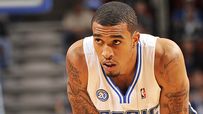 Zach McCann of Orlando Magic Daily: "We're definitely seeing the evolution of Courtney Lee. He's out there for defense, where he's making some electrifying plays and really getting the Magic going in the fastbreak game. On offense, he's stealing the show from Hedo Turkoglu and Rashard Lewis. Lee is asserting himself more than ever, and the crowd's energy begins to rise whenever Lee gets the ball in a scoring situation. It's Turkoglu and Lewis' job to score –- but they're not getting the job done, and Lee is picking up the slack. The rookie scored 22 points and carried the Magic through a second and third-quarter stretch when they weren't getting much production from anyone else."
THE FINAL WORD
The Painted Area: Shooting in the NBA -- better than ever.
Ball in Europe: The financial crisis hits pro ball in Europe.
Celtics Hub: The Great Glen Davis Debate.
48 Minutes of Hell: Reminding us that Tony Parker is only 26.
(Photos by Scott Cunningham, Garrett Ellwood, Fernando Medina/NBAE via Getty Images)