Both the Celtics-Bulls and Spurs-Mavericks series are positively schizophrenic. Dahntay Jones is making a name for himself as Denver's Paul-stopper. And NBA fans should sentimentalize hand-checking at their own peril.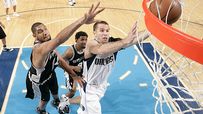 Graydon Gordian of 48 Minutes of Hell: "The formula that produced tonight's blowout loss against the Mavericks seems simple enough. The Mavericks came out with a level of defensive intensity they had yet to show this series. The Spurs were out of sync offensively from the outset and continued to miss open looks for a full 4 quarters ... even if each game makes sense in and of itself, this series has yet to develop a rhythm. The power dynamics of the individual match-ups fluctuate wildly from game to game. Players who seem unstoppable one night are decidedly mortal the next. Although the details are quite different, the tone of this series reminds me of last season's schizophrenic Western Conference Semifinals between the Spurs and the Hornets: The only game that was close in the closing minutes was Game Seven. I would not at all be surprised if this series ended in a similar manner."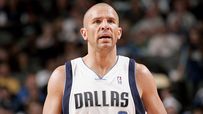 Rob Mahoney of The Two Man Game: "If you'd like a face for the Mavs' exemplary defense, I'll give you three: Jason Kidd, Josh Howard, and Erick Dampier. Tony Parker was obviously in the Mavs' crosshairs, and they successfully held TP to 14 points on 5-14 shooting with 3 turnovers. If that surprised you, then brace yourself: that defense on Parker was keyed primarily by Jason Kidd. Kidd hardly guarded Parker exclusively, but he provided the groundwork and a point of reference for J.J. [Barea] and Parker's other defenders. He hustled to get into position, tried his damnedest to slow Parker even half a step, and used timing and hustle to irritate Tony into turnovers or misses ... the defense's accomplishments were even more pronounced because of shot-blocking from the weak side. Enter Howard and Dampier ... Howard played the passing lanes and forced his share of turnovers, but cemented the Mavs' defensive game plan by coming out of nowhere for huge blocks. Dampier followed suit, protecting the rim from Parker and [Tim] Duncan ... without fatally injuring anybody. Parker wasn't knocked flat on his back, but he might as well have been."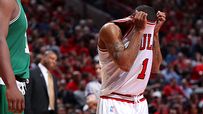 Matt McHale of By the Horns: "Chicago suffered a meltdown so complete that at one point I started to wonder whether the United Center had been converted into a giant microwave. These couldn't be the same Bulls that almost swept the first two games in Boston, could they? Seriously, I was ready to storm the locker room and check for Body Snatcher pods. I mean, newly minted Rookie of the Year Derrick Rose (9 points, 4-for-14, 3 rebounds, 2 assists, 7 turnovers) wasn't just thoroughly outclassed by Boston's Rajon Rondo (20 points, 8-for-15, 11 boards, 6 assists, 5 steals), he was even outplayed by Stephon Marbury (13 points, 4-for-10, 3 rebounds, 5 assists, zero turnovers). Welcome to the Twilight Zone, folks."
THE FINAL WORD
Celtics Hub: It's the offensive efficiency, stupid.
Hoopinion: A smart take on the great hand-checking debate.
Roundball Mining Company: Dahntay Jones -- game-changer.
Beyond Bowie: What to wear, what to wear?!
(Photos by Glenn James, Gary Dineen/NBAE via Getty Images)