The fallout from L'Affaire Rondo continues. Has Joe Johnson officially emerged from his slump? Are we ready to classify Denver as a "defensive juggernaut"? Is Carlos Boozer a good fit in Detroit?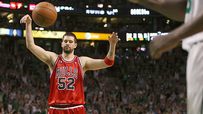 Matt McHale of By the Horns: "The ruling is a rather predictable cop out, considering that the league hates to admit when officials make huge, game-changing mistakes, especially in high-profile playoff games. David Stern would sooner confess to being the Batman than acknowledge that his referees sometimes err, or that those errors might actually swing the results of important games ... Look, I'm not calling for a fine, or a suspension, or for a redo of the final two seconds of Game 5, or even an admission that, had the correct call been made, the game might have ended differently. I just want consistency. I simply want a league that has spent the last few years trying to outlaw blows to the head that can injure or endanger its players to stand by their supposed mission statement and say, 'Oops, we goofed. Won't let it happen again.' That's it. Is that really too much to ask? According to Stu Jackson: Yes. However, you can probably expect closer officiating scrutiny in Game 6. Game 5 was edging close to 'let 'em play' status. I doubt you'll see that tonight."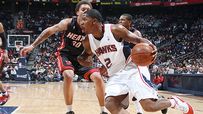 Bret LaGree of Hoopinion: "After [Joe] Johnson's 1-6 start from the field to open Game 5, his eFG% was down to 37.5% for the series. From that point forward, Johnson made five of nine shots (one three-pointer included) and went to the line 15 times. He'd attempted 17 free throws through four games of this series. Johnson didn't go to the line 15 times in a game all season. Or last season. Or the season before that. Or ever in his NBA career. So maybe we should hold off on declaring Joe Johnson back until he makes at least half of his shots in a game rather than scoring his points in a thoroughly atypical and likely unrepeatable fashion."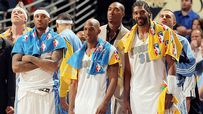 Jeremy Wagner of Roundball Mining Company: "We have seen Denver play pressure defense from time to time during the regular season, but never for entire games and never for multiple games in a row. This team has come alive in the playoffs and they are playing defense that I feel confident saying has never been seen in Denver. Maybe someone from the ABA days can correct me, but the exceptional teams of the mid 1980's never locked down like this team has ... So there you have it Nuggets fans. Denver dominated this series and won easier than even the most optimistic fan thought possible. The Nuggets averaged 24.2 more points per game that the Hornets and I believe have proven themselves a team to be taken seriously for as long as they remain active in the playoffs."
THE FINAL WORD
Orlando Magic Daily: A comprehensive look at the Magic's Howard-less performances.
The Painted Area: Seven to watch in Euroleague Final Four.
Piston Powered: Looking ahead.
(Photos by Elsa, Scott Cunningham, Doug Pensinger/NBAE via Getty Images)