Road warriors snatch away home court advantage from last year's finalists. The conference semis just got veeeeery interesting.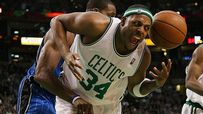 Brian Robb of Celtics Hub: "Dig a hole, step up the intensity, and make a run in the 2nd half, which was usually enough for them to give them a chance by the end. That's the way this Celtic team lived and died without KG for much of this year. Well tonight the equation changed a little bit. The hole was deeper than normal, (28 point deficit) and though the intensity was there for the final 20 minutes, there was not enough steady play or sharp shooting by the C's to sustain the comeback. In fact after the Celtics' initial third quarter run cut the Magic lead to ten with 10 minutes remaining, the game became almost painful to watch for fans of both squads. Neither team wanted to take control during this pivotal stretch, as the contest became ... a proverbial game of hot potato, as the teams traded foolish turnovers and missed shots. I think I even overheard some banter on the floor during this sequence as the Magic players yelled to the C's, 'You take this game! We can't handle this kind of pressure!' as the Celtics responded, 'No, you guys had it first! We don't want it!' It made for a frantic and ugly final 10 minutes of basketball, with the Celtics inability to seize ... countless opportunities providing Orlando with enough leeway to hold on to the win."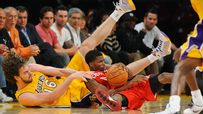 Kurt Helin of Forum Blue & Gold: "The Rockets defense is good and one result of that is players to do things a little more hurried -- you know the rotation is coming, so you rush the shot just a little. Then miss. Even when open. Combine that with a little rust from a week off and you get 2 for 18 from three and [Pau] Gasol missing the 15-footer that is usually automatic for him. Then when other players starts missing, Kobe [Bryant] starts taking on more shots (as he is hot) and suddenly the 2006 Lakers are on the floor."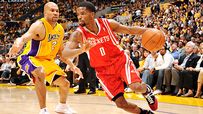 Brody Rollins of Rockets Buzz: "The Lakers were incapable of stopping Aaron Brooks. He's seeing the floor and penetrating to the basket almost at will, and that won't stop. His quickness is the Rockets greatest weapon along the perimeter and so long as he remains confident their offense will click. He's been playing out of his mind in the playoffs, but it's not because of his stroke so much as his feet, which dance around defenders who are left grasping at air. The kid's got game."

THE FINAL WORD
Orlando Magic Daily: Good and bad in Orlando's effort in Game 1.
By the Horns: "Air Gordon vs. Captain Kirk"
Hoopinion: A tough road to hoe for Atlanta.
(Photos by Elsa, Noah Graham, Andrew D. Bernstein/NBAE via Getty Images)