Cleveland beat Atlanta, while Dallas beat itself. How does the Boston-Chicago showdown of '09 rank with history's best? We also explore the parallel universe where the Bulls came out on top.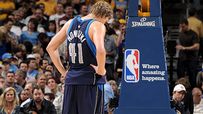 Rob Mahoney of Two Man Game: "Brick by brick, the Mavs built the foundation for a victory. They survived 1st quarter adversity to remain within striking distance. The bench stepped up as Josh Howard went down. They clawed their way into a game that they really had no business being in. And yet, when a Jason Terry three finally pushed the Mavs ahead 74-72, I couldn't shake the unmistakable feeling that it would all come crashing down. Boy, did it, in a way that may seem eerily familiar. After hanging, and hanging, and hanging with a Nuggets team playing better basketball than them on both sides of the floor, the Mavs blew a perfect opportunity by scoring just 2 points in the first 6 minutes of the fourth quarter. There were rim-outs, there were horrible turnovers, and there were blocked shots, all of which seemed to end in free buckets for Denver on the break. The offensive magic that pulled the Mavs through the third quarter unscathed was left gasping the thin Denver air, and the Nuggets danced on the grave of the Mavs' dead and buried transition defense. The team that wanted to turn this series into a marathon was run out of the gym..."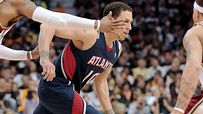 Bret LaGree of Hoopinion: "Mike Bibby poses a greater problem. His 14 point (six shots), five assist first half went a long way toward the Hawks scoring 1.1 points per possession during the first 24 minutes. His defense, though, had a lot to do with Cleveland scoring 1.22 points per possession ... Cleveland ... made a concerted effort to run their offense at Mike Bibby to such a degree that, at times, it appeared that the newly crowned MVP was their second option, the first being 'whoever Mike Bibby is guarding.' Cleveland ran screen-and-roll with Bibby's man setting the screen. Cleveland ran screen-and-roll for Bibby's man to force him to switch onto the big man cutting to the basket. Cleveland ran isolations for Mo Williams on the rare possessions where Bibby attempted to guard him ... Mike Bibby is central to the offensive success of both teams. This is obviously a troubling state of affairs ... There isn't a Cavalier that won't exploit Bibby's defensive limitations. Perhaps the answer is just to put Bibby on Williams and take that medicine rather than create a third reliable offensive option for Cleveland."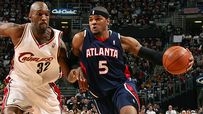 John Krolik of Cavs the Blog: "Josh Smith was aggressive and playing the right way tonight. For reference, it is ALWAYS a bad idea for him to take a jumper. Does anyone actually believe he's more intense for the playoffs, or it was just that his spirit animals told him to go inside tonight? I think Josh Smith is too talented to actually game-plan or care about basketball. If LeBron is Infinite Jest, then Josh Smith is definitely Brief Interviews With Hideous Men -- for every great story, there's a 'screw you, I'm doing the second half of my story as a schema because I am that freaking talented' play. I honestly think basketball bores Josh Smith."
THE FINAL WORD
Roundball Mining Company: The Nuggets got away with some shoddy D.
The Painted Area: Putting the Celtics-Bulls series into historical perspective.
By the Horns: Putting the Celtics-Bulls series into counterfactual perspective.
(Photos by Garrett Ellwood, Gregory Shamus, Nathaniel S. Butler/NBAE via Getty Images)