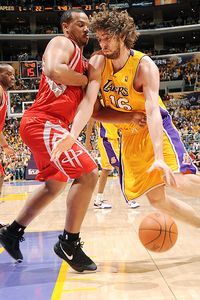 The Rockets' Chuck Hayes was quoted in J.A. Adande's Daily Dime story saying that he doesn't even look at the stat sheet because what he does is not captured in the box score.
Then Matthew Yglesias made a good and thoughtful post essentially saying buck up Chuck! You're a tremendous rebounder, and rebounds do show up in the box score!
But what I hear Chuck Hayes saying is the same thing the Houston front office says. It's also something I have seen with my own eyes: Chuck Hayes is a high priest of defending the post.
So, sure, some rebounds are nice, but the box score misses the point of Chuck Hayes.
Somebody somewhere has these stats, I'd imagine. If you post up Hayes' man, I'll bet you my laptop that man's offensive efficiency tends to be vastly lower than it is against the average defender.
The Lakers tried it for a stretch with Pau Gasol and Andrew Bynum. Nothing doing. Hayes is just too strong, too smart and too good getting low and using leverage to get the offensive player where he wants him.
If you were teaching post defense, you'd show your players video of Chuck Hayes, and they'd learn a lot. Show them a box score with Chuck Hayes' stats in it, though, and they wouldn't learn a thing.
(Photo by Andrew D. Bernstein/NBAE via Getty Images)