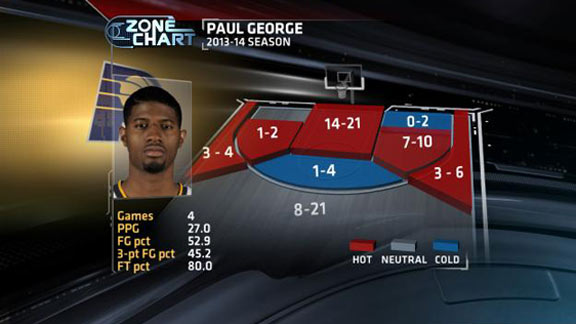 ESPN Stats & Information
Paul George has connected on 14 of his 31 3-point attempts this season.Led by Paul George and their trademark stingy defense, the Indiana Pacers held off a late Detroit Pistons rally to remain the NBA's lone unbeaten team.
George scored a game-high 31 points with 10 rebounds, becoming the first Pacers player with a 30-point, 10-rebound game since David West did it at the beginning of last season.
It was George's second 30-point effort of the season, after scoring 32 in the Pacers second game against the New Orleans Pelicans. He's already one 30-point game away from matching his number of such games last season just four games into the 2013-14 campaign.
One reason for his scoring boost has been greater efficiency from 3-point range.
So far, he's connected on 14 of his 31 attempts -- a 45 percent clip. He's attempting almost eight 3-pointers per game so far, almost two full attempts more than he averaged a season ago.
While George has the led the way for Indiana offensively, the team's defense has picked up right where it left off a season ago.
Indiana led the NBA last season by holding opponents to 38 percent shooting from the field. The Pacers have held three of its four opponents this season to worse than 40 percent shooting, with the Pelicans shooting exactly 40 percent.
HibbertRoy Hibbert, who had seven blocks Tuesday, has been a major part of the defense's success.
Hibbert has averaged five blocks this season, and there's been a marked difference in Indiana's defense when he's been on the floor versus off it.
According to NBA.com, the Pacers have a 75.3 defensive efficiency (points allowed per 100 possessions) when Hibbert is on the floor. But when he's been off the floor, Indiana's defensive efficiency spikes to 101.3.
Teams have shot just 48 percent inside the restricted area against Indiana so far, second-best in the league. The Pacers led the league in that category last season, holding teams to 54 percent in the restricted area.
Hibbert's presence has essentially made a good defense an elite one.
The Pistons found rare success in the paint against Indiana (scoring 46 points), but Indiana had held its opponents to a league-best 30 points in the paint per game entering Tuesday.
Through four games, Indiana has a defensive efficiency of 86.1, best in the NBA.
This is the third 4-0 start in Pacers franchise history, with the team also starting the 1989-90 and 2004-05 seasons in such fashion. If the Pacers can get a win Wednesday, when they play the Chicago Bulls on ESPN (7 p.m. ET), it'd be their first 5-0 start as an NBA franchise.