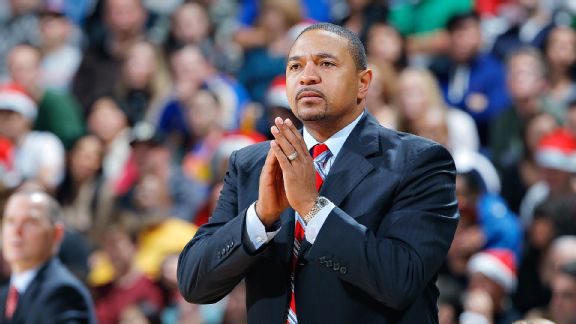 Rocky Widner/NBAE/Getty Images
Mark Jackson: The lay preacher.
Name: Mark Jackson
Birthdate: April 1, 1965
Is he an emotional leader or a tactician?
Outwardly, he's an emotional leader, and it's how he sold himself upon arrival. In last year's playoffs, a camera captured Jackson telling his team, "I love you."
Jackson preaches, quite literally. The ordained pastor uses religion in the locker room to connect with his players, and isn't averse to thanking God for his team's success.
He also sells confidence. You could even call Jackson a swaggering braggart. He's positive where other coaches are negative, often talking up his team's abilities in the hope that messaging will elevate internal expectations.
Jackson isn't opposed to sly tactics, though. He likes to employ the unexpected trick, like guarding an inbounds pass with Andrew Bogut while zoning up the 3-point line, or calling a sideline buzzer-beater shot for Andre Iguodala as the opposition focuses on Stephen Curry and Klay Thompson.
Is he intense or a go along-get along type?
Somewhere in between, as he's transitioning from the latter to the former. Though habitually sanguine in the appraisal of his team, something has soured of late. He's been quite frustrated and quite critical of his bench players this season. They aren't playing well and Jackson is tiring of their lack of production. He's calling them out publicly.
No matter how viciously Jackson skewers his team, it'll stay rated-PG. He insists that he hasn't cursed in over a decade.
Does he rely on systems, or does he coach ad hoc to his personnel?
It's been ad hoc and the results have rewarded that flexibility. Here's one example. The Jackson Warriors began with a defensive scheme that included big men who hedged high on pick and rolls. Eventually, the coaching staff decided that David Lee and Andrew Bogut were too slow for such a system. Golden State has played competent defense ever since they adopted a new scheme, one that's predicated on the big men slinking back towards the paint.
More coaching profiles
Does he share decision-making with star players, or is he The Decider?
He is more the Decider, in part because so many of his players are young. This may change as his guys get veteran experience.
For instance, to hear Curry tell it, he'd prefer guarding the other team's primary ball handler. Jackson overrides that preference and hides Curry on the opposition's worst offensive perimeter player. Though a superstar, Curry's opinion generally doesn't dictate what the team does. After years spent as a "coach on the floor" kind of point guard, Jackson remains in control of his team's in-game approach.
Does he prefer the explosive scorer or the lockdown defender?
Here's one way to answer that question: David Lee's playing time has never been in jeopardy.
Does he prefer a set rotation, or is he more likely to use his personnel situationally?
He's preferred a set rotation, but such preferences are often undone by the reality of running an injury prone team. Also, the recent Golden State bench woes have forced Jackson to scramble for answers. It's easier to embrace a set rotation when you can rely on bench stalwarts like Carl Landry and Jarrett Jack. Expect more mixing and matching from Jackson in 2013-14.
Will he trust young players in big spots, or is he more inclined to use his veterans?
He trusts young players more than any other coach, perhaps. He started rookies Harrison Barnes and Festus Ezeli last season. Draymond Green, whom Jackson effusively praises, received a lot more playing time than your typical second-round rookie. So long as the young player is practicing well, he's afforded the larger stage.
Is he an advanced stats guy?
Yes, but reputedly by accident. Jackson won't admit to letting analytics dictate his actions, but his actions often agree with the stats. He likes leaving players in the game after they've incurred foul "trouble." He likes when his players fire up 3-pointers immediately off offensive rebounds. He sometimes lets his team run the final play without a timeout to guide them. If Jackson comes about these sound decisions by accident, it may be because bad coaching decisions skew fearful, and Jackson isn't a fearful coach.
Are there any unique strategies that he particularly likes?
The Warriors run a lot of floppy action (two guards crisscrossing under the basket, off the ball) to get into their sets. Jackson ran this as an Indiana point guard and he's made good use of it in Oakland. Curry and Thompson race through the kinds of staggered screens the Pacers once deployed to spring Reggie Miller, whom Jackson remains close friends with.
Golden State has adopted an action called "the split game" where they often force defenses to make a quick decision between guarding a cutting Iguodala or guarding Curry as he pops out for a 3-pointer. They also love to free Curry for semi transition 3-pointers with screens above the arc. The most eye-catching Warriors play is "Elevator Doors," where Curry or Thompson race between two Warriors bigs as they converge to create a massive two-man screen.
Golden State's execution is more unusual than the particular play calls they use. It's upside-down world, where big men can push fast breaks and shooting guards regularly punish defenders in the post. The latter strategy is designed to hurt teams that guard Curry with someone other than their smallest player.
What were his characteristics as a player?
Jackson's stocky frame did not belong in the NBA. He excelled due to vision, guile and a bruising post game. Though a pious man, he would wildly celebrate his successes. Jackson's celebration of choice was the loose shimmy, which you'll occasionally see Curry break out as an homage.
Which coaches did he play for?
Rick Pitino, Pat Riley, Larry Brown, Larry Bird, and Jeff Van Gundy are the heavy hitters. He also had an ill-fated stint under Jerry Sloan that ended amid a lot of speculation over whether Jackson turned the team against John Stockton.
What is his coaching pedigree?
Nothing, nothing at all.
If basketball didn't exist, what might he be doing?
He's already an ordained pastor. Should Jackson leave coaching in the near future, expect him to mix that with his old announcing job.
---
The spirit of the 1984 Bill James Baseball Abstract was summoned for this project
.