One shot. The 1 spot for the Lakers is a concern. And is Gregg Popovich still The One in San Antonio?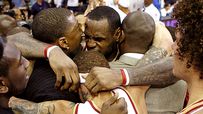 John Krolik of Cavs the Blog: "On Friday, the funeral was a second away. The Cavs had blown the biggest lead of the playoffs, and were about to lose two in a row on their supposedly infallible home floor. LeBron's lack of a reliable jumper had been exposed down the stretch when he was forced to drive into a waiting defense and got absolutely stuffed, and then, with the season on the line, he did, of all things, travel. (Even worse than the crab-dribble; LeBron took about 7 steps. That was less a walk than a hike.) If Hedo Turkoglu takes literally one second longer to make his move, King James' coronation takes another year, at least. But he didn't. And Hedo bit down to cover the possible lob instead of preventing a run-out to the three-point line at all costs. And LeBron hadn't made a three all night. For that matter, he'd only made two jumpers. And he'd only made one buzzer-beater in his career. And never in the playoffs. And never from three. None of that mattered when the ball went through the net and landed. Lights on. Wrist extended. Game over. Series tied. Season Alive."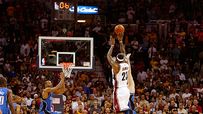 Zach McCann of Orlando Magic Daily: "Really, this game wasn't much different from Game 1 -- early deficit, furious comeback, closely-played fourth quarter and a game-winning 3-pointer. Only this time, it will be LeBron James' off-balance, awkward, rim-rattling heave that will surely be shown on highlight shows and Ultimate LeBron for years to come. Sure, there are certain elements of the play that Magic fans can question. The Magic could've double-teamed LeBron or put Mickael Pietrus on him, for starters. But at the end of the day, it was just an incredible shot - in all honesty, one of the greatest shots I've ever seen and what will likely be a major building block in the legend of LeBron James. According to the stats, James will make that shot about four out of ten times in a super-clutch situation. The Magic will generally take those odds, particularly on a road playoff game against the NBA's No. 1 seed. But when it left his hand, you knew it was going in."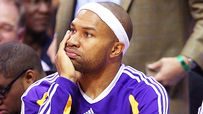 Kurt Helin of Forum Blue and Gold: "I'm frustrated by the guard play. I'm not frustrated by the missed last second shot by [Derek] Fisher ... What is frustrating was Fisher's play in the third quarter, when the Lakers had a big lead and he kept driving into a forest of defenders looking for…. a foul I guess. A parting of the Red Sea. Whatever. Doing it once and not getting it is one thing, the two subsequent times when the same thing happened is very frustrating. But Phil Jackson trusts Fisher because they have a history. Because he is stable. Because he has hit big shots in the past. All the reasons that we Lakers fans love Fisher. But at some point in these playoffs that trust has to bend to the new reality that Fisher is not getting the job done. He is a defensive liability. He is not hitting his shots. He is just not the same player ... Laker guards outside of Kobe were 6 of 24 in game two. That simply will cost the Lakers games. It's frustrating because I want someone to grab the opportunity and play so well they demand the minutes. It hasn't yet happened."
THE FINAL WORD
The Painted Area: Where was Rashard Lewis on the final play at the Q?
Daily Thunder: In Sam Presti We Trust.
48 Minutes of Hell: Evaluating Gregg Popovich.
(Photos by Gregory Shamus, Ronald Martinez/NBAE via Getty Images)