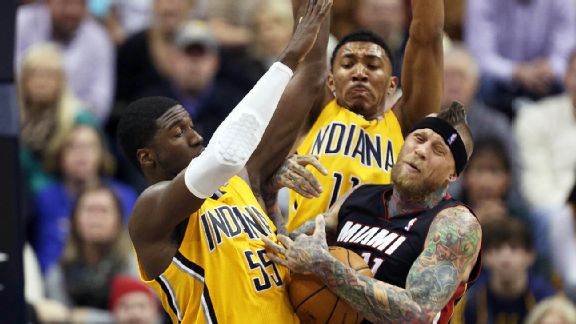 Brian Spurlock/USA TODAY Sports
Roy Hibbert isn't the only reason the Pacers have the NBA's best defense.
A tricky thing about basketball is that it's tough to know what's happening on defense. So tough that credit and blame are almost impossible to hand out from afar.
Back in the days of isolation basketball, maybe you could say, with some confidence, that Mark Jackson just scored on John Starks and that's that.
But nowadays, by the time Kevin Durant gets to the rim, the primary defender was supposed to force him to the baseline instead of the middle, but he got to the middle anyway because he's Kevin Durant. The big man was supposed to meet Durant as he arrived near the hoop, but that big man has also been drilled to close out on the wide-open 3-point shooter he has left to be here. So he's a half-step farther away, and all that together created a tiny seam, which is all Durant needs.
You could probably watch a play like that and figure out good ways to blame all five defenders, or their coach, for the Durant bucket.
It's tricky stuff. And yet we can't ignore it -- indeed it really is half the game.
Offense is easy, by comparison. So many little things have long been tracked on offense -- who shot the ball, who passed it to them before they shot it and whether it was a 3 or a 2 have always been fundamental to recording a game. That stuff has always been in highlights and box scores. It's public, searchable and well-known. In the last decade, our understanding of all that has only grown with many new measures.
It's not hard to get a sense, at a glance, who can score.
On defense, though, wow. It used to be that notoriously noisy adjusted plus/minus was the go-to measure, but that's not readily publicly available anymore. There are SportVU cameras in the sky at every arena this season, but it takes a dozen hours of Zach Lowe or Kirk Goldsberry sifting to glean anything conclusive from them. Haralabos Voulgaris has long been tracking this stuff, but his database is private. In other words, it's tricky even to find out the most basic things such as which players were on the darned court when the other team scored most efficiently.
Which means making an evidence-based case that one player or another is awesome at defense is tough -- or nearly impossible this early in the season, when the sample sizes are small.
But we're not entirely without tools. And we do have lineup data, and the fact is there are combinations of players against whom it is crazy tough to score. Whether or not those players are the cause of the other team's bad offense, it's too soon to say. But if I were looking for players who are making it happen on defense, here are some names for the early season short list.
Casspi Omri Casspi
The resurrection of the pioneering NBA Israeli's game has been told as one of stroking 3s and attacking the rim.
But something is certainly happening on defense, too, which may overshadow all of that.
With Casspi on the floor, the Rockets have given up 94.8 points per 100 possessions, which is almost as good as the league-leading Pacers. When he's on the bench, the team has given up 104.1 points per 100 possessions, which is pedestrian.
The defensive bottom line is that the Rockets have gotten 9.3 points worse on D when Casspi checks out. The number could be thick with early-season noise, but it's eye-opening nonetheless.
Looking at two-man combinations, you can see that almost any Rocket with Casspi is effective. With Terrence Jones and Casspi in, the Rockets only give up 85.8 points per 100 possessions. With Patrick Beverley: a stingy 90.6. Seven of the top 12 Rockets defensive combinations feature Casspi. Dwight Howard appears in that list only once ... with Casspi. Meanwhile, there aren't many Rocket lineups that perform well on D without Casspi.
It's possible his defensive qualities are overstated by these stats. But I don't think it's possible he's bad on defense.
I'd also suggest it's a long shot the plus/minus obsessed Rockets are eager to sit him. Casspi is also helping the team on offense. Terrence Jones and Chandler Parsons have been similarly effective. Which makes you wonder, as Omer Asik trade rumors heat up ... does it really make sense to trade for a shooting forward such as Ryan Anderson? Maybe so, but if playing Anderson means limiting minutes for Casspi, Jones or Parsons, it's tough to imagine the Rockets getting more effective in the process.

KCP Kentavious Caldwell-Pope
The Pistons' rookie hasn't gotten much attention this season, and rookie guards almost never have good defensive statistics.
But a quarter into the season, Caldwell-Pope looks like an exception.
The list of the NBA's top three-man defensive units so far this season are largely Pacers, as we'll discuss. At the time of this writing, nine of the top 25 are from Indiana, in fact. Which means players on 29 rosters are competing for the 16 remaining spots. So when I tell you that Caldwell-Pope is on the list five times himself, with a grab bag of Pistons ... well, something is up.
Worth noting: The Pistons, generally, aren't even good at D, ranking 20th in the league.
Dan Feldman and Rob Mahoney have both dug into this phenomenon recently. The gist is that the Pistons started the season terribly on defense, when Caldwell-Pope never played. They got a little better all in all, and then Chauncey Billups -- who has been terrible on defense at this age -- got hurt. So Caldwell-Pope earned his minutes by replacing a bad defender and while joining a lineup that was finding its feet.
He's also, to the naked eye, a wiry and active defender who gets around screens far more effectively than Billups or Rodney Stuckey.
Caldwell-Pope has played close to 500 minutes, during which time the Pistons have given up a stingy 96.9 points per 100 possessions.
When he has sat, Pistons are allowing 108.4. The difference is 11.5, at least some of which, you'd think, has to do with the fact that this rookie guard is living up to his predraft reputation as a committed defender.
MKG Michael Kidd-Gilchrist
It's a closely guarded secret that the Bobcats are good at something, but today their defense is fourth best in the league, just after the Bulls and just ahead of the Heat and Thunder. But line up the NBA's best defensive player combinations in terms of points allowed per possession, and Kidd-Gilchrist's long and noticeable name is all over the place. There are three four-man Bobcats lineups with MKG that play better defense than the best four-man combination of Indiana Pacers. If you rank the whole league's best two-man defensive combinations, the top five pairs are all Pacers -- except for Kidd-Gilchrist and Gerald Henderson, who are third in the whole NBA in that ranking.
Kidd-Gilchrist, who is out with a broken finger at the moment, has played nearly 500 minutes this season, during which time the Bobcats have basically been the Pacers, with a 94.8 points per 100 possessions. When he's on the bench, they give up more than 100.
Jackson
Durant Kevin Durant and Reggie Jackson
This is fascinating. Durant is famous as a scorer and was not long ago derided for sub-par defense. Jackson is a guy who can create his own shot. But they can, evidently, make you feel them on defense.
A lot.
When opponents have the ball, Durant and Jackson have been, by the numbers, a top-10 NBA defensive duo. And it's not a simple case of the Thunder being great at defense. It's worth considering it might be something about this combination. One of the best five-man defensive units in the NBA (minimum 50 minutes played) is Durant and Jackson with Serge Ibaka, Thabo Sefolosha and Kendrick Perkins. That lineup is one of the Thunder's most used and has an incredible defensive rating of 78.3. At the moment, if you substitute Westbrook in for Jackson, you have one of the Thunder's most familiar lineups, and one that gives up 103.3 points. The Westbrook lineup faces the best opponents and would be expected to perform a little worse. But 25 points per 100 possessions is a massive difference.
It's also noteworthy that lots of Thunder players have great defensive ratings when they're on the floor. Jackson, though, is the standout for whom, thus far, sitting has led the team to play much worse defense. Could be a fluke. Worth keeping an eye on.
Related: Put defense and offense together, and Durant and Jackson are, at the moment, literally the best-performing duo in the whole NBA.
The other Pacers
We know Roy Hibbert is really good at defense. We know his Pacers have been one of the best defenses ever thus far. When Kevin Pelton (Insider) wrote about this the other day, he pointed out that the Pacers were giving up fewer than 94 points per 100 possessions in a league that averages 106. No other team is close. So the Pacers are killing it.
And as I just dug through NBA.com/stats looking at player combinations, there's no arguing Hibbert is the dominant reason. In fact, if you take every two-player combination in the league, from every team, the best combination out of all of those thousands, in terms of holding opponents to the fewest points per possession, is the Pacers' Roy Hibbert and David West.
In and of itself, that does not prove they are the two best defenders. Far from it. But it would be just about impossible for them to be so high on the list while being lousy at defense. And that they belong there is affirmed by this: The second best combination out of the whole league? Hibbert and Paul George. Fourth best is Hibbert and George Hill. Amazingly, Pacers account for nine of the league's dozen most effective two-player defensive combinations, and Hibbert is part of most of 'em.
Just as it's impossible to argue Hibbert is anything but great on defense, it's also impossible to argue that he's the only reason the Pacers are good. The Pacers' center is only playing 30 minutes a game, and the Pacers are good on defense all night.
This is not a question of the starting five carrying everybody. None of the Pacers' five-man lineups, in fact, are in the league's 10 most effective defensively. It really is a team effort.
When Hibbert is on the bench, the Pacers give up 98.7 points per 100 possessions, which would still be a top-10 NBA defense.
Of course, George, who has been discussed as a candidate as both MVP and a first-team all-NBA defense, is a big part of that. Even though he's the epicenter of the Pacers' offense -- in a role where many players would catch their breath on defense -- George expends serious energy guarding some of the league's finest scorers. Despite those challenges, he's still a mainstay among the Pacers' best defensive combinations. When George sits, opponents score a little better than when Hibbert sits.
But you know who else has been on the floor for long minutes of great defense for the Pacers? Almost everybody. David West, C.J. Watson, George Hill, Orlando Johnson, Lance Stephenson, Luis Scola -- these are not the Pacers' most famous defenders. I have named eight Pacers in this article. Put any three of those players together on the court, and Pacers are playing good defense.
When any or all of them are on the court, the Pacers as a team average better defensive performance than the Spurs, who are the league's second-best defensive team.
It's almost impossible to find any combination of Pacers players that is bad on defense. It's amazing. (3-point specialist Chris Copeland might be the one exception. He has not been great on defense, the statistics say, but he is also new to the team and has averaged less than four minutes a game, so it's hard to know what the future holds for him.)
Clearly, coach Frank Vogel knows something.