Iguodala's return leaves Nuggets at a loss
December, 24, 2013
12/24/13
2:51
AM ET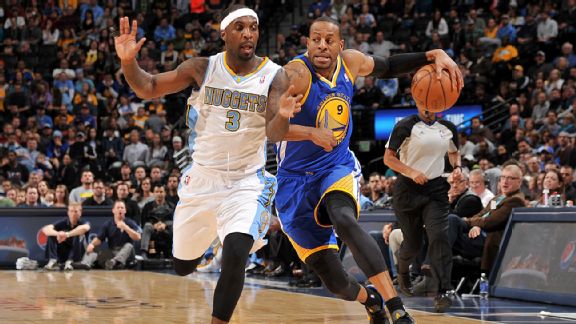 Bart Young/NBAE/Getty ImagesFormer Nuggets star Andre Iguodala returned to Denver to a chorus of boos, but left with a win.
DENVER -- Attrition takes its toll during a long NBA season. Winning streaks can end as abruptly as losing skids begin, and for teams hoping to stop the bleeding, a win in the right place at the right time can be a salve for all wounds.
Golden State and Denver met on Monday night as two teams in a similar state of hemorrhage. The Warriors came in with the point differential of a playoff team without the record to support it. A blazing start that inspired legitimate hopes of contending in a cutthroat Western Conference couldn't be sustained after
Andre Iguodala
strained his left hamstring on Nov. 22. Though the Warriors had won two of three since Iguodala's return last week, they arrived in Denver buried in the No. 9 spot in the conference standings.
Denver entered Monday night as a team reflective of its offseason turmoil. Losses to Oklahoma City, Phoenix and the L.A. Clippers exposed a wobbly bench and an offense that seemed to have short-circuited.
The Warriors' and Nuggets' paths, once so divergent after last season's playoff series, now seemed to run parallel, with both teams in a lull as a familiar face in Iguodala took the floor. The usually apathetic arena showered the former Nugget with boos at player introductions, then at every moment he touched the ball in the first half -- an honor usually reserved solely for
Carmelo Anthony
.
"It's just part of sports now," Iguodala said following the game. "I played in Philly, and I was booed while I was on the home team so, I heard it before and it won't be the last time."
The game itself served as a nice delineation of each team's greatest foibles. Denver began the game slow, as it often tends to do, and surrendered a sizable lead to the Dubs' starting unit. But as
Ty Lawson
drove
Stephen Curry
into foul trouble, the Warriors had to lean heavily on their maligned bench, which let Denver chip away at the lead.
"First quarter, we did it to ourselves again," Nuggets coach Brian Shaw said. "To start out the game I don't know what percent they were shooting but it seemed like they were on pace to have a 50-point quarter. Our second unit came in and locked down and fought hard."
And yet as the game extended into the fourth quarter and the lead was tossed constantly back and forth, the Warriors leaned on their defense to wrest control of the game.
"Defense is what it takes to win," Curry said. "When we don't show up defensively we tend to be out of the games, not very competitive, because our offense is going to be there every night but the dropoff when we're at our best defensively and when we're not is pretty significant. So it was huge for us to be more consistent as a team."
Turnovers and missed shots stymied the Golden State offense, which shot only 42.9 percent for the game. But as the truism goes, offense stays while defense travels. The Warriors defense sprouts from the perimeter, where the trio of
Draymond Green
,
Klay Thompson
, and Iguodala prowl the outer edges, sometimes shooting gaps to force turnovers and other times funneling unwitting ball handlers into the maw of
Andrew Bogut
. While the Warriors' offense can be prolific in spurts, the defense remains the royal constant.
"It tells you how good we can be," Warriors coach
Marc Jackson
said. "There is no question about those guys' ability to score and shoot the basketball but the thing that can remain constant for us is our ability to defend, and defend at a high level. That's going to win ballgames so when those guys do establish a rhythm, it's going to be awfully pretty."
Inevitably, it all came back to Iguodala, whose pedestrian stat line belied another sturdy defensive performance. He fittingly hit the crucial 3-pointer to put the Warriors up five late in the fourth. Iggy was Golden State's missing cog, the ball-handling wing that was so plainly missing during its 5-7 stretch in his absence.
At the same time, Iguodala's presence for the Warriors leaves a gaping hole within the Nuggets ranks, one in which the bleeding began and never truly ended. As Thompson's turnaround dagger found the bottom of the net with 22 seconds left in the game, the paths of the Warriors and Nuggets seemed to diverge once again. Golden State resembled the team that jumped out to an 8-3 start, leaving the Nuggets behind, and adrift once more.