Killer Lineup: OKC's Jackson Five
January, 16, 2014
1/16/14
10:40
AM ET

By Kevin Arnovitz
ESPN.com
Archive
---
"Killer Lineup" is a recurring feature that highlights the workings of one of the NBA's most efficient five-man units. Today, we look at the
Oklahoma City Thunder
's starters without
Russell Westbrook
.

Lineup:
Reggie Jackson
,
Thabo Sefolosha
,
Kevin Durant
,
Serge Ibaka
,
Kendrick Perkins
Minutes Played
: 556
Offensive Rating
: 100.9 points per 100 possessions
Defensive Rating
: 92.0 points per 100 possessions
How it works defensively
Incredibly well when we consider this starting lineup performs 11.2 points better defensively this season with Jackson at the point than the same unit with Westbrook. This prompts the question: How can Jackson, who is no faster or longer than Westbrook and is accountable to the same schemes, possibly be this much of an upgrade?
The riddle is especially confounding after the 2013 postseason debacle. Jackson put up some solid offensive numbers, but the Thunder's starting unit with Jackson got annihilated against the
Houston Rockets
and
Memphis Grizzlies
. The grouping was
minus-31.4
per 100 possessions in 10 games and hemorrhaged defensively to the tune of a 116.0 mark.
Reports that a secretly healthy
Rajon Rondo
has been suiting up for the Thunder in a prosthetic Reggie Jackson suit this season are unfounded. Jackson's improvement is his own, born out of increased familiarity with his teammates, coverages and expectations.
Jackson is a lower-stake gambler than Westbrook, who perpetually has one eye on the passing lane. While Westbrook rolls the dice, Jackson makes the sure bet. He's able to squeeze his way above screens like someone trying to dash into an elevator before the doors close. This allows Ibaka to drop and contest after a short show. When the small defender isn't playing catch-up and the big guy has the ball handler in front of him, it's advantage: defense.
[+] Enlarge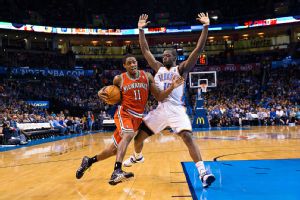 Richard Rowe/NBAE/Getty ImagesMr. January? Reggie Jackson's heady approach has taken the Thunder's defense to a whole new level.
Another theory for the better defensive numbers resides in the notion that Westbrook's quick shots are more likely to result in run-outs for the opponent. The Jackson Five gives up almost 30 percent fewer fast-break points adjusted to pace. The Westbrook lineup also coughs it up more. Then there's the defensive glass: This lineup has a better rebounding rate and gives up 30 percent fewer second-chance points. Add up these ancillaries and we start to account for that 11.2-point differential.
The results since Westbrook's most recent absence confirm the eye test. In the 10 games since Jackson assumed starting duties, not one of his 10 matchups has shot better than 50 percent from the field -- and only one (the man of the hour,
Jordan Crawford
) shot better than 40 percent.
The schemes don't differ with Jackson in the lineup. The Thunder have more or less been running the same pick-and-roll coverages for a while -- though Ibaka's development has enabled him to approach ball screens more situationally. In the parlance of X's and O's, the Thunder generally "weak" a high pick-and-roll with the intention of sending the ball handler to his weak hand. Ibaka will still toy with a long show on a high screen, but the hulking Perkins stays put. On side pick-and-rolls, the Thunder push baseline, and Perkins and Ibaka will exert varying levels of pressure on the ball handler.
Durant, Ibaka and, to a lesser extent, Sefolosha give the Thunder uncommon versatility. Durant and Ibaka will switch liberally, and Sefolosha has license to use his instincts as well in tandem with Ibaka, depending on the matchup.
Every coach will tell you he wants to keep his team out of defensive rotations, but some teams treat it as an article of faith, while others regard it more as a general guideline. The Thunder with Westbrook certainly fall into the latter because Westbrook loves to gamble and apply pressure. With Jackson, the Thunder play it more conservatively -- again, more an expression of Westbrook's temerity than anything Jackson is or isn't doing.
When the Thunder do get caught in a rotation, Ibaka's heightened understanding of team defense often saves the day. It's difficult to overstate Ibaka's all-around growth on the defensive end. Not long ago, he was a weakside defender more interested in swatting a shot into the fifth row than timing his rotations with precision. In two seasons, his block rate has plummeted from 9.8 to 5.8, and his foul rate has taken a similar dive, but he's a far better vertical defender than in past seasons.
Amazing to get this far and not address both Sefolosha and Durant. There's no mystery to Sefolosha. His wingspan puts playmakers in a stranglehold, and he's still one of the toughest guards in the league to screen.
Durant's defensive improvement that started in earnest two seasons ago continues its upward trajectory. The light bulb turned on a while back when he realized that while his physical strength is no longer a liability, his length and awareness will always carry him as a defender. Synergy has him ranked third as a pick-and-roll defender among players who've guarded more than 50 plays. Against isolation? No. 1, thank you.
Perkins is still wily defensively -- you'll see him try to jam a screen or buy time for Jackson with all sorts of grabby shenanigans. When Perkins fails, it's generally a lack of speed that does him in. He doesn't blow any help situations and the post defense remains steady.
The Jacksonians are due to return to planet earth, but in the Thunder's ongoing campaign to endow their young backup point guard with confidence, OKC couldn't ask for better results on the defensive end.
---
How it works offensively
Only marginally better than the Westbrook crew, which has struggled all season, but is still far too reliant on Durant to create shots out of nothing.
Let's rewind to last spring. The 2013 playoffs against Houston and Memphis were every bit the nightmare for the Jackson-helmed offense as they were for the defense. In 107 minutes, they scored only 84.7 points per 100 possessions. The starters couldn't establish any pace, plodding at an 85.8 possessions per game. Things are clearly better in Oklahoma City this season for the Jackson-led squad, but the offense still drags for long stretches.
The primary objective in the half court for any Russell-less Thunder unit is to get the ball into the hands of Durant. Achieving this goal is easier if Durant doesn't spend all his time on the strong side of the court, because the defense can key in on the ball or Durant, but it's hard to do both. With that in mind, the wide pin-down for Durant on the weak side has been the prototype in the Thunder's offense, and the Thunder have installed countless wrinkles and reinterpretations.
This is top-grade offense because, whether he's catching the ball on the move toward the hole or just getting it for an open shot in space, Durant is the most dangerous shot-maker in the league. Under the Jackson administration, the Thunder are still oriented toward this brand of offense. For example, Ibaka will set the down screen for Durant on the right side, off which Durant zips to the perimeter for the catch. Durant can shoot, drive or play a two-man game with Ibaka off the action.
[+] Enlarge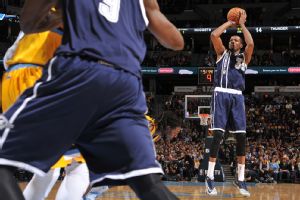 Bart Young/Getty ImagesWithout Russell Westbrook, the Thunder's offense has become more reliant on Kevin Durant than ever.
When healthy, Westbrook is a frequent screener for Durant in these situations, and Jackson has assumed that task on many a set. The Thunder will run Sefolosha up from the baseline around a Perkins-Ibaka stack to receive the ball from Jackson. After delivering the pass to Sefolosha, Jackson will cut to the far side to set the screen for Durant. When Westbrook and Durant run this action (any action) together, it's a matter for the State Guard, but Jackson can make it work.
Most of the well-worn pages in the Thunder playbook are sets designed to get Durant the ball in position to shoot in the half court. OKC relies on the aforementioned pin-downs. They still love good ol' floppy action, in which a big man sets a low screen off which Durant flashes to the foul line. They like to post Durant up on the weak side, where he either catches the entry pass after the ball is swung or, if the defender is denying that pass, slips out the back door.
All this is great stuff, but it must be balanced with some other flavors, and, right now, Durant is too self-sufficient when playing with this lineup. Historically, the Thunder's offense has been at its most efficient when Durant (and Westbrook) share the load with the supporting cast. Last weekend, Durant conceded as much, saying that he needed to take fewer shots.
Jackson's knowledge of the pro game has grown exponentially, and he understands that his job is to make the game easier for Durant, but he's not yet at the point where he can ignite the offense on the attack in the manner Westbrook does -- and the Thunder need that spark for a fluid offense.
The Thunder derive a good deal of their offense from early midrange jumpers because they can drain them with proficiency. That doesn't change in Westbrook's absence. Jackson, Durant, Ibaka and Sefolosha all hit better than 40 percent from midrange. Finding those shots early is more challenging with Jackson than Westbrook because he's less lethal on the push, but the Thunder starters with Jackson have had success.
"




We rarely think of Kevin Durant first as an open-court player, but he's as good at initiating early offense as anyone in the league.

"



A drag screen from Ibaka on the secondary break is the mainstay of the Thunder's early attack, and it does so many things for OKC. Ibaka gives a path to the rim for Jackson, space for Durant, a potential face-up jumper for Ibaka once he pops or a kickout to Sefolosha in the corner against a panicked defense.
The same is true of Durant, who loves to push the ball. We rarely think of Durant first as an open-court player, but he's as good at initiating early offense as anyone in the league. When he rushes the ball up, he and Ibaka routinely look for optimal conditions to run that quick drag screen against a backpedaling defense. Jackson and Sefolosha will stake out a spot along the arc, and Perkins will roost on the weakside baseline (Durant almost always veers right in this situation).
Pace is so vital for the Thunder's starters, especially since they're saddled with Perkins. He can't run the floor, but his presence in the half court presents a dilemma for the Thunder. Situate him along the baseline on the strong side, and he clogs up the driving lane. Place him away from the action, and his defender accepts it as an invitation to play free safety. This is particularly problematic for Jackson, who relies far more on dribble penetration -- and needs more space to do it -- than Westbrook does.
For all the pressure on Jackson, the foundation of the Thunder's offense is Durant's ability to make decisions. It's not as if he's failing. During the Thunder's current stint without Westbrook, Durant is logging an assist rate of 29.6 percent -- there's one non-point guard in the league who's better (take a wild guess).
When Durant started to put up big assist numbers last winter, Scott Brooks would say that the idea that Durant wasn't a willing passer early in his career didn't accommodate for the reality of a young player. Durant wasn't a point guard growing up, and for the first 15 years of his basketball life, he didn't have much need or occasion to pass. Necessity might be the mother of invention, but confidence fathered it.