The Magic beat the Lakers to hold serve ... so why then are Lakers partisans okay today, while Orlando fans are feeling cagey? Are the Lakers leaving money on the table at the point? And Toronto says goodbye to Jason Kapono.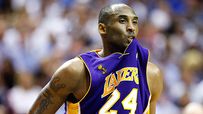 Kurt Helin of Forum Blue & Gold: "It's kind of amazing how different I feel as a fan during these finals. If the Lakers had lost a game exactly like Game 3 back in December, there would be a post talking about needing to hit free throws, of wanting more diversity in the offense under pressure, of execution. Mostly, we'd talk about lessons learned to apply later. Now I'm a very practical fan. I don't care about aesthetics - the Lakers won an ugly game two and that was just fine as it was. I care about the big picture, the fundamentals that underlie the score that carry over to the next game and will decide the series. And that is the reason I feel pretty good today. Orlando had the best shooting night ever in the Finals -- an insane 75% in the first half, still 62.5% for the game. They had the energy of their first home Finals game in 14 years behind them. They had Rafer Alston shooting like he only does at Amway. And it still came down to one possession at the end. It came down to Kobe Bryant having an off night at free throw line."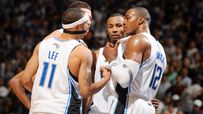 Zach McCann of Orlando Magic Daily: "I know right now should be a happy time. The Magic just won their first NBA Finals game ever and put themselves within 48 minutes of tying the series at 2-2. Dwight Howard took the Magic farther than that other big man ever could. This team is where no Magic team has ever been before. But I'm sorry. I'm having a lot of trouble enjoying it. The Magic played the best game they're going to play offensively, but still couldn't keep the Lakers from tying the game up with 2 minutes to play. They set an NBA Finals record for field-goal percentage - better than MJ's Bulls, Magic's Lakers or Larry's Celtics - yet the Lakers could've won the game as easily as the Magic did. It leaves a really sour taste in my mouth. It feels like I studied for hours and passed a mid-term, and then realized the class average was a 94. Sure, it feels good, but the outside factors take a lot of joy out of the accomplishment."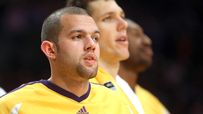 John Krolik of Cavs the Blog: "I think it was a huge mistake for the Lakers not to bite the bullet and give Jordan Farmar a true starting vote of confidence. I know he was hurt and played erratically, but Farmar's got the talent of a legit starting point guard in this league, especially in the triangle with his size, stroke, and solid pedigree, and Derek Fisher is just not a starting-quality point guard. He's really not even all that useful of a cog: he's a smart guy and has made big plays in big games, but he is not playing smart basketball. He's choking the offense for the second playoffs in a row, he's taking bad shots, and he can't stay in front of anybody. But nobody else is ready to take those 35 minutes in big games because they haven't been groomed with commitment."
THE FINAL WORD
Raptors Republic: Good riddance, Jason Kapono.
Hoopinion: Breaking down the first-round point guards.
Daily Thunder: A further examination of FD's "Myth of the Next."
(Photos by Ronald Martinez, Garrett Ellwood, Stephen Dunn/NBAE via Getty Images)