Is anybody watching the little guys?
May, 21, 2014
5/21/14
11:40
AM ET

By Ethan Sherwood Strauss
ESPN.com
Archive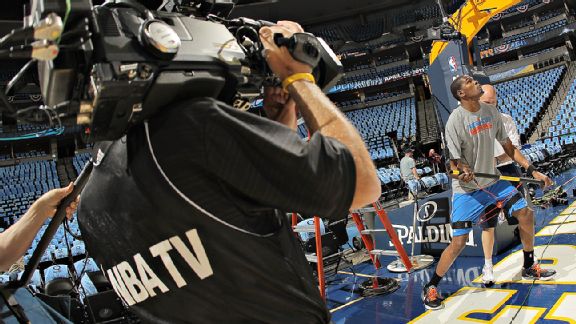 Doug Pensinger/Getty ImagesThe bright lights are on Kevin Durant and the Thunder, but that may not be what's best for the NBA.
We've long since buried the idea that NBA market size has much to do with on-court success. Just look at the conference finals, where once again three teams hail from the bottom third of the league's TV markets. On Tuesday,
Adam Silver pointed to this fact
as proof that the new CBA is working. Thanks in part to the new CBA, small-market teams win plenty these days. They're living the good life -- it's the league that loses when they win.
The specter of a Spurs-Pacers NBA Finals might haunt Silver more than the question of who owns the Clippers, but the NBA has already been bleeding interest in the run-up to the main event. In April, the Sports Business Journal reported a
5 percent drop in local TV ratings
league-wide this season. The SBJ made sure to note that a decline this steep is unusual per historical trends. The timing also couldn't be worse for a league negotiating a national television rights deal.
The culprit? Big-market disappointment across the board. Blame the Knicks and Lakers for being bad. Blame the Bulls for being broken. Even blame the Nets for being boring while you're at it. The Knicks lost 29 percent of their viewership, and the Nets failed miserably at being the rebound relationship, losing 20 percent of their viewership this season. For some bizarre reason, Basketball's Mecca has turned to hobbies that don't include returning Andrea Bargnani's vacant gaze.
Of course, failure doesn't happen in a vacuum. By the construct of American sports, there is a victor for every loser. The Pacers, Pelicans, Blazers and Bobcats all saw ratings surges. On balance, those fans just couldn't come close to compensating for all the big-city folks who changed the channel.
This reality runs counter to a technology-based argument on behalf of small-market teams: Market size doesn't matter because people from all over can easily watch the biggest stars whether they play for Oklahoma City or New York City. The Internet! Apps! No player will be underrated ever again!
Just because people can do something doesn't mean they will. Even though fans could splurge on League Pass and watch any team, they still largely follow the teams within reasonable driving distance. This is especially true of the NBA, according to a Facebook-based
NBA fandom map
that the New York Times released last week.
From the article about the map: "One of the striking aspects of basketball fandom is its limited geographic reach, especially relative to baseball fandom. In baseball, teams tend to dominate their home state, and several have a strong regional identity."
Basketball, "the city game," hews close to its cities. The smaller markets have a very confined kind of fandom. On the NYT map, the exciting, successful Thunder claim an intense "super cell" following in Oklahoma. Thunder fandom stops around the state border as though cut off by biodome walls. In most neutral American territories the Lakers, Bulls and Heat will round out the top three fan choices (note: The Heat have a much larger TV reach than the Miami metropolitan area alone. Remember, Florida has roughly 20 million people). The Thunder cracks the top three only in areas in Oklahoma and areas bordering Oklahoma. This is in line with Google results that reflect a
lack of broader Internet excitement
over a super exciting Thunder team.
Perhaps it would be different if the Thunder had rings? Maybe, but the Spurs have won four titles since the last Bulls championship. While the Duncan dynasty boasts a robust following in Texas and eastern New Mexico, they still aren't a top-three choice in any county outside those areas.
The NBA might hope for a reality where market size is ancillary to the sport's popularity, where technology transcends all. So far that hasn't happened. Technology might even be a force multiplier for built-in market advantages.
In the early 2000s, many of us knew Kobe fans only by the televised jerseys in the stands. These days, social media allows Bryant a mobilized army of supporters who spread his gospel through uploaded YouTube highlights, game tweets, Facebook notes, even an ESPN comments section like the one below this article. It's all free advertising. The already popular are afforded more positive representation, which snowballs into even more popularity.
While it's true that technology makes it easier for a guy in Maine to follow Kevin Durant's career, it's also true that technology makes it easier for a guy in Maine to be influenced by Kobe's. The big-market base of support has the added advantage of large immigrant communities that connect to populous countries. Playing well in a big city isn't so many steps removed from massive international celebrity.
Now Kobe has a bum leg and the NBA is losing viewership. Meanwhile, the league has achieved the kind of location parity its owners desperately wanted. Basketball did a neat trick in divorcing market size from team success. The NBA just couldn't separate market size from league success. That's a problem for a league that, since 2001, moved teams to Memphis, Oklahoma City, New Orleans and Charlotte.
Like the old riddle about a tree falling in the woods, if location parity happens and nobody's around to watch, is it a success? Right now it looks as though the success of the small means self-sabotage for all. How can the new CBA be working with so many people tuning out the sport?