Tuesday, August 10, 2010
Ballers with Books, part 2

---
By Henry Abbott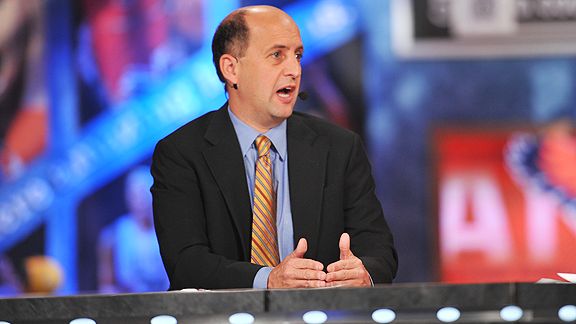 David Dow/NBAE/Getty Images

Jeff Van Gundy's summer has included the NBA draft, and reading about the human mind.


This week on TrueHoop, several NBA personalities will weigh in with some book recommendations. The first installment was on Monday and featured Adonal Foyle, Dean Oliver, Dwane Casey and David Thorpe. Today we hear from Jeff Van Gundy, Coleman Collins and Sam Hinkie:


Jeff Van Gundy
ESPN/ABC analyst and former NBA coach

The recommendation: Mindset, by Carol Dweck

The reason: This book debunks the myth that people have IQs that are set in stone, and that can't change over time. It explains new ways of thinking about the brain, the elasticity of our neurology, and how we can develop new pathways. I'm reading it right now, after my brother recommended it. Fascinating.

This book is required reading for: People who spend their time thinking about how to educate our kids. More reps for some kids can really change things for them. We should not pigeonhole kids.

This book is not for: Anyone who is fan of prehistoric educational tactics. You will not enjoy this.


---
Coleman Collins
Writer, semi-regular TrueHoop contributor and professional basketball player

The recommendation: Down and Out in Paris and London, by George Orwell

The reason: I spent a month in Barcelona this summer and before I got there I wanted to learn about it. I picked up Orwell's "Homage to Catalonia," his account of being a volunteer on the Communist side in the Spanish Civil War. "Down and Out" was the most logical next step. He became a hobo, basically. It's beautiful, beautiful writing. Funny and interesting. The best moments are in kitchens in Paris. His description of the behind-the-scenes action in the restaurants of the time is incredible. It's a great look at the effects and implications of the industrial revolution or after the revolution, the early part of the century, the class structures in Britain. Most people know Orwell as a conservative, but he was actually quite the radical leftist for most of his life.

This book is required reading for: People who enjoy memoirish non-fiction in the vein of Hemingway's "A Moveable Feast."

This book is not for: ... I can't really imagine anyone not liking the book. You could not love it. But you couldn't hate it.


---
Sam Hinkie
Houston Rockets executive vice president of basketball operations

The recommendation: Complications: A Surgeon's Notes on an Imperfect Science, by Atul Gawande

The reason: This was Dr. Gawande's first book (since written Better and The Checklist Manifesto), which is really a compilation of some of his early essays from The New Yorker. In "Complications," he pulls back the veil on modern medicine from a surgeon's perspective. He fully admits how much doctors still don't know. How much he doesn't know. His storytelling is always interesting -- think of an "ER" episode from inside the head of the surgeon -- but his humility is what I like best about this book. He shines a light on the errors inherent in his field, including his own errors, in an effort to learn and to minimize them. Here's a line from the book: "Medicine's ground state is uncertainty. And wisdom -- for both patients and doctors -- is defined by how one copes with it." That's surely true for more than just medicine.

This book is required reading for: Those who think they don't have the time, the energy, or enough experience to have an impact. He writes the majority of this book as a third year surgical resident, which is as grueling a schedule as anyone can imagine. While still officially in training to be a doctor, he has the maturity to step back and thoughtfully look for solutions for systemic problems much bigger than himself. But he engages you in this discussion without a trace of boastfulness or arrogance; some have described his tone as "confessional." May we all be so lucky.

This book is not: A pick me up. If you're the sort that trusts blindly that "doctor knows best," you're probably right most of the time ... but not nearly as often as you might think.



---