Thursday, December 13, 2007
The Scalabrine Phenomenon: Player as Mascot

---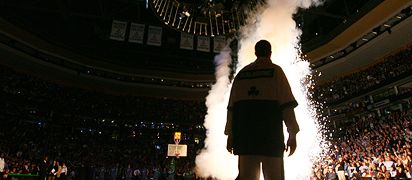 Planet Lovetron (the blog, not the place) marvels at how Celtic fans celebrate Brian Scalabrine:
He gets cheered just for touching the ball; they chant his name if he hits a shot. Read: they chant his name if he hits ONE shot. Sometimes they chant his name for doing nothing at all. They even bring homemade signs that call for a "BIG 4!" instead of the Big 3.

I wonder how Scal feels about it all. I'm sure he prefers it to boos, but it hast to be kind of embarrassing. It reminds me of when we used to bring signs and chant "Put in Wohlers!" at our boy's high school basketball games. We'd chant during freethrows, timeouts, halftime. If he got in the game and scored a bucket we'd scream like mad. He may have appreciated some of the support, but certainly not all of it. Yes, we were drunk, and we didn't mean to disrespect, but when your level of fan support disproportionately exceeds your level of skill/production, you are being mocked to a certain degree, even if it's out of love.
I have been in crowds doing that kind of stuff. It's fun! I think, more than anything, it's a sympton of delerium. We're having so much fun that we can indulge in this little bit of group goofiness!
I recognize, though, that it might also be totally annoying and creepy if you're Brian Scalabrine, who is an extremely hard working player who takes his job very seriously. Back when he was with the Nets several people from the team told me he had a nearly insatiable appetite for anything that would make him stronger or more skilled. And as his reward he's roasted in videos like these.
This exact trend -- crowds adopting a bench-warmer as a de facto mascot -- came up in a conversation I had a while ago with an NBA beat writer who spends his time in arenas all over the league. He described something that I kind of hope isn't true: those guys who crowds adore for something other than their skill are almost always white.
If and when he makes it to the NBA, maybe that's something Rod Benson can help remedy.
UPDATE: TrueHoop reader Z helps out by offering Jerome Williams (Raptor years) and Ben Wallace (early Detroit era -- before he was clearly a star) as examples of black fan darlings. MORE UPDATE: I have also had nominations of Bo Outlaw, Granville Waiters, and Earl Boykins. EVEN MORE: How about Ronny Turiaf?
---