Saturday, June 2, 2012
'Inside' the Celtics Game 3 win

---
By ESPN Stats & Information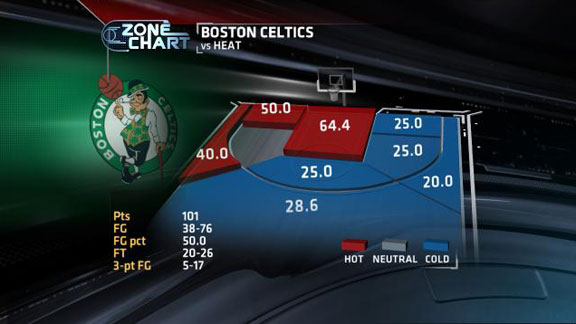 The Celtics dominated in an area that meant the most in their Game 3 win

The absence of power forward Chris Bosh caught up with the Miami Heat, as the Boston Celtics took advantage inside to come away with a Game 3 victory.

The Heat had their six-game conference finals win streak snapped. The Celtics improved to 7-1 at home this postseason.

Let's dig into the details behind the win.

How the Celtics Won
The Celtics outscored the Heat, 58-46 in the paint. Boston's 58 points in the paint are its most paint points in a playoff game since May 4, 2008 against the Hawks when the Celtics scored 60 paint points in their 99-65 Game 7 win.

The Celtics' 58 points in the paint are their most in any game this season (reg. season and playoffs). Boston is 7-3 since the start of the 2009 postseason when it scores at least 50 points in the paint.

Celtics forward Kevin Garnett scored a team-high 24 points with 14 of them coming from inside five feet. In the first two games of the series Garnett was 5-of-10 (50.0 percent) from inside 5 feet but was 7-for-11 on Friday.

Garnett's teammate, point guard Rajon Rondo was 4-of-6 (66.7 percent) as the pick-and-roll ball handler in Game 3 and is shooting nearly 70 percent on pick-and-roll plays in the first three games of the series. Rondo shot 36 percent as the pick-and-roll ball handler in the first two rounds of the 2012 playoffs.

LeBron's Lack of Support
LeBron James totaled 34 points on 16-for-26 shooting in 43 minutes of action. But the rest of Miami's starters combined to score just one more point than James while going 15-for-38 from the field.

James has scored 30 points and grabbed at least eight rebounds in each of the first three games of the conference finals. The Elias Sports Bureau noted that only four other players have hit those plateaus in the first three games of a conference finals—Wilt Chamberlain (1962 76ers), Kareem Abdul-Jabbar (1970 Bucks), Tim Duncan (2003 Spurs), and Amar'e Stoudemire (2003 Suns).

The Celtics were not just able to shut down their opponents. They were able to keep the Heat's second-best player off the foul line.

Heat guard Dwyane Wade was averaging 7.7 free throw attempts in the playoffs through 13 games entering Game 3. He attempted none in Game 3.

What's Next?
What can we look for in Game 4 of the Eastern Conference Finals. Another overtime game wouldn't be out of the realm of possibility.

Each of the last three Game 4s of the Eastern Conference Finals went overtime. The Orlando Magic beat the Cleveland Cavaliers in 2009 and the Celtics in 2010, and the Heat beat the Chicago Bulls last season.


---