Thursday, December 20, 2012
Melo returns, long-range success continues

---
By ESPN Stats & Information


Nathaniel S. Butler/NBAE/Getty ImagesCarmelo Anthony scored a game-high 31 points in Wednesday's win against the Brooklyn Nets.


Carmelo Anthony returned after a two-game absence and the New York Knicks continued their winning ways at home, taking the lead (for now) in the New York crosstown rivalry with a 100-86 win against the Brooklyn Nets .

Anthony scored a game-high 31 points on 12-for-22 from the field. He's averaged 37 points in three meetings against the Nets this season. The Knicks improved to 11-1 at Madison Square Garden this season, and are 22-2 under Mike Woodson since he took over as head coach.

As has been the case all season for Anthony, he was locked in from 3-point range, making four of eight.

Against the Nets, he's made 12 of his 20 3-point attempts. For the season, he's made almost 46 percent of his 3-point attempts (55-for-120), which would be a career high.

Off the bench, J.R. Smith chipped in with 19 points on 7-for-11 from the field. The Knicks outscored the Nets by 24 with him on the court.

New York committed just eight turnovers, and has committed the fewest turnovers per game (10.7) this season. When the Knicks commit fewer than 10 turnovers, they are 13-0.

The Nets dropped their third straight and have lost eight of their last 10 overall. The Knicks and Nets meet for the final time this season on January 21.

SMALL FORWARD, BIG NIGHT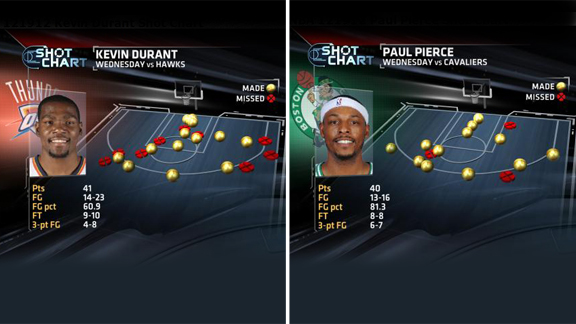 ESPN Stats & InformationKevin Durant (41) scored one more point than Paul Pierce on Wednesday, but Pierce was more efficient from the field. Both made shots from all over the floor.


KEVIN DURANT
Durant (41 points, 13 rebounds) recorded his 10th career game with at least 40 points and 10 rebounds, and his first this season. Only LeBron James (12) has had more such games since Durant entered the league.

The Thunder also won their 12th straight game, the longest by the franchise since November 1982 (12).

PAUL PIERCE
Pierce scored a season-high 40 points against the Cavaliers. Pierce, who turned 35 in October, became the second Celtic in history to score at least 40 points at age 35 or older.

Back on March 15, 1992, a 35-year-old Larry Bird scored 49 in a double-overtime win against the Trail Blazers.


---