Thursday, February 14, 2013
Can LeBron keep streak going vs Thunder?

---
By ESPN Stats & Information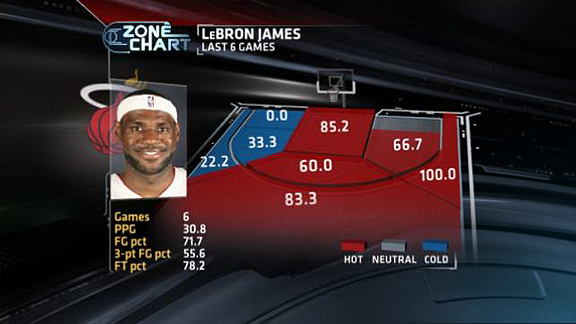 ESPN Stats & InformationLeBron James looks to keep his hot streak going at Oklahoma City on Thursday.

With a dunk late in the fourth quarter of Tuesday's game, LeBron James became the first player in NBA history to have six straight games with 30 points and shoot better than 60 percent from the floor

James has scored 185 points, hauled in 40 rebounds, handed out 39 assists and shot 71.7 percent from the floor over his last six games. The Elias Sports Bureau notes the only other player in the shot-clock era who had a six-game span like that at any time in his career is Wilt Chamberlain, who had two overlapping stretches like that in February of 1967.

James was 9-of-9 inside of 10 feet Tuesday against the Trail Blazers, including four dunks, and is shooting 86 percent from that range (46-for-53) in his last six games.

Through 738 regular-season games, James has won 476 games, eight fewer than Michael Jordan had through the same number games. At that same career checkpoint, both have the same number of MVPs and the same number of finals appearances.

LeBron is averaging 27.1 points, 8.1 rebounds and 6.9 assists this season. The last player to average at least 27 points, eight rebounds and six assists in a single season was Michael Jordan (1988-89).

The Heat play the Thunder on Thursday (8 ET). The two teams met on Christmas Day with the Heat winning 103-97. LeBron fell one point short of 30 points in that game, but he did shoot 60 percent (12-of-20) from the floor.

If the Heat win on Thursday, they will be the first team this season to beat the Thunder twice.

James has fared well against Kevin Durant in his career. In addition to last season's NBA Finals that the Heat won in five games, James has won eight of 10 regular-season meetings against Durant.

In fact, since joining the Heat, James is 3-0 against teams he faced in the NBA Finals the previous season.

Finally, if James scores 30 in Oklahoma City, the Elias Sports Bureau notes he will become the first player with 30 or more points in seven straight games entering the All-Star break since Wilt Chamberlain in 1962-63 (also seven).

It's happened only four times in history, and Wilt did it three of those times. For comparison's sake, Jordan's longest such streak was four games in 1986-87.


---