Wednesday, November 26, 2008
If Rip's Serving Dinner ...

---
It's time for me to get going. One thing I will not be called is late for dinner.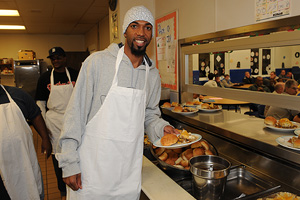 One thing I'm thankful for this year: TrueHoop readers.
Smart, funny, and on the ball, your comments and e-mails make me happy every day. Thanks.
Have a great Thanksgiving.
(Photo taken by Allen Einstein/NBAE via Getty Images at Wednesday's Rip City Foundation event, in which Hamilton and others fed 150 people at Grace Centers of Hope in Pontiac, Michigan.)
---