Saturday, May 4, 2013
Knicks, Pacers struggling with isolation

---
By Ernest Tolden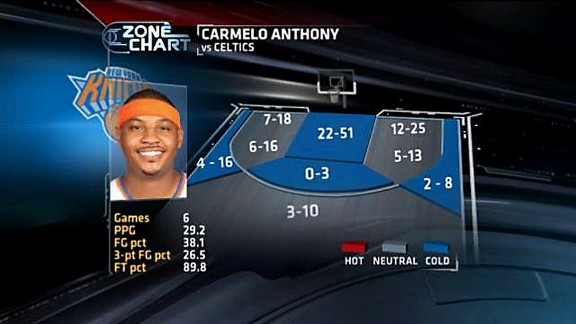 Carmelo Anthony did not have a "hot spot" on the floor against the Celtics.


The New York Knicks and Indiana Pacers will renew their postseason rivalry beginning with Game 1 on Sunday at 3:30 ET on ABC.

This marks the seventh postseason meeting all-time between the Pacers and Knicks. The teams split the previous six meetings, 3-3.

The interesting thing about this matchup -- it should be a matchup of strength vs strength-- the Knicks isolation offense against the Pacers 1-on-1 defense. But recent developments have made it a matchup of weakness vs weakness.

Knicks Isolation issues
The Knicks are shooting an NBA-low 41.2 percent from the field and averaging just 96.9 points per 100 possessions this postseason.

This was an area they excelled in during the regular season, averaging 108.6 points per 100 possessions, which ranked third in the NBA.

However, in four regular season meetings, the Pacers held the Knicks to just 91.8 points per 100 possessions, the lowest output by New York against any single opponent this season.

One of the main reasons for the Knicks' offensive issues was that they relied heavily on their isolation game this postseason.

During the regular season, an NBA-high 16 percent of the Knicks plays came in isolation. This postseason, the Knicks have ratcheted that up even higher- to 27 percent of their offensive plays.

With more usage came less success (particularly when they nearly blew their big lead in Game 6). The Knicks averaged a league-postseason-worst 0.73 points per play in isolation against the Boston Celtics.

1-on-1 defense was a Pacers strength, but not in 1st round
On the other hand, the Pacers were one of the best teams at defending isolation during the regular season.

They allowed just 0.75 points per play in that offense, which ranked fourth-best in the NBA.

But they had trouble defending isolation against the Atlanta Hawks.

Atlanta scored at an average of nearly a point per play in isolation against the Pacers and scored on nearly half of their isolation plays.

Anthony vs George
Carmelo Anthony will likely spend much of this series being hounded by Paul George.

George, who is regarded as one of the top on-the-ball defenders in the NBA, recorded a league high 6.3 Win Shares (an advanced metric that estimates defensive value) this season.

Anthony saw plenty of George in his three games against the Pacers during the regular season. Of his 66 total field goal attempts in three games against Indiana, over 70 percent of them came with George as the primary defender.

Anthony went 19-for-49 (39 percent) with George defending him in those meetings. He was actually worse against others the Pacers threw at him (5-for-15).

Anthony shot under 38 percent from the field overall against the Pacers during the regular season, well below his season average of 45 percent.


---