Friday, January 16, 2009
Chicago's Two-Headed Monster

---
Posted by Kevin Arnovitz
The Chicago Bulls have an interesting dilemma. Kirk Hinrich, the team's point guard from its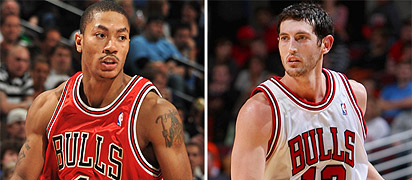 most successful run in recent years, has returned to action after missing 31 games. How do the Bulls integrate Hinrich back into an offense that features Derrick Rose, one of the best young point guards in the game? Both players like to initiate the action; neither is accustomed to playing as a spot-up shooter. Is having Rose and Hinrich on the floor together a good problem to have, or is it a redundancy without purpose?
On Thursday night against Cleveland at the United Center, Vinny Del Negro played his point guards together on the floor for four stretches:


The Bulls finish +7 with Derrick Rose and Kirk Hinrich on the court together. It's no coincidence that the two stretches during which they cooperate most in the halfcourt produce positive results. Having two guards on either side of the court who can both handle the ball and penetrate presents migraines for NBA defenses, who are accustomed to focusing on the strong side. With Rose and Hinrich on the court simultaneously, the Bulls will have the ability to swing the ball from side to side, and initiate action faster than
most defenses can react. These defenses will, in turn, have to pay a heavy price for cheating across the help line, particularly as Hinrich re-establishes his jump shot.
The forgotten man in this discussion is, of course, Bulls sharpshooter Ben Gordon. With Luol Deng back in action and looking very, very strong, Del Negro will be disinclined to go small, which will mean leaving one of his three top guards on the bench during crucial possessions.
(Photos by Garrett W. Ellwood and Gary Dineen/NBAE via Getty Images)
---