Thursday, January 22, 2009
Mike D'Antoni Dodged a Bullet

---
I went to the Knicks vs. the Suns last night, and it was such a strange game. (Highlights.) It was certainly high-scoring, but hardly must-watch. It was a story of mistakes -- the most memorable element of the game was of Shaquille O'Neal turning the ball over again and again. (When I got home, I watched the Cavaliers at Blazers. Even via television that game had 130 times the intensity of this one.)
But there was one really notable element: The Knick starters were terrible, and well on their way to a blowout loss, until Nate Robinson (and later, Danilo Gallinari) checked in.
Every once in a while I'll attend a game as a regular person. Sitting in the stands, buying overpriced ice cream and the like. It was fun. But I wan't online, and wasn't watching any kind of fancy statistics. But everyone in the building knew that the Knicks, with Nate Robinson on the floor, were a wholly different team than when he was on the bench.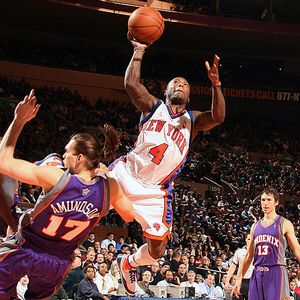 This morning I learn from the box score -- no surprise -- that the Knicks were +24 with Robinson in the game. They were +20 with Gallinari.
One game plus/minus can be a misleading trap. But this was evident.
Gallinari spread the floor with his commanding 3-point range, while not being as terrible as many of his teammates on defense. Robinson was by and large poised (as the defender closes out, he makes a confident dribble move, instead of just shooting away and having the shot altered, like yesteryear) on offense, and was always aggressive at both ends. And when the worst thing happened: A bigger player got him one-on-one in the post, he was even money to get the stop.
Meanwhile, when the Knick starters were on the floor, the Suns were vastly better.
Of course, that could be a comment on the Suns' bench. And it was. But it was also the fact that Knick starters like Wilson Chandler and Quentin Richardson didn't seem to be able to get much going on.
So, if you're the coach of a team in that situation -- where the starters are going nowhere, and some bench players are killing it -- who gets to play in crunch time?
With 3:12 left in the game Knick coach Mike D'Antoni sat Robinson and brought in Quentin Richardson. (Gallinari, at that point, had already left the floor, and even the bench area.) The Knicks were up eight, but the chess match was still on. I pointed out to my friend Randy that the Knicks' best player of this game was on the bench, and he said that clearly Robinson must be injured.
But alas, this morning there are no such report. And I thought maybe it was a case of bringing in a free throw shooter to help protect the lead, but if you check you'll see Robinson is notably better than Richardson at the charity stripe.) It was simply a case of a coach bringing in a starter for whatever reason.
And it worked, I guess. The Knicks held through all the free throws to win by five.
But I can't help but wonder: Was that the right move? When the game is on the line, don't you have to go with your best players? And last night, was any Knick better than the smallest one?
(Photo by Nathaniel S. Butler/NBAE via Getty Images)
---