Wednesday, April 15, 2009
The TrueHoop Network Shootaround

---
On today's Shootaround -- the NBA and the Open-Ended Question: Is the Association entering a new Golden Age? Is Paul Pierce "the greatest Celtic of the post-Bird era"? Is LeBron the league's best defender? Show your work.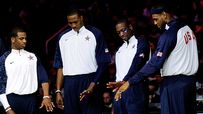 M. Haubs of The Painted Area: "This has been one of the most incredible seasons for individual performances in NBA history. All of the top 5 guys on the list have been truly outstanding, truly MVP-worthy. LeBron had a season for all time. D-Wade turned in one of the best-ever sustained stretches of all-around play after the All-Star break, and never had a chance for the MVP. CP3 had one of the best statistical seasons for a point guard ever, yet he's 3rd for me, and will probably finish 5th in the balloting. Kobe was the leader of a 65-17 team and once again the top clutch scorer in the league. Howard was the only star on an improbable 58-win team, and the likely Defensive Player of the Year as the anchor of the league's no. 1 defense ... Throw in Brandon Roy and his merry band of under-25s in Portland, and 20-year-old Kevin Durant, and the 2010s are shaping up to be one of the great golden ages of basketball history."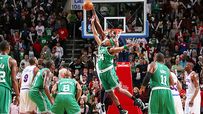 Zach Lowe of Celtics Hub: "If, in a week or so, Orlando is struggling against a quick and hungry Bulls team that takes care of its home court, while the Celtics are handling a banged-up Sixers team in the first round, remember this game. Remember when Philly torched a lazy Celtics defense for an 11-0 first half run (a run created off Celtic misses, not turnovers, and this is important). Remember when Sam Dalembert closed the first half scoring by getting so far behind the Celtics defense for an alley-oop he looked like a wide receiver sprung open on a flea-flicker. But remember most of all when the greatest Celtic of the post-Bird era told the team, with his harsh words in the huddle and his 12-of-16 shooting on the court, that their performance in the first half was unacceptable. That it was unbecoming of a championship team. Paul Pierce carried the team to this win..."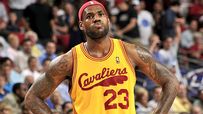 John Krolik of Cavs the Blog: "I've become so used to arguing passionately that LeBron was the best player in the league this time of year I have leftover righteous anger now that LeBron has had a good enough year to just power right through all the circular logic and political crap that has kept him from winning the award before. So I'm going to use my righteous anger to make the case that LeBron deserves very, very serious consideration for the defensive player of the year award like no player since Duncan took home the award."
THE FINAL WORD
48 Minutes of Hell: What happened to George Hill?
Orlando Magic Daily: Who's the Magic's enforcer? The guy in the rumpled suit.
Roundball Mining Company: Who would the Nuggets rather see in Round One -- Dallas or New Orleans?

(Photos by Kevork Djansezian, Jesse D. Garrabrant, Fernando Medina/NBAE via Getty Images)
---