Wednesday, July 8, 2009
The Celtics Catch a Glimpse of Their Future

---
The Salt Lake Tribune's Ross Siler continues his tour of the Orlando Pro Summer League. He filed this report for TrueHoop on the Celtics' youth movement:
Whether they're hanging championship banners or descending on Rasheed Wallace's house for the start of free agency, Kevin Garnett, Paul Pierce and Ray Allen always will be celebrated as the Big Three of the Boston Celtics.
There's also the Little Three of Gabe Pruitt, Bill Walker and J.R. Giddens, who played in a combined 82 games for the reigning world champions last season and are in Orlando, Fla., for summer league this week.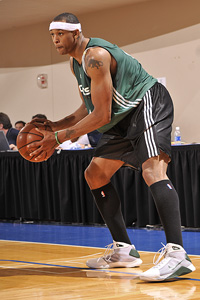 J.R. Giddens: Leading the Celtics' Little Three in Summer League.
(Fernando Medina via Getty Images)

It takes a long view, to be sure, but the development of the latter someday could ease the departure of the former, at least if the Celtics can find a player or two for their rotation among Pruitt, Walker and Giddens, each with high risk/reward potential.

"I think it's really important because we're young and we have fresh legs," Giddens said. "One thing that you can't stop is Father Time, and when players get older, they might lose a step or two. You've just got to be able to come in and help them play games.

"You know, with Paul, last year I think that was part of what was going on. He didn't have enough rest. We can't play a whole game and expect him not to get tired, especially guarding the other team's best perimeter player and being our best perimeter scorer."

The results for the Little Three so far have been mixed. Walker, who has been bothered by back spasms since Saturday, sat out Tuesday's 85-82 loss to Orlando. Pruitt had 14 points and five assists but struggled in hitting just one of six 3-pointers.

Giddens, meanwhile, enjoyed the brightest day, finishing with 17 points, six rebounds and four assists. Not a bad introduction for last year's first-round draft pick out of New Mexico, who played in just six games for Boston as a rookie.

"It's hard because we have a really good team," Celtics assistant coach Mike Longabardi said, "so that's the reason we're here, to give those guys some opportunity."

Even though it was 2,100 miles from Boston (and probably felt like a world away), the Celtics made use of the Utah Flash, their former NBA Development League affiliate, the past two seasons with Pruitt, Walker and Giddens.

The Celtics were so committed to the Flash, they shipped assistant general manager Dave Wohl to Utah with Giddens for the start of training camp, with Wohl sitting in on practices and coaches' meetings.

Giddens said he was able to "find myself as a player" with the Flash. He was the only Celtic to play for a championship last season, even if it was in the D-League Finals against the Colorado 14ers.

Based on what he saw, Flash head coach Brad Jones came away believing Walker probably was closer to contributing than Giddens, though he added, "I think all three of them will be NBA players, will have a decent career in the NBA."

Giddens impressed Tuesday at the RDV Sportsplex. He wore his socks high, had his jersey taped at the shoulders, and accessorized with a headband and a wristband.

(Taking a page from Jazz coach Jerry Sloan's rule book, Jones refused to let Giddens wear a headband during his time with the Flash. Giddens pleaded his case every time he had a good game, but Jones wouldn't relent.)

In the first quarter, Giddens missed two jumpers over Kasib Powell, before electing to attack the basket. He served notice by flipping the ball off the backboard for an alley-oop dunk in warmups, then drove for a ferocious slam midway through the opening period.

"You know, J.R. tells me that he was a shooter in high school and early in college," Jones joked. "He's a guy that can really fill out a stat sheet. Obviously, his energy is terrific and he has a great motor. Part of that is why he needs to just settle himself down just a little bit."

Giddens finally got a jumper to fall in the third quarter, then sized up Powell and buried another. He missed two shots in the final minute -- including a potential game-tying 3-pointer after Coby Karl's inbounds steal -- but it was a successful afternoon all the same.

"I would say that the big thing with him is that once he slows down, I think he's way better," Longabardi said. "He's just been so excited because he wants to play so much, so badly."


---