June, 28, 2012
6/28/12
2:10
PM ET

By Justin Verrier
ESPN.com
Archive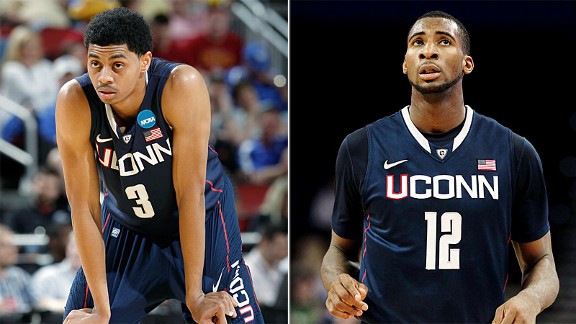 Getty Images, US Presswire
Jeremy Lamb and Andre Drummond could be the final NBA draft lottery picks in Jim Calhoun's reign.
It's the smile that does it.
Every memorable player comes to have a particularly noteworthy physical trait, some type of look or hairstyle or facial feature that embodies who they are to us on the court, the way a person's hat tips you off in "Guess Who."
Kobe Bryant
's jutting bottom lip and icy glare are the manifestations of his look-at-me intensity.
LeBron James
' burly biceps tell you everything about his freakish, natural athleticism. The precision with which
Ray Allen
shaves his head every day. The mere silhouette of an in-flight
Michael Jordan
. In a social-media-strung-together world, where information is often parsed down to its most molecular level, something as novel as a few unshaven hairs in the center of your brow could wind up serving as your identifier forever, a traffic cone for a fan's however-long journey through the league.
For
Kemba Walker
, it's his smile. That big ole Cheshire Cat grin that conveys the confidence and boyish charm that define his personality and game.
There weren't many happy moments for Walker as he began his career on the worst team in NBA history, but his gleeful look might as well been plastered at midcourt in Storrs, Conn., and on the Connecticut Huskies' American flag blue pantaloons after Walker led the team to the 2011 NCAA championship. Surrounded by a cavalcade of fresh faces, Walker was the one tugging at the marionette strings throughout the Huskies' up-and-down 2010-11 season, and he was ultimately the one carrying UConn across the finish line to cap off its unparalleled postseason run, fostering Jeremy Lamb's growth from an unknown out of Norcross, Ga., to a potential lottery pick along the way.
Walker was a leader, in every sense. Even Jim Calhoun, the team's Hall of Fame head coach, often deferred to the point guard's judgment.
Yet, as Walker darted off to the professional ranks, the team actually appeared in better shape, talent-wise, as it prepared its title defense. The Huskies returned five of their top six players and welcomed uber-prospect Andre Drummond, the most celebrated recruiting get in Calhoun's 26-year reign, into the fold. The first title repeat since Florida in 2006 and 2007 was a possibility. All they needed was someone to take the lead.
The Incumbent and The Newcomer were the two most likely candidates.
The Incumbent
Lamb is also defined by his distinguishable look. Only, the image isn't all that flattering.
The sophomore swingman often appears like he may fall asleep at any moment, his eyes almost glazed over like he's sitting in the back of a high school mathematics class and his voice slowly rolling out of his mouth in a crackly baritone. His game is just as laid-back, as his lanky, 6-foot-5, 179-pound frame smoothly glides across the hardwood like he's on ice. And instead of charging at the basket like Walker, Lamb prefers to spot up from midrange or toss up a near-automatic floater before entering the circle.
It's that lack of edge and aggression -- particularly when compared to the energetic, attacking point guards he was paired with in the backcourt for his two college seasons -- that has led to doubts. And while some assume passivity based solely on his sleepy demeanor, Lamb does have a tendency to fade into the background, a habit particularly harmful on a college team in desperate need of direction.
An efficient scorer basically from the get-go, Lamb's emergence in 2010-11 as a capable No. 2 option ultimately proved to be the catalyst for the Huskies' 11-for-11 tournament(s) run. But his opportunities were almost always created by Walker, whether the ball came off the point guard's hands or not.
Lamb, despite dominating the ball for Team USA's U19 team last summer, continued to pick his spots as a sophomore, but with erratic, turnover-prone point guards and no other established offensive option amid a surplus of talent, he was forced to try to on Walker's uncomfortable role far too often. Although he shot 60 percent on 2-point attempts, Lamb, who had one of the heaviest minutes loads in the NCAA, jacked up almost as many 3s (at a 33.6 percent rate), mostly because he had to.
The complementary role he's more comfortable in is likely what he'll be asked to do in the pros, which means he's probably better off in the long run. But the 20-year-old seems lost when he attempts to be more than that. As he told our Chad Ford in a
pre-draft video piece
: "My freshman year, the team, we were really like brothers. We did everything together. We just really wanted it, and when times got hard, we stuck together. My second year, we wasn't as close. … We could've had a much better year."
The Newcomer
Drummond is a direct product of the rise of UConn basketball. A Middletown, Conn., native born six years into Calhoun's tenure and three after the program's "Dream Season" of 1989-90, the center grew up in a world where his hometown team was already a national powerhouse. And as the gangly boy blossomed into a 6-11 powerhouse with
Amare Stoudemire
-like athleticism, the buzz began to build in Connecticut, particularly when word spread that he longed to one day attend the state university.
Even as a high school freshman, it was clear there was something special. I marveled while taking his agate lines from coaches for
The Hartford Courant
, and in the one game I saw Drummond play during his lone year at Capital Prep in Hartford, he effortlessly coasted to a 20-point, 20-rebound performance; given the height discrepancy, stepping on an opponent's while in midair was a legitimate concern.
But, as other first-person testimonials of his early days have noted recently, not much has changed. After reluctantly enrolling at UConn in the late summer, Drummond continued to coast on his gifts, and as a result, he was bullied around by shorter, sturdier players -- much in the same way
DeJuan Blair
used to dominate
Hasheem Thabeet
-- gave little effort on the boards, and rarely scored if the ball wasn't already in the air and near the rim. The team gave him every chance to succeed, playing through him in the back half of the season, but his wild turnarounds and clunky post moves only brought more screams and sighs of exasperation out of Calhoun.
(No moment crystallizes his college career more than
this video
. After missing a foul line jam in a preseason slam dunk contest, Drummond quickly gathers himself … and then casually throws down a between-the-legs dunk off the bounce. He would, of course, lose the competition.)
Once viewed as a legitimate threat to Anthony Davis' hold on the top spot, Drummond's disappointing lone college season has now sent his draft hopes tumbling down big boards. But it could actually be for the best. Earlier this season, while reminiscing with Thabeet soon after the former UConn center was traded to his third team in three years, he explained how surprised he was to be drafted No. 2 overall in 2009 and shook his head in disappointment while discussing the burden of expectations.
Drummond's upside is far higher than Thabeet's -- unlike Drummond, Thabeet was a stiff athlete who showed virtually no aptitude for scoring despite being the tallest player on the court for three years -- but he may benefit from a lower draft position. An 18-year-old who struggled to stay away from the snacks at South dining hall and whose voice still crackles, Drummond needs a more-structured, patient environment more than most (as
our Beckley Mason noted earlier this week
), and the teams that can provide it are most likely to be found the farther he falls. (The Rockets and post-move savant Kevin McHale would seem to be a particularly good match.) Although he didn't progress as expected, Drummond did benefit greatly from a year of discipline, as evidenced by the fact that his greatest skill thus far is a trademark of UConn big men:
blocking shots and defending without fouling
.
Like Lamb, the disappointments in college could be rectified in a professional setting.
The History
Before John Calipari's rash of one-and-doners began consuming draft boards, UConn was at one point widely regarded as the top pro-producing college outfit. The Huskies have yet to produce a No. 1 overall pick, but they became the first school to have two picks selected in the top three (
Emeka Okafor
and
Ben Gordon
, in 2004) and the first to have five players selected in a single draft, in 2006. Ray Allen,
Caron Butler
and
Richard Hamilton
all made All-Star teams. And, farther back, Donyell Marshall, Kevin Ollie and Clifford Robinson all had long careers.
But its reputation has faltered some as time has gone on. Allen, Butler and Hamilton are all nearing the end of their careers. Gordon and
Charlie Villanueva
have tapered off significantly after moderately promising starts to their careers. Of the Huskies' '06 draftees, only one,
Rudy Gay
, remains. And their most recent exports from its last Final Four trips -- Thabeet, Walker and
A.J. Price
-- haven't fared much better.
A once-proud tradition is slowly looking like a bit of a red herring.
The End?
The draft stocks of Lamb and Drummond have suffered as a result of UConn's far-from-stellar 2011-12 season, more so in the case of the latter, as the freshman center now must fend off inquiries about his motor and desire for the game on a daily basis. But both are in better shape than the program they leave behind. With a postseason ban forthcoming, the team experienced major defections after its title hopes torpedoed into a first-round exit in the 2012 NCAA tournament. And with the 70-year-old Calhoun's status year-to-year because of health scares that grow more concerning each season, the program is at a crossroads, particularly when it comes to recruiting.
With only one player currently on next year's draft radar (DeAndre Daniels, No. 82 on
Ford's 2013 Big Board
) and no impact imports on the horizon, it's possible, a cynic might pontificate, that Lamb and Drummond could be the Huskies' last two first-round picks -- in the Calhoun era or maybe ever.
Unlike most other high-profile programs, UConn's success is so tightly tethered to its head coach. The team wasn't much before Calhoun's arrival, and even though he'll leave it with at least three national titles in hand, the lure to the cow town of Storrs has always been the man in charge and his ability to help players become legitimate draft prospects. If his successor isn't able to quickly pick up where he left off, the doomsday scenario isn't out of the question.
Twenty-two years after Calhoun's first draft pick, Clifford Robinson, turned a second-round selection into a 17-year career, a run of 24 draftees could end with Lamb, perhaps the next in a line of successful wings, or Drummond, the homegrown top recruit who could be the coach's greatest achievement or his biggest letdown.
June, 28, 2012
6/28/12
1:07
AM ET

By Chad Ford
ESPN.com
Archive
Will Austin Rivers be a bust?
I've been asked that question a lot over the past few days.
I've pored over game tape, talked to several NBA scouts and GMs and sifted through the various analytics available before coming to a conclusion: Given his rise on draft boards -- in some cases as high as No. 6 overall -- he's being overrated.
And I've said as much in various places recently.
In my look at the
10 biggest questions in the 2012 NBA draft
, I asked whether Rivers was more likely to become the next Kobe Bryant or Jerryd Bayless. I picked Bayless.
During
ESPN's "First Take" draft special
, I took issue with Skip Bayless' declaring that Rivers should be the No. 2 pick.
And in a 7,900-word draft debate on Grantland with Bill Simmons, we had the following
lively exchange
on the difference between Weber State's Damian Lillard and Rivers:
FORD: Lillard is a willing passer. Rivers isn't and will never be. Lillard made dramatic improvements from year to year. I thought Rivers was the exact player in college that he was in high school. Lillard is a team player. He was the second most efficient player in college basketball DESPITE being the only decent player on his entire roster; teams game planned to stop him and him alone every night. I just don't see Rivers ever being anywhere near as unselfish or efficient. I think Rivers will be shocked at the athleticism and length at his position. He'll try to do the same things at which he excelled in high school, spend a lot of time on the bench, get into it with his coach and teammates, get traded in a year or two to a desperate team, put up huge numbers for a cellar-dweller for a year or two, make some money, and eventually, teams will realize he can't be the alpha dog on a winning team.

SIMMONS: Other than that, you're a huge Austin Rivers fan.

FORD: I honestly think Rivers is the one guy I wouldn't touch in the lottery. Too toxic for team chemistry, doesn't have the same physical tools to make it worth it.
Put all of that together and it sounds like I'm piling on Rivers.
I'm not.
But the perception is there. Rivers' former head coach at Duke, Mike Krzyzewski, even called me up concerned that I or someone else was questioning Rivers' character.
I'm not. I'm questioning how his mental approach to the game, combined with his skills and physical tools, translate at the next level.
To be clear, I'm sure Rivers is a nice young man and I don't have concerns about his character. In fact, Coach K believes that Rivers' ultracompetitive personality is what will help him at the next level.
"He is an alpha dog. I think he will succeed in the NBA because of that," Krzyzewski said. "He believes he's going to be great. I'd rather have a guy like that than a guy who doesn't believe in himself."
He also acknowledged that Rivers, like every young prospect, still has a lot of work to do.
"He needs to be a better rebounder and a defender on and off the ball," Krzyzewski said.
"Some players, they learn one punch. When you take that punch away, they get knocked out. He needs to use that aggressive mentality to work on new things about his game.
"When Austin came to Duke, I told him that every player is like a house: The more skills you learn, the more windows you have on your house. When he came to Duke, he had one really big window. He was an amazing scorer. The goal was to add more windows to his game. He's in that process right now.
"I hope he gets a demanding coach at the next level who pushes him to keep adding to his game. That's how he'll become great. If he reverts back to just doing the thing he does well, his chances lessen that he's a good player in the NBA."
He also noted that despite rumors to the contrary, he liked working with Rivers.
"He was very coachable and he's a very good young man," Krzyzewski said. "I like him. He was never a problem. He fit in well. He likes the game. He was a good kid to coach."
Coach K said that any chemistry issues with the team this past season, which ended with the No. 2-seeded Blue Devils being knocked out in the first round of the NCAA tournament, probably had more to do with its lack of seniors. He said that as players get older, they get more secure in who they are and what they can do and don't feel as threatened by newcomers with the skills of someone like Rivers.
"We had a young team, maturity-wise, this year," Krzyzewski said. "I would've rather had him playing with Nolan Smith and Kyle Singer. I think they would've reacted better to his aggressive attitude. We didn't always use his attitude properly."
Fair enough. Other than his father, Doc Rivers, no one knows him better.