January, 10, 2011
1/10/11
11:51
PM ET
By ESPN Stats & Info
ESPN.com
Archive
Houston Rockets
point guard
Aaron Brooks
was in the right place for his first start since returning from an ankle injury. After coming off the bench for eight games, Brooks netted 24 points in a 108-102 road win over the
Boston Celtics
, which snapped the Rockets five-game losing streak.

Brooks
It was the third straight win for Houston in Boston and in all three games, Brooks had a big performance.
On January 7, 2009, Brooks scored 19 points in 37 minutes off the bench in an 89-85 win over the Celtics. On April 2, 2010, he scored 30 points and had nine assists in a 119-114 overtime win in Boston. Brooks was clutch that night, hitting a game-tying three-pointer with nine seconds remaining.
Brooks was good in this one too -- 8-for-15 from the field and 5-for-8 from 3-point range. He had been 5-for-24 from behind the arc in his previous six games. Brooks entered the game shooting 36 percent on the road this season. But Boston felt just like home to him.
The Celtics, by the way, are now 12-0 at home against Eastern Conference teams, 4-3 at home against the Western Conference.
Elsewhere, Derrick Rose's 29 points gave him six straight games with at least 20 points against the
Detroit Pistons
, whom the
Chicago Bulls
beat, 95-82 -- their 10th straight win against Detroit. A check with the Elias Sports Bureau shows that the last Bulls player with six straight 20-point games vs Detroit was
Michael Jordan
, who had a seven-game streak from February 1992 to April 1995.
Two players from these games provided an illuminating contrast in plus-minus. Chicago center
Kurt Thomas
played 30 minutes in the Bulls' win over the Pistons, not scoring a point. But the Bulls outscored the Pistons by 24 points with Thomas on the floor. This was a contrast to recent efforts by Thomas, who recorded a negative plus-minus rating in each of his previous four games.
In Boston,
Marquis Daniels
gave the Celtics a lift off the bench with 19 points (on 7-for-8 shooting) in just 24 minutes. But the Celtics outscored the Rockets by only one point with him in the game. Meanwhile, Rockets forward
Jared Jeffries
didn't score in his 12 minutes, but the Rockets had a 15-point edge on the Celtics during his minutes.
April, 12, 2010
4/12/10
1:02
PM ET

By Kevin Arnovitz
ESPN.com
Archive
March, 17, 2010
3/17/10
2:10
PM ET

By Kevin Arnovitz
ESPN.com
Archive
From Basketbawful: "The Nyets are now 30-10

0 since

Devin Harris said 'We knew we were going to be a playoff team' way back on December 9, 2008."
The average player doesn't have the ball in his hands 80 percent of the time he's on offense. During those instances, where and how he sets up in the half court in relation to his teammates is vital. If you're in a system that relies on good spacing, that's especially true. Kelly Dwyer at Ball Don't Lie: "How many times this year do I have to see Bynum post up eight feet from the hoop on the low left block, only to see Artest think it sane to then post up just below Bynum on the same block three feet from the hoop. It defies logic, spiraling from any template. And yet, the Lakers let him do it, likely thinking that they can put up with not playing their best because of Ron while still managing to win the title."
At Basketball Reference, Neil Paine has assembled the best NBA playoff teams in history in a bracket. I'm drawn to the 8-9 matchup in Pool C: '95 Rockets vs. '77 Trail Blazers.
Timothy Varner of 48 Minutes of Hell on how Manu Ginobili is solving the Spurs' most intractable problems: "Manu Ginobili is making everyone better, most noticeably the previously pronounced dead on arrival Richard Jefferson. Jefferson is openly campaigning for heavy minutes alongside Manu Ginobili. It's almost as if Gregg Popovich turned to Manu and said, 'I can't figure this guy out. Can you fix him for me?' And then Ginobili grabbed Jefferson by the hand, walked into a nearby phone booth, and emerged in Superman garb. Jefferson can be seen just behind Ginobili, with a fistful of cape. Problem solved."
Skeets and Tas pay homage on St. Patrick's Day to the NBA's prominent Irish contingent -- players like Chris Quinn, Troy Murphy and ... Lamar O'do'm.
The Washington Post poses a crucial question for those who like that silky smooth feel on their jumpers:"[I]s there a launch angle that gives the maximum probability of a perfect telegenic swish?"
In a video interview, Jerry Colangelo tells Bloomberg's Michele Steele, "There could be a seismic switch this summer in terms of power in the NBA and which teams are going to be relevant over the next four or five years."
Smart column from John Schuhmann looking back at his preseason predictions. Among his miscalculations (shared by many): Eddie Jordan's impact in Philadelphia, the Thunder's stratospheric rise and the Bucks' surprisingly stingy defense.
ESPN's Stats and Info Department tells us that only two active players have won both an NBA and an NCAA title: Rip Hamilton and Nazr Mohammed.
There's a limit to what fans with limited expectations can reasonably tolerate. After Minnesota's 152-114 loss in Phoenix on Tuesday night, Canis Hoopus tries to name what Timberwolves fans are experiencing right now and comes up with a neologism called apastration: "It's somewhere in between boredom and apathy, frustration and anger, regret and hope, and all sorts of other polar and not-so-polar dichotomies."
Reggie Evans would like his alma mater to perform a thorough interview process, thank you very much, in its search for a head coach to replace Todd Lickliter.
Rajon Rondo tells HoopsTV, "I don't care who we play in the Finals."
January, 14, 2010
1/14/10
1:47
PM ET

By Henry Abbott
ESPN.com
Archive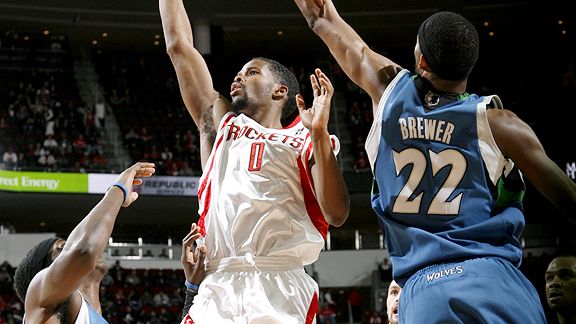 Bill Baptist/NBAE/Getty Images
Aaron Brooks in the lane, working against all the Timberwolves.
24 hours ago, nobody would have picked Minnesota at Houston as the game of the night, but that's why they play the games! You never know what's going to happen, and that one turned into a triple overtime thriller, which the home team won by a millimeter.
The play of the night, in case you haven't seen it already, came at the end of regulation when Corey Brewer -- a player whose 3-point shooting stats are marred by the fact that he throws up half-court buzzer-beaters every chance he gets -- showed why every player should send up prayers:
Despite that make, this was really a story of misses.
The Timberwolves,
the NBA's 29th-ranked offense
, know what it's like to be cold. For the Rockets, it was apparently a story of playing on the second night of a back-to-back and just not feeling it.
Houston's offense typically features players like Trevor Ariza, Shane Battier and Kyle Lowry standing on the wings, ready to catch the ball and score points. Those three missed everything they threw up in the first quarter. Battier and Ariza made one each in the second quarter, and Battier made two field goals in the third quarter. None made a field goal in the fourth quarter or first overtime, but not for lack of trying. They finished a combined 12 of 37 from the field, which is bad even for three players who are averaging just south of 40% from the floor this season.
Houston needed a savior, and early in the fourth quarter, one of the younger, best-conditioned Rockets -- Aaron Brooks (who played 59 minutes in this game, more than any other player this season) -- turned it on. He finished with 43 points.
Now
that's
a guy with a hot hand.
Right? Did you see that last play? Aaron Brooks basically beat all five Minnesota defenders by himself.
But ... that play made me think. Doesn't Aaron Brooks play for Houston GM Daryl Morey, who organized the conference in Boston (
this year's is coming up
, by the way -- get on that) where John Huizinga (the agent of Yao Ming, who also plays for Morey) and Sandy Weil
presented a convincing paper
demonstrating that the hot hand, if it exists at all, is extremely rare?
Is there such a thing as hotness? Was Aaron Brooks really infused with something special last night?
"I," says David Thorpe, "absolutely believe in the hot hand. No doubt about it."
Watch that highlight reel above again, and stop if with 48 seconds left in the fourth quarter. There's Brooks, in the paint, staring down the entire state of Minnesota. Wide open to his left is the cold Battier. Wide open to his right is the colder Trevor Ariza. What's the best play for the Rockets? Small man vs. big world, or wide-open shooters?
If you believe Brooks was hot, and Battier and Ariza were cold, then you'll take Brooks. But if you don't believe in the hot hand, then don't you have to go with the open shooters?
Morey shared some thoughts on this by e-mail. He had no specific answer about whether or not Brooks should have shot or passed on that play. But he did care that Brooks was rolling: "I believe that generally younger players play better (and this can include shot making) when confident, and making shots absolutely impacts their confidence. Shane Battier, Luis Scola and David Andersen are all very consistent players whose play seems unaffected by whether their last shot has gone in or the game situation (e.g. end of a close game), etc. I do think the rest of the team is affected by their recent play and the game situation to different degrees depending on the player."
That could be taken as an argument that, having made some shots, Brooks was poised to play better than average.
If hotness exists, however, then so does coldness. I pointed out a possession to Morey, late in the game, when Battier seemed to be demonstrating belief in his own coldness -- having just missed a long jumper, he was open for a second attempt, but didn't even look at the hoop. If the research at Morey's conference was correct, Battier should not let a few misses keep him from taking a good shot. "If Shane passes up an open 3-point look, that is obviously not something we want," says Morey, "but often when he does it is because he sees the possibility of getting something better (e.g. he will pass it up for a deep post touch)."
By and large, Morey says the Rockets are looking for a good shot, without regard to who's hot, which is in keeping with the research. But he leaves himself some wiggle room for one of the most cherished ideas in hoops, that players get hot. "I think I can speak for the coaches in that we are just looking for a solid shot each possession, regardless of what has happened in the recent past," writes Morey. But he adds that "Coach will often fluctuate minutes based on if players are having a good/poor night overall," he writes, "which can include shot making ('hot hand') but is generally all encompassing (they are playing solid defense, their matchup is good, etc.).
Brooks cooled off in the overtimes, making two of his seven field goals (both 3s, although he made seven-of-eight overtime free throws.)
With 8.4 seconds left in the second overtime, the Rockets inbounded, in a tie game. It was deja vu. Brooks drove into all of the Minnesota defense. It was the
exact
same play that had been the highlight of the Rockets' fourth quarter. Ariza, Battier and Lowry were dotted around the perimeter, wide open. Once again, Brooks ignored them all, and wound his way through defenders eager not to foul.
This time, he missed. On to the third overtime.
Had the Rockets made a mistake in not using the open shooters that are the bread and butter of their offense?
In the final overtime, the Rockets clung to a three-point lead. All night, despite Brooks' excellence, the Rockets had been unable to build a meaningful lead when it mattered. Then, with 1:54 left, something amazing happened. One of Houston's three cold wing players finally hit a 3. Battier
got one to fall from the corner
, and the Rockets, up six, never looked back.
Still at issue: Quadruple- or quintuple-teamed, is it smarter have Brooks shoot or pass? It was the same play in the fourth quarter, and in the second overtime. One tough make and one tough miss. Was Brooks, in fact, hot? Or was he keeping the Rockets from their best available shots with the idea that he was hot?
It's something basketball people are going to argue about for a long time.
June, 3, 2009
6/03/09
2:13
PM ET
Let's get down to the brass tacks of basketball: How are the Lakers going to defend both Dwight Howard and the Orlando shooters? Where does Andrew Bynum fit in to all this? And will Brandon Jennings be the sleeper of the 2009 NBA Draft?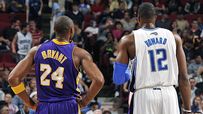 Kurt Helin of Forum Blue & Gold: "Orlando is an interesting mix. On one hand it's a team that's fundamentally built like the championship Houston Rockets teams of Hakeem Olajuwon - a powerhouse center surrounded by a bunch of guys who can drain the three (although Hakeem had roughly 3,756 more post moves than [Dwight] Howard). But in some ways the team reminds me of a European team because of the all their tall forwards are more comfortable out by the three point line than in the paint. There's a lot of talk about the Lakers needing to defend the three to win the series ... when the Orlando Magic have the ball there are two real actions the Lakers need to stop. One is the pick-and-roll ... the other thing the Lakers need to do is defend Howard in the post and the kickouts from there. The Lakers cannot -- and from what Phil Jackson has said will not -- double Howard in the post. That is when the kickouts to the three point line, then quick ball rotation to the weak side, get them the good looks they love. I would rather have Howard score 25+ and keep the perimeter guys in check every time. Basically, little or no strong side zone when Howard is in the game. Defending Howard in the post starts with not letting him get position in deep -- you want him at least 10 feet out. Farther out if you can."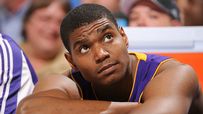 Zach McCann of Orlando Magic Daily: "Because [Andrew] Bynum starts at the center position, he will begin games alongside Howard and has inevitably drawn comparisons to the Defensive Player of the Year. But make no mistake - at this point, Bynum is a backup. He's averaging fewer than 17 minutes per game this offseason, and he's struggled with inconsistency when he has been on the floor. Bynum has the natural ability to be a star, but a sharp regression this season has him well short of that mark. Frankly, Bynum should be drawing comparisons to Marcin Gortat instead of Howard. Gortat's playoff numbers outshine Bynum in almost every major statistical category."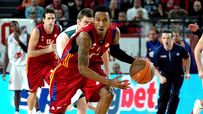 M. Haubs of The Painted Area: "Considering that statistics and reports out of Rome have indicated that [Brandon] Jennings has had an erratic year as a rookie 19-year-old, I've been surprised at how impressed I've been by his play. Given the way that NBA rules are currently structured to give an advantage to speed on the perimeter, I consider Brandon Jennings to be the no. 3 prospect in the 2009 NBA Draft. Jennings is extremely quick with the ball, he can finish at the basket in traffic at 6-2, and also has excellent court vision. He is reminiscent of a Tony Parker or Aaron Brooks-type player in terms of speed with the ball, though I would say Jennings is a better passer than those players, but not as good of a shooter. Outside shooting is a big weakness for Jennings right now ... but I do think he has a pretty good stroke to work with. He also doesn't yet have a floater or general craftiness inside like Parker or Brooks, though he does have a sheer explosion at the rim, even with a slight build ... that neither of those players have ... Every time I saw Jennings, he really competed on the defensive end -- his quickness allowed him to be a pest even if his inexperience caused him to struggle in the pick-and-roll. As much as anything, I was impressed at how professional the kid was, at how mature he looked -- there was no pouting, no self-indulgent individualism on display."
THE FINAL WORD
Beyond Bowie: Appraising the Blazers' point guard situation.
Celtics Hub: Ike Diogu -- the Roberto Petagine of the NBA.
Valley of the Suns: The case for holding onto Amare Stoudemire.

(Photos by Fernando Medina, Andrew D. Bernstein, Luca Sgamellotti/NBAE and Euroleague Basketball via Getty Images)
May, 16, 2009
5/16/09
10:48
AM ET
Shelley Smith, ESPN bureau reporter based in Los Angeles, was at Laker practice in El Segundo yesterday and writes:
The 90-minute film session Friday was finished, and Lakers coach Phil Jackson announced to his team that shooting drills or any extra minutes on the Stairmaster were completely optional. While some players headed for the treatment room and others walked out onto the court, Kobe Bryant took a sharp turn to the parking lot and bolted, barely making eye contact as he walked to the giant mini-van in which he is driven to and from practice.

He was clearly in no mood. For anything. Most of all small-talk or further verbiage about the Lakers' Game 6 performance that had Bryant raging at halftime, as angry and upset as Jackson says he has ever seen him in their entire tenure together, something Jordan Farmar confirmed.
"Kobe was vocal," Farmar said about Bryant's fiery halftime speech. "He was the one speaking, but we all got the message."
For a minute, it worked. The Lakers came out in the third quarter with the fire in their bellies they inexplicably couldn't find at the start of the game, when the Rockets abruptly put them in a 17-1 hole. They closed to within two points, but then, "we just couldn't hold on," Farmar said of Houston's focused play and 95-80 victory that brought the series back to LA for the crucial Game 7 Sunday. "They did everything they needed to do, made big shots, stretched it. When we got close, they continued to make plays."

But it obviously wasn't enough, something that was a topic of discussion as the team went over the film from the game.
"There was a lot of talking," Farmar said. "Everyone looked pretty focused, into learning and trying to get better."

Jackson, obviously trying to find a spark to motivate his self-described "Jekyl-and-Hyde team," spliced in a few Michael Jordan plays from back in the day (refusing to elaborate on which plays from which years), but with the idea that the Lakers need to be more like Mike -- create and don't wait.

"He told us just to go out there and get them," Farmar said. "It's not going to be given to us. We've got to go out there and play and make things happen. He showed us a clip of Michael Jordan making a spectacular play, saying we have to go and make things happen. He said one play can change the whole game. We have to make sure those plays work for us."

Jackson also hinted that he might change the point guard rotation to try to find a way to slow down Aaron Brooks. He was unhappy with the offensive production of Derek Fisher, saying he wasn't himself, but that he was going to have to play guys who earned their time, rather than just go by the usual pecking order of Fisher, Farmar and Shannon Brown (the latter two did stay to shoot after film).
The team seemed "somber," to Jackson, a word he's been using frequently as of late, maybe because there is no definition of what exactly that means. For Farmar, it meant getting some shots in to get better and "try to fix things."

For Bryant, it could have meant simply getting away, until what is expected to be a far more lively practice Saturday.
Posted by Kevin Arnovitz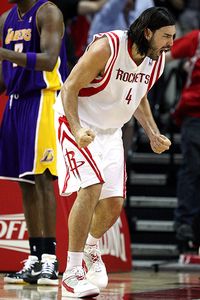 Why is this man clinching his fists and howling? He just gave Houston a 17-1 lead (Ronald Martinez/NBAE via Getty Images)

In the Rockets' first round series against Portland, Luis Scola was the primary beneficiary of Nate McMillan's strategy to double-team Yao Ming. With Scola's primary defender, LaMarcus Aldridge, devoting much of his attention to Yao down on the low block, Scola drifted out to 15-20 feet, where he punished the Blazers. Scola averaged 16.2 points in 33.3 minutes over the six games against Portland.
The Lakers have been more attentive to Scola. Over the first three games of the conference semifinal series, they sent Lamar Odom to help on Yao. But their weak side defenders did a better job than Portland's depriving Scola space, while the their ball side defenders cut off angles to Scola. The result was far fewer open jumpers and driving lanes for Scola, who shifted his focus to the glass, where he's done solid work against the Lakers.
Once Yao was lost and Chuck Hayes became the Rockets' starting center, the halcyon days of The Open Luis Scola 18-Foot Jumper figured to be history. The Lakers' center would undoubtedly slough off Hayes and make life tougher for Scola and the Rockets' other scorers.
Scola had unremarkable Games 4 and 5, but Thursday night, he fueled the Rockets' jackrabbit start with a 14-point first quarter:
Lakers Breakdowns [1st Quarter, 10:59; 1st Quarter, 10:30] Some of Scola's success can be attributed to a disoriented Lakers defense. Twice the Lakers' strong-side pressure leaves Scola with nothing but open space around him, and on both possessions, the Lakers pay more attention to Chuck Hayes off the ball than they do to Scola. The first instance results in an open elbow jumper, while the second yields a baseline drive that earns Scola a trip to the line (this was the play where Pau Gasol lectures Andrew Bynum after the whistle). Though both shots come courtesy of a lax Lakers defense, the four points still require Scola to hit from mid-range and make a play for himself.
The Hook [1st Quarter, 9:59; 1st Quarter, 5:33] Scola has a soft touch on his jump hook, both off the pivot and when he's sweeping across the lane from the left block. It's not a particularly good-looking shot, but Scola has made it a centerpiece of his repertoire. He hits the first hook as he backs in from the right side with Bynum's forearm pressed against his upper back. The second is sweet, as Scola deploys a fake spin to buy himself space from Gasol, then elevates for the shot.

Elbow Jumper [1st Quarter, 10:59; 1st Quarter, 1:08] The first shot is cross-referenced on "Lakers Breakdowns," and this one is close to falling under that rubric, too. Gasol makes a poor decision to follow Ron Artest -- who is already being trailed closely by Trevor Ariza -- as Artest picks up a handoff at the pinch post from Scola. Artest has his moments in Game 6, but generally plays a less selfish game. When he spins back to the middle on his drive and sees that Gasol has chosen to drop off Scola, Artest immediately shuttles the ball Scola's way. Scola drains the jumper.

The "Dream Shake" [1st Quarter 7:05] At least that's what the broadcast team calls it. On the right side of the basket, Odom shades Scola's left shoulder, sending him middle. After his second dribble, Scola spins baseline for his third dribble, before faking back middle, getting Odom to commit. Scola then pivots baseline, steps up and under for a layup, and gives the Rockets a 15-1 lead. Comparing Scola to Hakeem Olajuwon seems unfair. To the extent the parallel exists, it speaks to Scola's footwork, which is incredibly good and makes Scola seem quicker than most of his defenders anticipate. While they're being disarmed, Scola is finding his way to the basket.
The Power Drive [1st Quarter, 6:35] Soft touch, but hard drives. Against Gasol, Scola's back is to the basket off the left block. He waits for Artest to clear, then takes two dribbles with his right while barreling into the lane with his left shoulder. Gasol offers little resistance and almost steps aside for Luke Walton and Odom, neither of whom can deny Scola as he lunges up for a right-handed toss off the glass. And the foul (missed FTA).
Scola was the pacesetter in Game 6. His absence for the game's final 8:48 gives you an idea of the kind of fourth quarter Carl Landry had for Houston. Landry scored eight points and grabbed seven rebounds, one on a mad scramble which sent him crashing to the floor where he gobbled up the ball and called timeout while sprawled on the hardwood [4th Quarter, 3:56]. Scola will be back in the lineup to start Game 7 on Sunday afternoon at Staples Center, where the Rockets will try to record one of the more improbable series upsets in recent memory. If they beat the Lakers, it'll be because they got lockdown perimeter defense from their wings, post defense and solid screens from their center whose most profound asset is a "low center of gravity," dynamic play from their impish point guard, and the full breadth of Luis Scola's arsenal.
Scola's adaptability has been a constant throughout the Rockets' incredible run. When Portland's double-teams demanded a spot-up shooter, Scola set up at 18 feet. When it was imperative to find Aaron Brooks some daylight, Scola pancaked Derek Fisher (occasionally vice versa) and any other pursuers. When Houston needed a big man to create his own shots down low to have any chance of survival, Scola made it happen.
A few days ago, Malcolm Gladwell published a story in The New Yorker called "How David Beats Goliath."
Different people took different things from that story -- to many it was nothing but an ode to the magic of the full-court press in basketball. To me the meta-message was: If you're clearly outmatched, a conventional strategy is clearly a bad strategy. Thinking outside the box is a must for severe underdogs.
The Rockets were arguably outmatched against the Lakers when fully healthy. Now they are without an All-Star wing man and their two centers.
So, are they embracing Gladwell's lessons?
On the surface, they are being unconventional in starting one of the smallest lineups in NBA playoff history. But they didn't really have any choice on that matter, owing to all the injured big men, so who's to say if that's a strategy or not.
But where I really do see the Rockets doing something unconventional is in their mental approach. Before Game 4, my friend Max pointed out, the Lakers were talking about playing their game and all those regular things that players say.
Luis Scola said that he didn't even care if they won. He just wanted to play his best.
Max points out that's kind of like saying "it's a good day to die." That's a scary kind of opponent to face.
Then the Rockets came out taking the first good shot they could find on every possession, which caught the Lakers on their heels.
Before Game 5, Kevin Arnovitz tells us that the Rockets could not have been more enthusiastic. Aaron Brooks used the word "fun" ten times in four minutes. This from a player who had never won a playoff series before last week, on a team riddled with injuries, facing a road game against the team a lot of people pick to win it all.
Fun? Seems to me that the Rockets may not be using a full-court press. But their approach is nonetheless admirably unconventional, just as it should be.
UPDATE: Rockets.com teaches us that thanks to Mike Krzyzewski, Shane Battier has some experience with unconventional tactics.
Posted by Kevin Arnovitz
LOS ANGELES -- Maybe they're pumping nitrous oxide into the Clippers training facility in Playa Vista, where the Houston Rockets are practicing while in Los Angeles, but if the Rockets were any looser, they'd be unconscious. Even the normally reserved and media-shy Kyle Lowry was flashing smiles and entertaining reporters.
"I've been dreaming about this," Lowry said. "Second round, game five, playing against the Lakers and Kobe Bryant! It gets no better." Lowry's response tailed off with a little chuckle.
Meanwhile, the word fun surfaced ten times in Aaron Brooks' four minute schmooze with the press -- but not without a disclaimer. "I just found out that funner is not a word," Brooks said.
Asked how Brooks will deal with what will inevitably be a much more aggressive brand of pick-and-roll defense from the Lakers, Brooks with utter cool answered, "I'll pass the ball."
Brooks then cracked a smile and continued. "If they're doubling me then, if my math is right...hmmm...[stroking his chin professorially]...that's our four against their three. If they rush two at me, I hope one of them is slow, and I'll attack that person."
Brooks might be a court jester, but he's no fool. "We just have to attack them," Brooks said. "Chuck [Hayes] can make plays. He's a better ball-handler than Yao is."
As Lowry and Brooks held court, the Rockets' big men engaged in a fierce half-court shooting contest that was going nowhere, but was incredibly entertaining. Off to the side, Shane Battier answered a question about whether it bothered him that his political hero, Barack Obama, picked North Carolina in the NCAA tournament. "So did I," Battier confessed. "We're trying to putt for dough here, not drive for show."
Battier then went on to credit the Rockets' cult status among stat geeks to Rockets' general manager, Daryl Morey. "It's who we are," Battier said. "I don't think we're going to get the love of the six foot blonde bombshell. That's what the Lakers are here for. It's alright, I like our demographic."
May, 5, 2009
5/05/09
2:03
PM ET
Road warriors snatch away home court advantage from last year's finalists. The conference semis just got veeeeery interesting.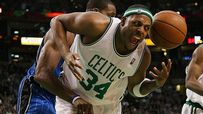 Brian Robb of Celtics Hub: "Dig a hole, step up the intensity, and make a run in the 2nd half, which was usually enough for them to give them a chance by the end. That's the way this Celtic team lived and died without KG for much of this year. Well tonight the equation changed a little bit. The hole was deeper than normal, (28 point deficit) and though the intensity was there for the final 20 minutes, there was not enough steady play or sharp shooting by the C's to sustain the comeback. In fact after the Celtics' initial third quarter run cut the Magic lead to ten with 10 minutes remaining, the game became almost painful to watch for fans of both squads. Neither team wanted to take control during this pivotal stretch, as the contest became ... a proverbial game of hot potato, as the teams traded foolish turnovers and missed shots. I think I even overheard some banter on the floor during this sequence as the Magic players yelled to the C's, 'You take this game! We can't handle this kind of pressure!' as the Celtics responded, 'No, you guys had it first! We don't want it!' It made for a frantic and ugly final 10 minutes of basketball, with the Celtics inability to seize ... countless opportunities providing Orlando with enough leeway to hold on to the win."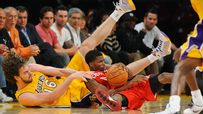 Kurt Helin of Forum Blue & Gold: "The Rockets defense is good and one result of that is players to do things a little more hurried -- you know the rotation is coming, so you rush the shot just a little. Then miss. Even when open. Combine that with a little rust from a week off and you get 2 for 18 from three and [Pau] Gasol missing the 15-footer that is usually automatic for him. Then when other players starts missing, Kobe [Bryant] starts taking on more shots (as he is hot) and suddenly the 2006 Lakers are on the floor."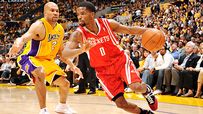 Brody Rollins of Rockets Buzz: "The Lakers were incapable of stopping Aaron Brooks. He's seeing the floor and penetrating to the basket almost at will, and that won't stop. His quickness is the Rockets greatest weapon along the perimeter and so long as he remains confident their offense will click. He's been playing out of his mind in the playoffs, but it's not because of his stroke so much as his feet, which dance around defenders who are left grasping at air. The kid's got game."


THE FINAL WORD
Orlando Magic Daily: Good and bad in Orlando's effort in Game 1.
By the Horns: "Air Gordon vs. Captain Kirk"
Hoopinion: A tough road to hoe for Atlanta.

(Photos by Elsa, Noah Graham, Andrew D. Bernstein/NBAE via Getty Images)
February, 13, 2009
2/13/09
8:33
PM ET
Posted by Kevin Arnovitz
After weeks of anticipation, debate, and hype, All-Star weekend has finally arrived. The first major event on the undercard is the Rookie Challenge, which is somewhat of a misnomer...or half-nomer, because it pits the league's best sophomores against the top rookies [insert objections here]. David Thorpe has a terrific preview of the game and what to look for here.
We'll be live-blogging the event. Follow along, won't you...
Greg Oden is going to miss the game. The reason? He bumped knees last night with Corey Maggette.

The only numeric redundancy is Wilson Chandler and Thad Young sharing #21.

Who would win a cage match between Young and Chandler? They both list at 6' 8 and 220, coincidentally.

Warmups underway. I can't emphasize enough how OJ Mayo drains, like, every single shot attempt to perfection.

Oden not playing is a bit of a buzzkill. He's the super-hybrid Frosh-more, which made for an interesting subplot.

Dwyane Wade is rocking his Nation of Islam ensemble.

Starting Lineup Sophs: Stuckey-Durant-Horford-Young-Greena
Frosh: Gordon-Rose-Gasol-Fernandez-Beasley

Kevin Durant at SG...Carlesimo Lives

Gatorade strikes again. An NBA representative just came over to peel off the label on my Dasani water.

Mayo coming off the bench. Innnntersting....

Looks like Rose/Gasol screen/roll is the tactical foundation of Rook

Judging from Horford's quick demand of the ball from the official, the Sophs want to run the Rooks out of the building.

Pace factor: Sophs>Rooks

Sophs: 7 seconds or less

Rudy in the open floor is a thing of beauty.

Eric Gordon is a quality defender, but against Durant, he's in waaay over his head. That mismatch is working for Sophs.

Lopez and Mayo about to check in

Rudy in the halfcourt is a thing of beauty.

E Gordon: 4/4, 10 pts

Rudy from beyond the arc is a thing of beauty.

Hollinger: Suggests that, long term, Gordon's shot might be too flat -- from a trajectory standpoint -- for him to be a truly outstanding shooter.

Jeff Green's True Position...Discuss

Lopez is a surprisingly agile big man

Beasley and Green...exchange talk of trash.

Not sure Stuckey is a pull-up jump shooter.

Thornton can catch-and-shoot uncontested, but still struggles mightily from 18+

Scola is about 8-9 years older than everyone on the floor, Thornton the exception.

One of the weak parts of Eric Gordon's game is his rebounding rate. He's strong, but small and, for whatever reason, has compiled abysmal Crawfordian numbers on the glass.

Have gone the whole way thus far: Jeff Green, Beasley, and Eric Gordon

Reduce that list to Gordon.

If Durant weren't putting up insane numbers every night, we might talk about his passing a little more.

Sort of a bailout. Westbrook's handle still isn't Grade A...and trying to take Durant off the dribble...wellllll....

In one series we saw one of the only flaws in Westbrook [handle] and Rose's [jumper] game respectively. Two super players with two distinct weaknesses.

Probably the prettiest set of the game .

Westbrook taunting Durant...hilarious.

ignited by the Lovian outlet by Gasol.

Dare I say this game is getting away from the Sophs?

Thornton has a really strong dribble game when he gets a running start.

Beasley is running a little hot. Now 2-7

Stuckey knows how to deliver the ball to his bigs...now if only they can get him some in Detroit.

It'll be interesting to see if Beasley develops a real post game as a PF [though as of today, looks like he'll be assuming the SF for MIA]. It's not *imperative* that he do so, but it would add a huge component to his game.

Is there a better practitioner of the PUJIT than Mayo?

Nice to see Beasley find some high % shots for himself.

I wish I could credit Westbrook with that drive, but the welcome mat was out.

The Spaniards almost make tapas.

The Euros have brought a lot to the NBA game, but Bigs-Who-Can-Pass might be the most exquisite.

Gasol definitely gets the Effort Award.

Where's Eric Gordon? In Rambis' doghouse??

Momentum builder for Sophs?

The Under 13 Crowd is very excited for someone named Corbin Bleu, which sounds like a TV dinner entree.

Nice part of beasley's game. Handle + pass

Eric Gordon: Released from Rambis' doghouse

The Los Angeles Clippers: 10/13 for 23 points in 27 minutes

Gordon mentioned today that he was hoping for a littlematchup time with teammate Thornton.

Durant is now officially controlling this pickup game.

Kevin Durant knows exactly where to be on the basketball court at every nanosecond of the game.

Dwight Howard is now working the refs.

The less said about Aaron Brooks' atrocious betrayal of Kevin Durant's unselfishness, the better.

The Sam Cassell Special from Gordon.

Young has learned to use his right hand better.

Durant: Absolutely stroking it. Can shoot over everyone on the floor not named Lopez

To review: Kevin Durant -- 35 points [14/18]

That little lean-in to draw contact on the jump shot and sucker the defender is always referred to as a 'crafty veteran move.' But it's being used here by the Rooks to perfection.

I like Russell Westbrook a lot, but this rookie team is better with Rose on the floor.

That's the thing with Beasley. His skill set is that of a '3', but if you play him at the '4', he's more likely to draw a defender he can take off the dribble along the baseline.

Counter-argument: He can't defend the post.

Durant True Shooting Percentage: 86.1%

The Rooks are going with the Twin Tower alignment down the stretch.

Clipper Darryl is in the building chanting Let's Go Clippers, Let's Go.

Gordon draws contact on the drive exceptionally well.

You can sort of see the value of Durant at the 2. I'm not suggesting that the benefits outweigh the costs, but he's unstoppable against a guy 6 inches shorter than him.

Chandler went to the right spot there...just didn't convert. But a smart little set.

"Set" being a relative term in this game.

The Sophs got the mismatch there. Another good set...

Beasley has had a fascinating game, an encapsulation of all his strengths and weaknesses.

You sometimes forget he can stop on a dime and step back like that, as if here were a 6' 4 guard.

Winners get $15K each. Losers get $5K. $10,000 difference if my math is correct.

Aaron Brooks: Keeping the Rooks in the game.

Hollinger, re: brooks: As Ramon Sessions sits at home and says, 'really??

44 pts...Easily a Rookie Game Record.

Only 2 Rookies in + territory: Rudy Fernandez with a +10; Marc Gasol with +5.

The best rookie/soph game to date? Yes.


Kevin Durant wins the 5-0 unanimous vote for MVP. Go figure.

Amare held the previous record: 36 points in the '04 game at Staples.

Some unsung heroes: I thought Rodney Stuckey had a solid game for the Sophs. He navigates the floor really well. I don't like platitudes like winning ballplayer, but Gasol has the patina of a guy who's going to help some good teams win some games before his career is over.

Brook Lopez needs some refinement, but also played a strong game.

As someone who watches Al Thornton on a regular basis, I can say that he's a guy who benefited greatly from this track meet. He played a relaxed brand of basketball, and seemed very much in his element. He even delivered a couple of smart interior passes on the drive. [!]

Final takeaway: Durant is a freak. But we knew that.

Beasley's maturation will be fascinating to watch, even more so with the Heat's acquisition of O'Neal today, which will move Beasley out of the post.

Eric Gordon should factor more prominently in the conversation as an elite rookie guard.

Jeff Green does everything very well, but nothing exceptional. That's not intended as an insult. There aren't 20 guys in the league you can say that about.

Thad Young's game has come along nicely. I know he had a rough time earlier this season, but his athleticism is starting to round out into a more complete player.

See you tomorrow night for the Skillz Competition.